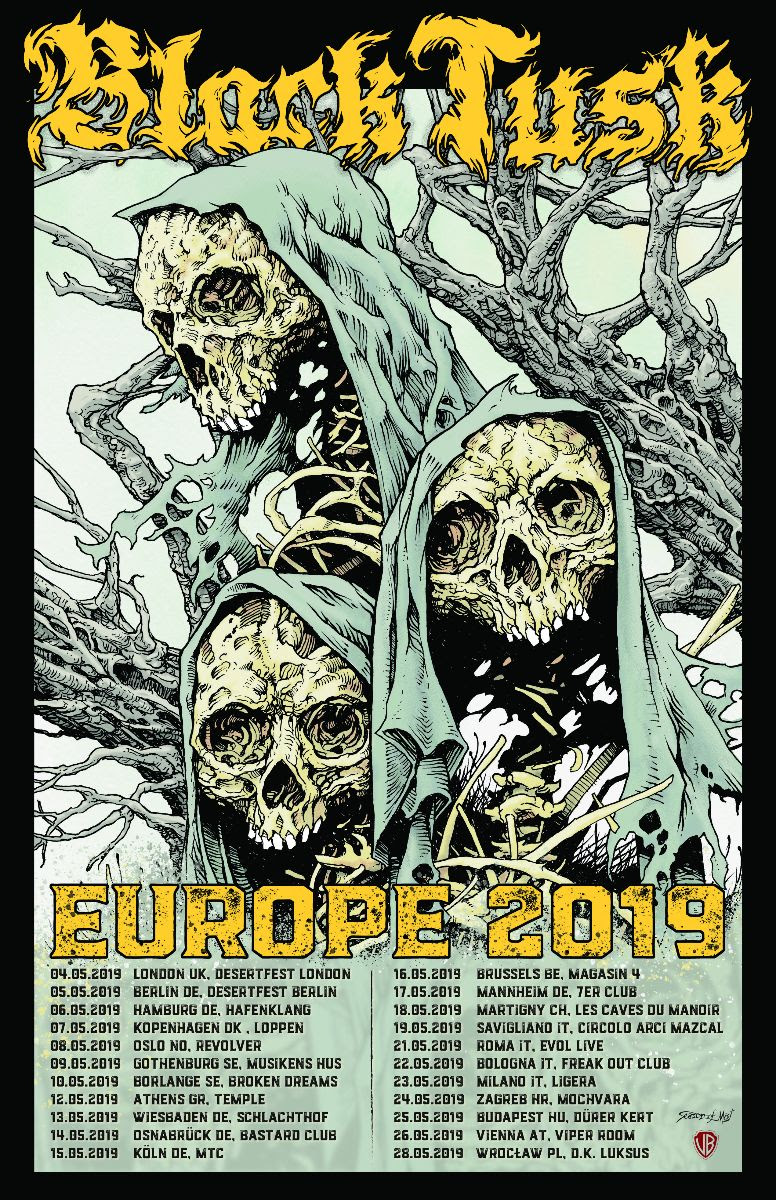 BLACK TUSK
Share Energetic Live Performance Footage from RPM Fest 2018
Southern sludge masters BLACK TUSK have shared footage from their electric live set at RPM Fest 2018. You can stream the entire high-energy performance at THIS LOCATION.

If you're looking to catch this wild and unrelenting show in real life, you're in luck! BLACK TUSK will be touring Europe this May in support of their in 2018 release, 'TCBT.' The tour will kick off on May 4 at Desertfest 2019 in London and will conclude on May 28 in Wroclaw, PL. The full itinerary can be found below.

'TCBT' was released in August 2018 and can be heard in full at THIS LOCATION.

Speaking about the album, the band previously commented:
"We decided to entitle this record 'TCBT.' Its a play on TCB, 'Taking Care of Business,' add a T to the end and its 'Taking Care of Black Tusk.' It's an idea, a slogan if you will, that James and Athon came up with some years ago, and since [Athon's] passing and essentially the reformation of this band we found it fitting for a title.

"We turned inward after 'Pillars of Ash.' Corey came on board and we did the tours to support that record playing the songs that we had written with Athon, Then we took some time off and learned how to write with a new member, we took our time and worked out our ideas, we brought new ideas and talents into the fold. This record is something that we are truly proud of, its the culmination of two years of reworking ourselves as a band. We've closed one chapter of this band are starting anew, we are Taking Care of Black Tusk. We recorded this record as a three piece and are going to tour to perform it as a four piece.

"With a nod to our past and with the knowledge of lessons learned and experience gained, we are heading back out full throttle with a new energy and a new band. When you listen, you will hear Black Tusk, not the old as was, but a new Black Tusk keeping tour roots and carving a new path."
BLACK TUSK Euro Tour Dates 2019:
05/04: London (UK) @ Desertfest 2019 (Tickets)
05/05: Berlin (DE) @ Desertfest 2019 (Tickets)
05/06: Hamburg (DE) @ Hafenklang (Tickets)
05/07: Kopenhagen (DK) @ Loppen (Tickets)
05/08: Oslo (NO) @ Revolver (Tickets)
05/09: Gothenburg (SE) @ Musikens Hus (Tickets)
05/10: Borlange (SE) @ Broken Dreams (Tickets)
05/12: Athens (GR) @ An Club (Tickets)
05/13: Wiesbaden (DE) @ Schlachthof (Tickets)
05/14: Osnabrück (DE) @ Bastard Club (Tickets)
05/15: Köln (DE) @ MTC (Tickets)
05/16: Brussel (BE) @ Magasin 4 (Tickets)
05/17: Mannheim (DE) @ 7er Club (Tickets)
05/18: Martigny (CH) @ Les Caves du Manoir (Tickets)
05/19: Savigliano (IT) @ Circolo Arci Mazcal
05/21: Rome (IT) @ Evol Live (Tickets)
05/22: Bologna (IT) @ Freak Out Club (Tickets)
05/23: Milano (IT) @ Ligera (Tickets)
05/24: Zagerb (HR) @ Mochvara (Tickets)
05/25: Budapest (HU) @ Dürer Kert (Tickets)
05/26: Vienna (AT) @ Viper Room (Tickets)
05/28: Wroclaw (PL) @ D.K. Luksus (Tickets)
There was blood, maybe a few tears too, but more than anything, it was sweat that marks this brand new release of BLACK TUSK, 'TCBT.'
Their previous full-length, 'Pillars of Ash,' sadly had to appear posthumously for one member as the band had tragically lost their charismatic bass-player, Jonathan Athon, through a motorcycle accident. With a heavy heart, BLACK TUSK decided to honor Athon's memory by carrying on and recruiting veteran musician and already long-time friend Corey Barhorst (EX-KYLESA) to take over his duties on the low end.
Now with the sixth studio album, 'TCBT,' BLACK TUSK show the world they lived through the kind of hardship and heartbreak that would cripple a lesser band. It's their dedication, gumption, and pure bullheaded stubbornness that took care of business, keeps taking care of business, and Taking Care of Black Tusk.
Line-up
Andrew Fidler – guitar, vocals
Corey Barhorst – bass, vocals
James May – drums, vocals
Chris "Scary" Adams – guitar, vocals
For more on BLACK TUSK, visit their official WEBSITE, FACEBOOK, INSTAGRAM, and TWITTER pages.
For more on SEASON OF MIST artists, visit our official WEBSITE, FACEBOOK, INSTAGRAM, YOUTUBE, and TWITTER.