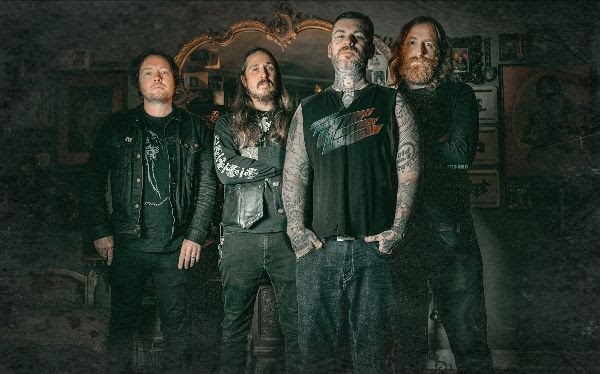 Savannah, GA swamp rockers BLACK TUSK are kicking off the new year with a headlining U.S. tour, in which they will be supported by ALL HELL. The trek starts tomorrow, January 7 in Athens, GA and will conclude on January 17 in Tampa, FL. The full run of dates and ticket links can be found below:

BLACK TUSK (w/ All Hell):
01/07: Athens, GA @ The World Famous [TICKETS // EVENT LINK]
01/08: Chattanooga, TN @ JJ's Bohemia [TICKETS // EVENT LINK]
01/09: Memphis, TN @ B-Side Memphis [EVENT LINK]
01/10: Little Rock, AR @ White Water Tavern [EVENT LINK]
01/11: Austin, TX @ Barracuda [TICKETS]
01/12: Houston, TX @ Rudyard's [TICKETS // EVENT LINK]
01/13: New Orleans, LA @ Poor Boys Bar
01/14: Tallahassee, FL @ The Warrior on The River [TICKETS // EVENT LINK]
01/15: Orlando, FL @ Will's Pub [TICKETS // EVENT LINK]
01/16: Miami, FL @ Las Rosas [TICKETS // EVENT LINK]
01/17: Tampa, FL @ The Blue Note Bar [TICKETS // EVENT LINK]
[Photo Credit: Adriana Boatwright]
ABOUT BLACK TUSK:
There was blood, maybe a few tears too, but more than anything, it was sweat that marks this brand new release of BLACK TUSK, 'TCBT.'
Their previous full-length, 'Pillars of Ash,' sadly had to appear posthumously for one member as the band had tragically lost their charismatic bass-player, Jonathan Athon, through a motorcycle accident. With a heavy heart, BLACK TUSK decided to honor Athon's memory by carrying on and recruiting veteran musician and already long-time friend Corey Barhorst (EX-KYLESA) to take over his duties on the low end.

Now with the sixth studio album, 'TCBT,' BLACK TUSK show the world they lived through the kind of hardship and heartbreak that would cripple a lesser band. It's their dedication, gumption, and pure bullheaded stubbornness that took care of business, keeps taking care of business, and Taking Care of Black Tusk.

For more on BLACK TUSK, visit their official WEBSITE, FACEBOOK, INSTAGRAM, and TWITTER pages.