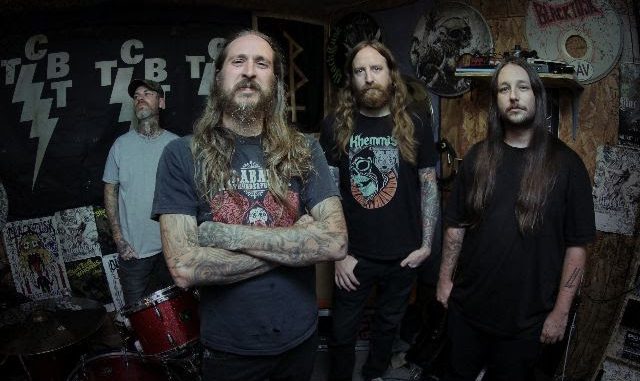 Savannah, GA swamp rockers
BLACK TUSK
will be embarking on a U.S. tour later this month with RESTLESS SPIRIT! The trek will kick off in the band's hometown on November 26 and will conclude on December 6 in Raleigh, NC. The full run of dates can be found below! Ticket links and more info will soon be updated
HERE
.
BLACK TUSK Tour Dates w/ Restless Spirit:
11/26: Savannah, GA @ Two Tides Brewing Metal Fest* [EVENT LINK]
11/27: West Columbia, SC @ New Brookland Tavern
11/28: Wilmington, NC @ Reggie's 42nd Street
11/29: Charlotte, NC @ Snug Harbor
11/30: Pittsburgh, PA @ Mr. Smalls Funhouse [TICKETS // EVENT LINK]
12/01: Brooklyn, NY @ The Knitting Factory [TICKETS // EVENT LINK]
12/03: New Haven, CT @ State House
12/04: Cambridge, MA @ Middle East
12/05: Philadelphia, PA @ Kung Fu Necktie [TICKETS // EVENT LINK]
12/06: Raleigh, NC @ The Pour House
*No Restless Spirit
**Please note that guest list availability is limited and unavailable in some markets as venues and artists are still recovering from the unprecedented financial devastation caused by the Covid-19 shutdown. Photo credentials and interviews, however, will not be affected by this & we will accommodate media outlets to the best of our abilities. Thank you for understanding!***
ABOUT BLACK TUSK:
There was blood, maybe a few tears too, but more than anything, it was sweat that marks this brand new release of BLACK TUSK, 'TCBT.'
Their previous full-length, 'Pillars of Ash,' sadly had to appear posthumously for one member as the band had tragically lost their charismatic bass-player, Jonathan Athon, through a motorcycle accident. With a heavy heart, BLACK TUSK decided to honor Athon's memory by carrying on and recruiting veteran musician and already long-time friend Corey Barhorst (EX-KYLESA) to take over his duties on the low end.

Now with the sixth studio album, 'TCBT,' BLACK TUSK show the world they lived through the kind of hardship and heartbreak that would cripple a lesser band. It's their dedication, gumption, and pure bullheaded stubbornness that took care of business, keeps taking care of business, and Taking Care of Black Tusk.

For more on BLACK TUSK, visit their official WEBSITE, FACEBOOK, INSTAGRAM, and TWITTER pages.
For more on SEASON OF MIST artists, visit our official WEBSITE, FACEBOOK, INSTAGRAM, YOUTUBE, and TWITTER.