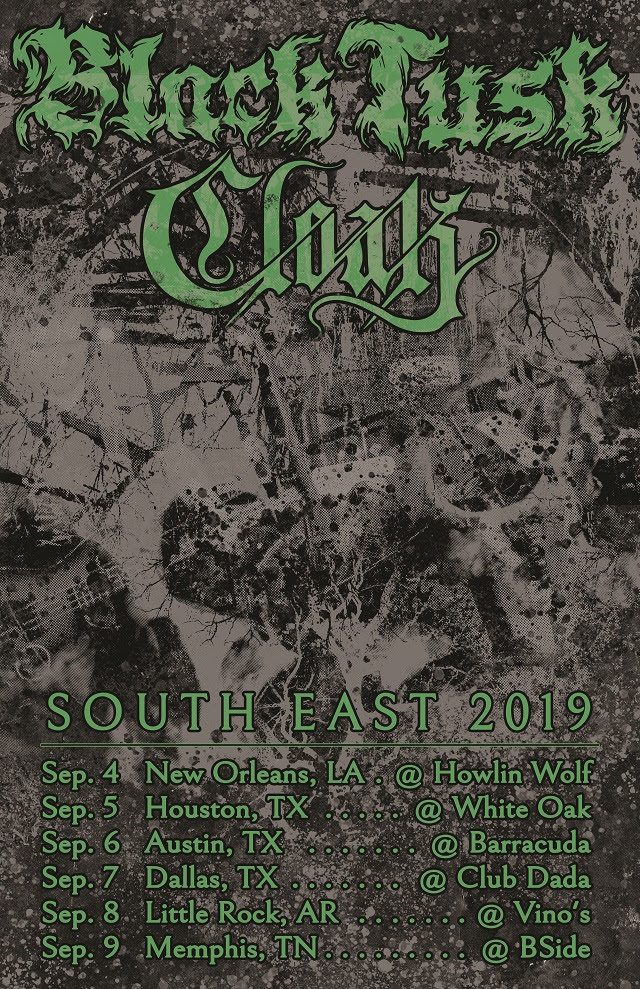 A pair of Georgia's finest rockers are joining forces for a run of U.S. dates this September! Sludge rock 'n' rollers BLACK TUSK (Savannah) and blackened thrashers CLOAK (Atlanta) have announced six dates across the South. The trek will kick off on September 4 in New Orleans, LA and will conclude on September 9 in Memphis, TN. The full run is as follows with ticket links TBA:

BLACK TUSK + CLOAK:
09/04: New Orleans, LA @ Howlin' Wolf
09/05: Houston, TX @ White Oak
09/06: Austin, TX @ Barracuda [TICKETS // EVENT LINK]
09/07: Dallas, TX @ Club Dada
09/08: Little Rock, AR @ Vino's
09/09: Memphis, TN @ B-Side

Both bands are currently embarking on their own respective tours. The remaining dates are as follows:

CLOAK (Supporting KHEMMIS):
(North American Desolation 2019)
07/11: Memphis, TN @ Growlers (TICKETS // EVENT LINK)
07/12: Atlanta, GA @ Masquerade (TICKETS // EVENT LINK)
07/13: Lexington, KY @ Clairvoyance Fest (TICKETS // EVENT LINK)
07/14: Nashville, TN @ The End (TICKETS // EVENT LINK)
07/16: Raleigh, NC @ The Maywood (TICKETS // EVENT LINK)
07/17: Richmond, VA @ The Camel (TICKETS // EVENT LINK)
07/18: Washington, DC @ Songbyrd (TICKETS // EVENT LINK)
07/19: Brooklyn, NY @ Saint Vitus (TICKETS // EVENT LINK)
07/20: Philadelphia, PA @ Underground Arts (TICKETS // EVENT LINK)
07/21: Boston, MA @ Great Scott (TICKETS // EVENT LINK)
07/23: Montreal, QC @ Bar Le Ritz (TICKETS // EVENT LINK)
07/24: Toronto, ON @ Velvet Underground (TICKETS // EVENT LINK)
07/25: Detroit, MI @ The Sanctuary (TICKETS // EVENT LINK)
07/26: Chicago, IL @ Reggies (TICKETS // EVENT LINK)
07/27: Minneapolis, MN @ 7th Street Entry (TICKETS)
07/28: Bloomington, IL @ Nightshop (TICKETS)

BLACK TUSK:
07/12: Chattanooga, TN @ JJ's Bohemia [TICKETS // EVENT LINK]
07/13: Lexington, KY @ Cosmic Charlie's [EVENT LINK // TICKETS]
07/14: Atlanta, GA @ 529 (EVENT LINK // TICKETS)
ABOUT BLACK TUSK:
There was blood, maybe a few tears too, but more than anything, it was sweat that marks this brand new release of BLACK TUSK, 'TCBT.'
Their previous full-length, 'Pillars of Ash,' sadly had to appear posthumously for one member as the band had tragically lost their charismatic bass-player, Jonathan Athon, through a motorcycle accident. With a heavy heart, BLACK TUSK decided to honor Athon's memory by carrying on and recruiting veteran musician and already long-time friend Corey Barhorst (EX-KYLESA) to take over his duties on the low end.

Now with the sixth studio album, 'TCBT,' BLACK TUSK show the world they lived through the kind of hardship and heartbreak that would cripple a lesser band. It's their dedication, gumption, and pure bullheaded stubbornness that took care of business, keeps taking care of business, and Taking Care of Black Tusk.
ABOUT CLOAK:
Established in 2013, CLOAK initially locked themselves away, carefully preparing the band's debut material. A mere two years later, the band released their first demo (Demo 2015) and created waves in the American underground. Following the release of the demo, a two song self-titled EP was unleashed earlier this year, and saw the band receiving critical acclaim both locally at Creative Loafing (Atlanta), and across several international metal media outlets such as Metal Hammer, Decibel Magazine, No Clean Singing, and many more. In their short time as a band, CLOAK have already shared the stage with bands such as MAYHEM, WOLVES IN THE THRONE ROOM, KYLESA, WINDHAND, INTER ARMA, and more.
For more on BLACK TUSK, visit their official WEBSITE, FACEBOOK, INSTAGRAM, and TWITTERpages.