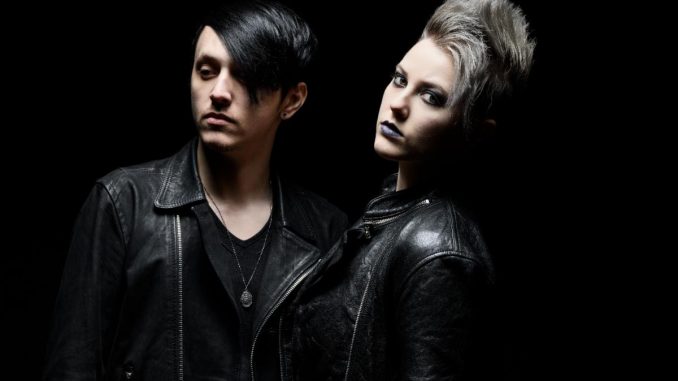 Friday, March 26, 2021 – New York-based rock duo Black Satellite has today unveiled a new music video for their hypnotizing track "Void". Speaking on the single, frontwoman Larissa Vale shares:
"With "Void" we wanted to capture the feeling of being completely devoured by the darkest parts of the psyche. The suffocating and truly terrifying experience of watching the floor fall out from under you, not knowing how far you'll fall. The void being the existential dread most of us carry. When it's there, it's all-consuming."
Embrace your inner unknowing and watch the music video for "Void"
here
or by clicking the image below.
Fans can also catch Black Satellite at Metal In The Mountains festival and out on the road this fall with FOZZY. For complete dates, please click
here
.
9/16 – Angola, IN – Eclectic Room
9/17 – Grand Rapids, MI – Elevation @ The Intersection
9/18 – Flint, MI – Machine Shop
9/19 – Cleveland, OH – The Winchester
9/27 – Indianapolis, IN – Hi Fi
9/28 – Harrison, OH – Blue Note
9/30 – Nashville, TN – Basement East
10/3 – Charlotte, NC – Underground
10/4 – Jacksonville, NC – Hooligans
10/7 – Johnson City, TN – Capone's
10/8 – Savannah, GA – Victory North
Black Satellite is a rock duo from New York City comprised of Larissa Vale and Kyle Hawken. Bold in equal measures of aesthetic and musical expression, Black Satellite is the culmination of a deep-rooted partnership contributing to their unified writing style. Since launching their first single "Valkyrie" from their full-length album "Endless", the band has charted on rock radio with their fresh takes of Type O Negative's "I Don't Wanna Be Me" and "My Girlfriend's Girlfriend". The duo has since been featured in the likes of Billboard, Huffington Post, Alternative Press, Knotfest.com, and Hot Topic's Snapchat Takeover.
Black Satellite's sophomore album "Aftermath" was mixed by veteran producer Ben Grosse (Filter, Breaking Benjamin, Marilyn Manson) and mastered by Ted Jensen and is due for release later this year.
What The Press Are Saying
"…The end point one might arrive at after listening to all of Muse's catalog and deciding they just weren't epic enough. Syrupy vocal hooks abound, drizzled over whole mountain ranges of studio-shined guitar tapestries."
– Billboard
"Holding into their own niche, Black Satellite has this strength in their music that stirs up feelings of hope even in the most of haunting places." – Huffington Post
"Frontwoman Larissa Vale offers an aggressively elegant vocal range that pairs perfectly over Kyle Hawken's melodic guitar riffs and instrumental work." – Alternative Press
"…offers a glimpse into the bold, stylishly dark sound that has made the duo of Larissa Vale and Kyle Hawken such a promising prospect." – Knotfest.com
"There's something both dark and otherworldly about rock duo Black Satellite." – Broadway World
"…a rock band beyond definition." – idobi Radio