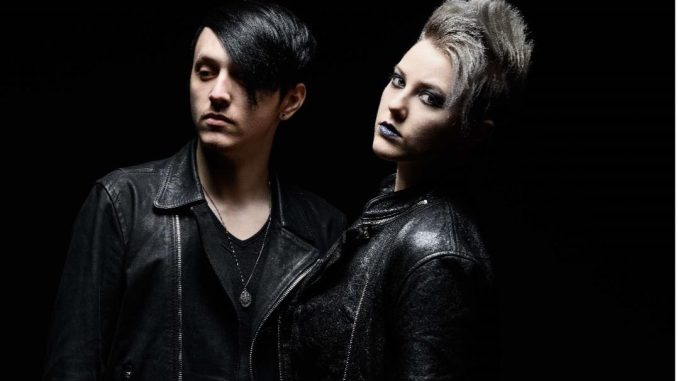 Supporting Cradle of Filth + DevilDriver,
and Wednesday 13
New York industrial metal outfit BLACK SATELLITE are thrilled to share the stage with extreme metal legends CRADLE OF FILTH and groove metal leaders DEVILDRIVER on the second leg of the "Double Trouble Live" tour!

The follow up to the duo's co-headlining run earlier this Spring, Double Trouble Live II will feature support from BLACK SATELLITE, along with Ill Nino and Savage Existence. The trek kicks off in Los Angeles, CA on October 4 and will conclude on October 29 in Riverside, CA.

Commenting on the upcoming tour, BLACK SATELLITE vocalist Larissa Vale says,

"We are beyond thrilled to hit the road on the Double Trouble tour with such legends. We'll be playing our heaviest set yet and can't wait to share it with everyone soon!"

Following the dates with Cradle of Filth and DevilDriver, BLACK SATELLITE will hop on the Fall tour for Wednesday 13, during which they will celebrate 21 years of Murderdolls! Rounding out the bill is support from Gemini Syndrome and Infected Rain.

On these upcoming shows, BLACK SATELLITE adds, "If you know us, you know we can't stay off the road. We are super excited to be joining Wednesday 13 this fall, playing our favorite cities with such a killer lineup!"

Watch the Music Video for "Broken" HERE
BLACK SATELLITE
Fall 2023 – US Tour Dates
w/ Cradle of Filth, DevilDriver, and Ill Nino
10/4 – Los Angeles, CA @ The Belasco
10/5 – Tucson, AZ @ Encore
10/7 – San Antonio, TX @ Boeing Center at Tech Port
10/8 – Oklahoma City, OK @ The Criterion
10/10 – Fayetteville, AR @ JJ's Live
10/12 – Destin, FL @ Club LA
10/13 – Fort Myers, FL @ The Ranch
10/14 – Fort Lauderdale, FL @ The Culture Room
10/15 – Atlanta, GA @ Center Stage
10/17 – Charlotte, NC @ The Underground – Charlotte
10/18 – Asheville, NC @ Salvage Station
10/20 – Harrisburg, PA @ HMAC
10/21 – New York, NY @ Palladium Times Square
10/22 – Baltimore, MD @ Rams Head Live!
10/24 – Cincinnati, OH @ Bogarts
10/25 – Sauget, IL @ Pop's
10/26 – Wichita, KS @ Temple Live
10/27 – Lubbock, TX @ The Garden
10/29 – Riverside, CA @ Riverside Municipal Auditorium
w/ Wednesday 13, Gemini Syndrome, and Infected Rain
10/31 – Phoenix, AZ @ The Nile Theater
11/01 – Albuquerque, NM @ Launch Pad
11/03 – Dallas, TX @ Sundown at Granada
11/04 – Houston, TX @ Warehoue Live
11/05 – Austin, TX @ Come & Take It Live
11/07 – Lawrence, KS @ The Bottleneck
11/9 – Minneapolis, MN @ Skyway Theatre
11/10 – Madison, WI @ The Annex
11/11 – Joliet, IL @ The Forge
11/12 – Bloomington, IL @ Castle Theater
11/14 – Racine, WI @ Route 20 Outhouse
11/15 – Flint, MI @ Machine Shop
11/16 – Cleveland, OH @ The Foundry
11/17 – Pittsburgh, PA @ Crafthouse
11/18 – Lititz, PA @ Mickey's Black Box
11/19 – Clifton, NJ @ Dingbatz
11/22 – Spartanburg, SC @ Ground Zero
11/24 – Winston-Salem, NC @ Millenium
11/25 – Richmond, VA @ The Canal Club
11/26 – Leesburg, VA @ Tally Ho Theater
11/28 – Atlanta, GA @ Masquerade
11/30 – Knoxville, TN @ The Concourse
12/1 – Louisville, KY @ Headliners Music Hall
12/2 – Columbus, OH @ The Kings Of Clubs
12/3 – Indianapolis, IN @ Hi Fi Annex
12/5 – Des Moines, IA @ Lefty's Live Music
12/6 – Lincoln, NE @ Bourbon Theater
12/8 – Denver, CO @ The Oriental Theater
12/9 – Colorado Springs, CO @ Black Sheep
BIO:

NYC's BLACK SATELLITE, comprised of Larissa Vale and Kyle Hawken, is creating waves in the rock scene with a sound that's dark, edgy, and distinctly their own. Fusing industrial and metal influences, their music transcends conventional boundaries – solidifying their place in the genre. The band continues to break new ground through ceaseless hard work and nonstop touring, showcasing their dedication both on and off stage.

Shortly after launching their first single "Valkyrie" from their 2017 debut album 'Endless', BLACK SATELLITE garnered attention from press outlets like Billboard, Huffington Post, Revolver, Loudwire, Knotfest, and Alternative Press. The band was also named one of Alternative Press' "12 Bands You Need to Know" in a print issue of the magazine.

BLACK SATELLITE subsequently released two cover songs paying tribute to Type O Negative, which charted on metal radio.

The band recently concluded writing and recording their sophomore record, 'Aftermath', mixed by veteran producer Ben Grosse (Marilyn Manson, Breaking Benjamin, Filter) with tracks produced by Kane Churko (Papa Roach, In This Moment). Their previous single, "Void", was the first taste of the upcoming album and Knotfest commented on the track, "the first single offers a glimpse into the bold, stylishly dark sound that has made the duo of Larissa Vale and Kyle Hawken such a promising prospect."

BLACK SATELLITE has since completed back-to-back tours as direct support for John 5, Fozzy, and Nita Strauss, with additional appearances at Metal In The Mountains Fest and Blue Ridge Rock Fest. BLACK SATELLITE also toured supporting Cold and Sumo Cyco in Spring 2022, as well as Drowning Pool in Fall of 2022. The band joined the Double Trouble Live Tour with co-headliners Cradle of Filth + DevilDriver as direct support in March 2023. They will be continuing with the second leg of the tour in October 2023 directly followed by a massive Fall tour with Wednesday 13.