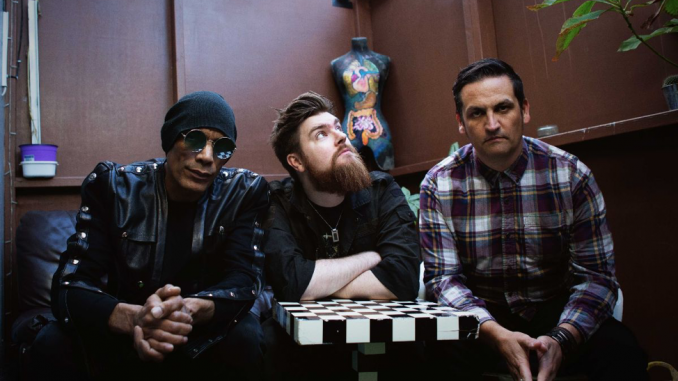 Black Orchid Empire – "Come In" (Live Session)
BLACK ORCHID EMPIRE Share Live Session
'Live In The Studio' – Out April 16th via Long Branch Records
London, UK rock outfit BLACK ORCHID EMPIRE have shared a new live session video for their song "Come In". The track is the second video single taken from their upcoming 'Live In The Studio' EP, which is out April 16th, 2021 via Long Branch Records. The live EP includes one song from each of their critically acclaimed full-length albums. These ferocious performances showcase the band's huge sound and machine-like tightness as the three-piece thrive in their natural environment – the recording and rehearsal space that gave birth to so many of their monstrous riffs. "Come In" is available now on YouTube.
Watch the video for "Come In" here:
Pre-Order / Pre-Save 'Live In The Studio' here:
Black Orchid Empire guitarist and singer Paul Visser about the new EP:
"Playing live in front of an audience is always an incredible experience, but much of our music was created in a more personal and isolated place. Filming three of our favorite songs in the room in which so many of them were written, thrashed out, and recorded was an amazing experience which we can't wait to share!"
'Live In The Studio' Tracklist:
1. "Pray To The Creature"
2. "Come In"
3. "Motorcade"
Black Orchid Empire create huge, memorable rock music that combines heavy-hitting savagery with intense melodic beauty. Their technical, fearlessly complex grooves and gigantic sing-along choruses have already earned them a widespread fanbase.
A ferociously tight live band, Black Orchid Empire have toured extensively throughout Europe and the UK, supporting Skunk Anansie on their sold-out 25th anniversary shows, including Brixton Academy. These appearances, as well as previous tours with HED P.E., INME, Black Map, and Ravenface, along with festival performances at Download, Standon Calling, Planet Rockstock, Camden Rocks, and Taubertal, have sealed the band's reputation as a force to be reckoned with.
"Beautiful melodies coupled with tear-your-face-off riffs. Bright fresh new stars" – Skin, Skunk Anansie
"Unbeatable in-your-face talent" – MOSH
"Wicked, behemoth tunes" – POWERPLAY
Watch the latest live session for "Pray To The Creature" here
Lineup:
Billy Freedom – Drums
Paul Visser – Vocals, Guitar
David Ferguson – Bass, Vocals
BLACK ORCHID EMPIRE Online: