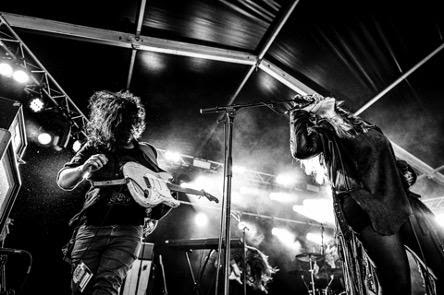 Watch HERE
New Album, 'Tomorrow Will Be Without Us',
Out on Napalm Records | Order HERE!
On Tour in Europe this Fall!
Following their latest, critically acclaimed studio album, 'Tomorrow Will Be Without Us', (released in November 2022 via Napalm Records), Belgian rock act BLACK MIRRORS has premiered a new music video for the song "Tears to Share".

The band comments: "Our latest single 'Tears to Share' has just been released! This song has always held a special place in our hearts, and based on your incredible response during our live performances, it seems that you love it just as much as we do."

Guitarist Pete adds: "I absolutely love every aspect of that tune. The vintage soul song vibe, the guitar full of reverb, and I also have to admit, it features my all-time favorite guitar solo that I've ever recorded. On top of that, what about Marcella's vocal performance? It's simply flawless. From her soulful and gentle delivery during the verses to the raw and commanding bridge, she absolutely nailed it. She gave it her all and created something truly remarkable."

Watch the New BLACK MIRRORS Clip for "Tears to Share" HERE
BLACK MIRRORS' sophomore album is a deep, soulful and vividly textured 90's inspired rock record with umpteen layers begging to be picked apart with each spin, and lyrically, traverses humankind's increasing apathy towards the world around them.

Are we killing our own planet? No, BLACK MIRRORS doesn't believe that we as humans have the power to destroy mother earth. However, as the album cover below portrays, it's clear who will end up burning – all living creatures, us. 'Tomorrow Will Be Without Us' is a clear statement impacting every single one of us living on our planet.

The album's grunge-infused guitar lines meld in harmony, giving way to memorable riffs, rhythmic gems, big grooves and the addictive, beautifully unchained vocals of Marcella Di Troia. It fluxes from fierce and blustery to often gentle and calming – channeling the flavor of MTV's glory era of acts like Nirvana, Radiohead, Hole, Alain Johannes, Alice In Chains and beyond – showcasing BLACK MIRRORS' unforced, versatile and organic talent.

Together with the touch of worldwide-acclaimed producer Alain Johannes (Eagles Of Death Metal, Queens Of The Stone Age, Arctic Monkeys, No Doubt,…), BLACK MIRRORS have reset the bar to unexpected heights, and their latest album left its mark on today's rock scene worldwide. One can be sure, the music world of tomorrow would be a lonely place without BLACK MIRRORS, and 'Tomorrow Will Be Without Us' locks them at the top!
Following several recent live dates with UK's finest THE ANSWER, and in support of 'Tomorrow Will Be Without Us', BLACK MIRRORS has announced a European headline tour for the fall of 2023!
Tickets are now available HERE
Make sure to catch the band live at the following dates: