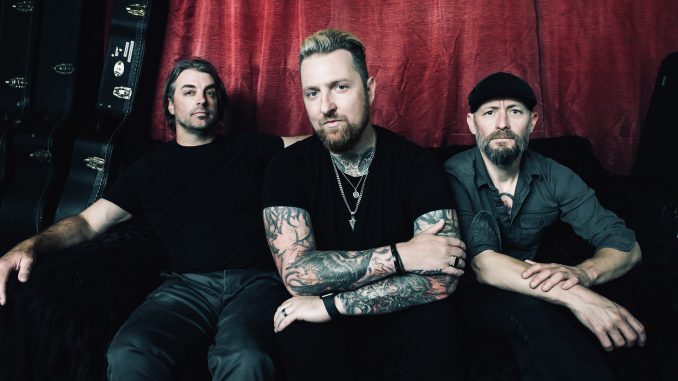 BLACK MAP RELEASE "SUPER DELUXE" AHEAD OF MELODORIA'S FEB. 18 ARRIVAL VIA MINUS HEAD RECORDS

WATCH THE VIDEO HERE: https://youtu.be/d8GVNjB8Qsk

ALBUM PRE-ORDERS AVAILABLE NOW

https://blackmapmusic.bandcamp.com/album/melodoria

"Exploring the melodic end of the metal spectrum, the band deliver surging rock with a melancholic tinge." – Consequence

"Modern rock for the thinking man" – New Noise Magazine
Feb. 11, 2022, SAN FRANCISCO – Black Map, whose forthcoming album, Melodoria arrives on Feb. 18 via Minus Head Records, have shared a final preview of the 10-song album with today's release of "Super Deluxe" and the accompanying video (https://youtu.be/d8GVNjB8Qsk).

"'Super Deluxe' is a song we've been really excited for people to hear as soon as we finished writing it," says Ben Flanagan. "It kind of encapsulates all of the things I love about being in this band in intertwining beauty, darkness, mystery and heaviness all together in one web. We wanted a video that would do justice and shine light on all of those things and we are really happy for it to finally be out in the world."

The Bay Area band have released a trio of songs in the lead-up to the album's release": "Witching Hour" (https://youtu.be/jc8fiqkq2XY), "Left For Dead" (https://youtu.be/4ks96XVhuLw), and "Chasms" (https://youtu.be/KijxR8H_W8o). The group also released both guitar and bass playthroughs for "Left for Dead," which can be viewed via their YouTube channel.

Album pre-orders are on-sale now, with the collection available on both standard white vinyl and a limited-edition white vinyl with black and yellow splatter, CD and digitally with various limited-edition merch.

"Music and art, to me, has always been a kind of human binding agent," singer/bass player Ben Flanagan explains of the album the band co-produced with Zach Ohren (Chelsea Grin, Machine Head). "Even amidst the pure chaos of our world, here is this thing that's there to excite us, to comfort us, and to help us get through it."

"We went for a very direct approach early on with the tunes on the first album (… And We Explode). The natural progression into In Droves was to branch out into other areas of our influences and music we enjoy," explains guitar player Mark Engles. "Melodoria is yet another step out onto different limbs of our tastes and abilities."

Following the 2017 release of In Droves, a sophomore slump-defying set which furthered the group's incursion into rock radio without sacrificing an ounce of musical integrity, Black Map married themselves to the road. Major festivals extended invitations, resulting in head-turning sets at Chicago Open Air, Aftershock, Rock Allegiance, and Louder Than Life, plus a "Best New Artist" nomination at the first-ever Loudwire Music Awards in Los Angeles.
Black Map join 10 Years for a Spring tour, kicking off on March 14 in Pittsburgh. The dates are:

March 14 Pittsburgh, PA The Crafthouse

March 15 Hampton, NH Wally's Pub

March 16 Portland, ME Aura

March 18 Lilitz, PA Mickey's Black Box

March 19 Asbury Park, NJ Asbury Lanes

March 21 Baltimore, MD Ottobar

March 22 Knoxville, TN The Concourse

March 23 Nashville, TN The Basement East

March 25 Jacksonville, NC The Limelight

March 26 Atlanta, GA The Loft

March 27 Destin, FL Club LA

March 29 Fayetteville, AR George's Majestic Lounge

March 30 Tulsa, OK Vanguard

April 1 San Antonio, TX The Rock Box

April 2 Dallas, TX Trees

April 3 Corpus Christi, TX Brewster Street Ice House

April 6 Phoenix, AZ Crescent Ballroom

April 9 Anaheim, CA Chain Reaction

April 10 Roseville, CA Goldfield

April 12 Seattle, WA El Corazon

April 13 Portland, OR Hawthorne Theatre

April 15 Missoula, MT Wilma Theatre

April 16 Spokane, WA Knitting Factory

April 17 Boise, ID Knitting Factory

April 19 Denver, CO The Oriental Theater

April 20 Colorado Springs, CO Black Sheep

April 22 Sauget, IL Pop's

April 23 Indianapolis, IN The Vogue

April 24 Chicago, IL Bottom Lounge

April 26 Flint, MI The Machine Shop

April 27 Fort Wayne, IN Piere's

April 28 Harrison, OH Blue Note
Melodoria tracklist:

Nothing Over Me
Capture the Flag
Madness
In The Wires
Burnout (Do You Mind)
Melodoria

Black Map formed in 2013, releasing a pair of full-length albums: In Droves (2017) and …And We Explode (2014) as well as two EPs: Trace The Path (2018) and Driver ( 2014). Alternative Press compared the band's early EP to "Antenna-era Cave In" and "pure Quicksand-esque gold," while Metal Injection called out the trio's "interesting composition techniques," calling Black Map's music "compelling" and "powerful." Engles, Flanagan and Robyn have spent the last several years touring internationally, both as an opener (Chevelle, Bush, Circa Survive), performing on a variety of festivals (Louder than Life, Rise Above Fest, Carolina Rebellion, and Aftershock), and headlining hundreds of their own dates.

# # #
Photo credit: Clayton Lancaster