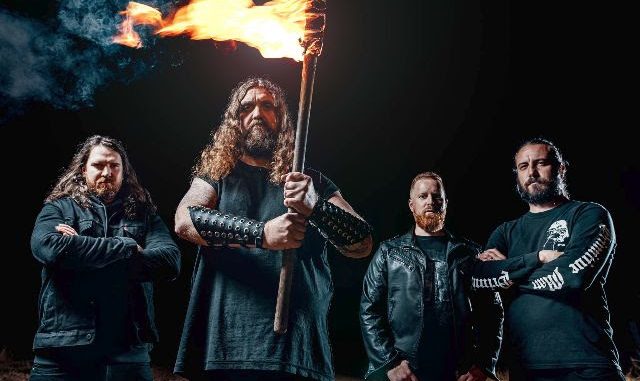 Emerging blackened death metal quartet
BLACK LAVA
will release its debut full-length, 'Soul Furnace,' on November 25, 2022 via Season of Mist! The band is now sharing a blistering performance video for the brand new single, "Northern Dawn." The video, which was filmed and edited by Colin Jeffs and produced by
BLACK LAVA
and Ten of Swords, can be found at
THIS LOCATION
.
BLACK LAVA drummer Dan Presland comments:
"After shooting up in the mountains for two days for the 'Eye of the Moon' video, we drove straight down to our next location the next morning – to take one extreme, the freezing fucking cold, to the other, hot as fuck! We present to you our final single for our debut record 'Soul Furnace' – we hope you enjoy it as much as we enjoyed making it!"
Pre-orders for 'Soul Furnace' are now live HERE and can be saved on all digital streaming services HERE.
BLACK LAVA, "Northern Dawn" (Official Music Video) 2022
The cover artwork for 'Soul Furnace' was painted by Paolo Girardi and can be found below along with the tracklisting.
Tracklisting:
01. Origins (02:50)
02. Aurora (03:35)
03. Black Blizzard (03:32)
04. Baptised in Ice (03:27)
05. Eye of the Moon (04:10) [WATCH]
06. Northern Dawn (04:30) [WATCH]
07. Necrocatacomb (03:23)
08. Nightshade (04:06)
09. Soul Furnace (04:31) [WATCH]
Entire album duration: 34:02
Release Date: November 25, 2022
Genre: Blackened Death Metal

During the turbulent and uncertain years of 2020-2021, perhaps none were plunged deeper into darkness than those from down under as Australia imposed some of the strictest, harshest, and most devastating lockdown measures in the world, forcing their civilians into years of isolation. However, through solitude and desolation, some of the greatest art is created, as is the case with BLACK LAVA, the emerging blackened death metal quartet from Melbourne (AU). Founded by drummer Dan Presland (Vipassi, AMDBL, ex-Ne Obliviscaris) and guitarist Ben Boyle (Vipassi, AMDBL, Hadal Maw), BLACK LAVA draws influence from old school death and black metal bands while injecting groove-laden melodies and progressive elements to create their own experimental sound.

"The idea came about from just pure frustration of the situation at hand during 2020/2021," explains Presland of the band's formation. "Ben and I live locally together, and in the beginning of the pandemic, I built a working studio, so we got together to just initially jam to release some frustrations and vent some music around the second half of 2021. We had a pretty casual jam together and Ben came back with a few fleshed out ideas a few days later." As the ideas started to come to fruition, the duo quickly realized that the project had more potential than just a jam session. "Both of us were really into the direction Ben pushed," continues Presland, "and it was something pretty new to both of us – we have worked together quite extensively over the years within music, playing in several bands together (Vipassi, AMDBL, Aphotic Dawn and more) – so to go in a totally new direction was pretty refreshing."

As the pair fleshed out more ideas, they turned to their good friend Rob Watkins of Blackhelm to fulfill vocal duties. "Within 10 minutes we had found a vocalist and the search for a bassist was on. Tim Anderson (Blackhelm) was found pretty quickly and was keen to jump on board the idea also, so within a very short time frame we had a full lineup, a record ready to go, and 4 guys full of enthusiasm to push something new."

Sharing a diverse love for black metal, death metal, and progressive music, the quartet quickly found their sound and hit a stride. And thus, Soul Furnace was born – a searing 34-minute aural assault that conjures up nostalgia while still sounding fresh and current. While the record promises to usher in a new musical era of the 2020s with its forward-thinking and contemporary energy, the lyrics dwell somewhere between fantasy and the old world.

"In the world of Black Lava, the lyrics are set in a time and world long gone and forgotten, mostly made up of fantasy and a medieval theme, fitting for the realms of our style of music," explains vocalist Rob Watkins of the album's themes and inspirations. "We draw inspiration from the natural environment and mother nature, ancient witchcraft and the glory of warriors in battle. I picture Black Lava as visiting an ancient beast in a cave giving you a chance to escape the outside world through its tales and mythology."

With a new deal with Season of Mist and a team of some of the music industry's most revered artists, producers, engineers, and professionals behind them to help render their vision, Black Lava is ready to make its debut and unleash its fury upon the masses.

Lineup:
Dan Presland (drums)
Ben Boyle (guitar)
Rob Watkins (Vocals)
Tim Anderson (bass)

Links:
https://instagram.com/blacklava.aus/
https://facebook.com/BLACKLAVA00
https://blacklava-aus.bandcamp.com/

Recording Studio: Bushido Studios, Melbourne

Producer / sound engineer: Troy Mccosker

Mixing studio and engineer: Kurt Ballou

Mastering studio and engineer: Alan Douches

Artwork: Paolo Giradi

Pre-sales: https://redirect.season-of-mist.com/BlackLava

Pre-save: https://orcd.co/blacklava-soulfurnace