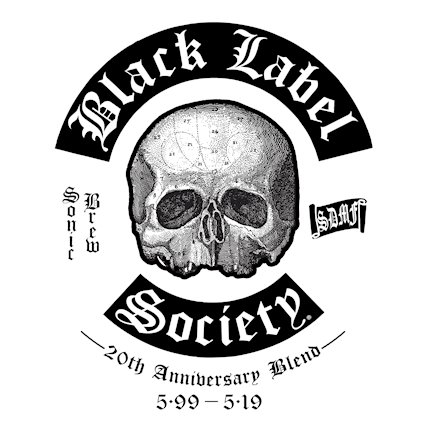 Twenty years have passed since Black Label Society, the brainchild of Zakk Wylde of Ozzy Osbourne fame released their debut album title Sonic Brew via Spitfire Records on May 4, 1999 in North America.
The world was already familiar with Wylde but with the release of Sonic Brew, the disc put Wylde into a different stage spotlight, the Black Label Society stage. It didn't take long though for the troopers to start enlisting, pledging their allegiance to the band.
Now two decades later, Wylde and the band family have blessed the original master recordings with a spicy shot of note for note enhancements for the Black Label Society debut released as Sonic Brew – 20th Anniversary Blend 5.99 – 5.19 through Entertainment One Music (eOne Music).
The studio process for the release wasn't a complete overhaul of the tracks on the debut but rather additions to what was already present on the original making the material stronger led by Wylde's unique vocal style and signature guitar sound and playing.
The 20th Anniversary version of Sonic Brew delivers an octane punch laced with a kick of high caffeine but at the same time not diluting the original recipe of Sonic Brew. The release contains the same track listing and order as the original debut plus additional variations of "Black Pearl" and "Spoke in the Wheel" as bonus tracks.
The bonus track of "Spoke in the Wheel" is a full band and piano version with Wylde at the ivory keys whereas "Black Pearl" is an acoustical presentation showcasing Wylde's soulful vocals.
The release of the revamped Sonic Brew would be an ideal starting point and foundation to work from for those who are not familiar with Wylde's Black Label Society.
At the opposite end of the spectrum, hearing the newly anointed and caffeinated versions of the original 14 tracks as well as the bonus additions would be a good thing for the ears of those familiar with the Black Label Society music and history.
The vinyl version of the release is pressed on 180 gram blue, black and silver vinyl, contains lyrics in the gatefold, various group pictures on the sleeves, a digital download card as well as a limited edition 18 x 24 black and white poster that's suitable for framing. The 20th Anniversary Sonic Brew is also available in CD format.
Currently, Wylde is out on the road with his Black Sabbath cover band Zakk Sabbath but Black Label Society will return to the North American touring cycle on September 11 through October 13 with stops in markets that were not included in the band's spring tour.