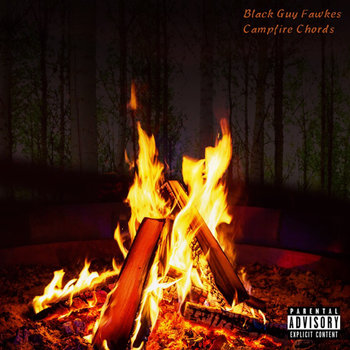 Black Guy Fawkes is the folk-punk moniker for Maryland-resident singer-songwriter Ian Robinson. I came across his body of work by complete accident, as tends to be the case with most of the music I find.
I'd been off social media for about a year. Long story short, I was tired of all its petty squabbles. But I had just finished writing and publishing a book and needed a platform to get the word out. So there I was, scrolling my feed when one of the pages I follow, DC DIY Shows, had a post linking to his Bandcamp page.
I was pleasantly surprised by what I found.
There is a powerful innocence to BGF's music. It's an unfortunate reality that much of what comprises the folk-punk genre today focuses on topics such as nihilism, suicide, and substance abuse. It comes from an honest place, trying to shine a spotlight on the reality of poverty facing too many young people in America. And among these bleak images, progressive politics and social issues are often touched upon. However they tend to take a back seat to lyrics about self-destruction.
This is where BGF's body of work differs. It's refreshing just how positive and hopeful these songs are, yet without becoming sugary or Utopian. Rebellion is a central ingredient. But it's a rebellion with direction and a keen understanding of the topics being discussed.
The artist's latest EP, appropriately titled Campfire Chords is exactly what the name implies. It's intimate, less like being preached at and more communal, as though he were inviting listeners to form a circle and sing along with him.
I recently contacted Robinson regarding the album. He stated, "I call my music 'Campfire punk' … it doesn't have that fast pace [or] urgency punk does but the message of rebellion and inclusivity are there …"
Despite comprising of a single voice and guitar, BGF's influences are on full display. They range from the rambunctiousness of the pop-punk and emo of the early '00s to American roots music's tradition of translating human suffrage into poetic form.
"Less is more for me," he adds, "and I think it speaks volumes to convey a powerful message with one instrument than it would with with a giant accompaniment."
For fans of Green Day and Woody Guthrie alike—as well as anyone who loves the folk-punk genre but feels burnt out on its darker subject matter—Campfire Chords will make a perfect addition to your music library.
Black Guy Fawkes is playing the following dates (and more!):
10/05/19: Mezzos, Cumberland MD
10/11/19: Uncle Jacks, Cumberland MD
11/08/19: Sipside Lounge, Oakland MD
11/16/19: The Devonshire, Shepherdstown, WV
Follow the artist's social media for updates and more tour dates:
Download Campfire Chords on Bandcamp.
Check out all his music out on Spotify.
While you're at it, also check out his OFFICIAL MERCH STORE.