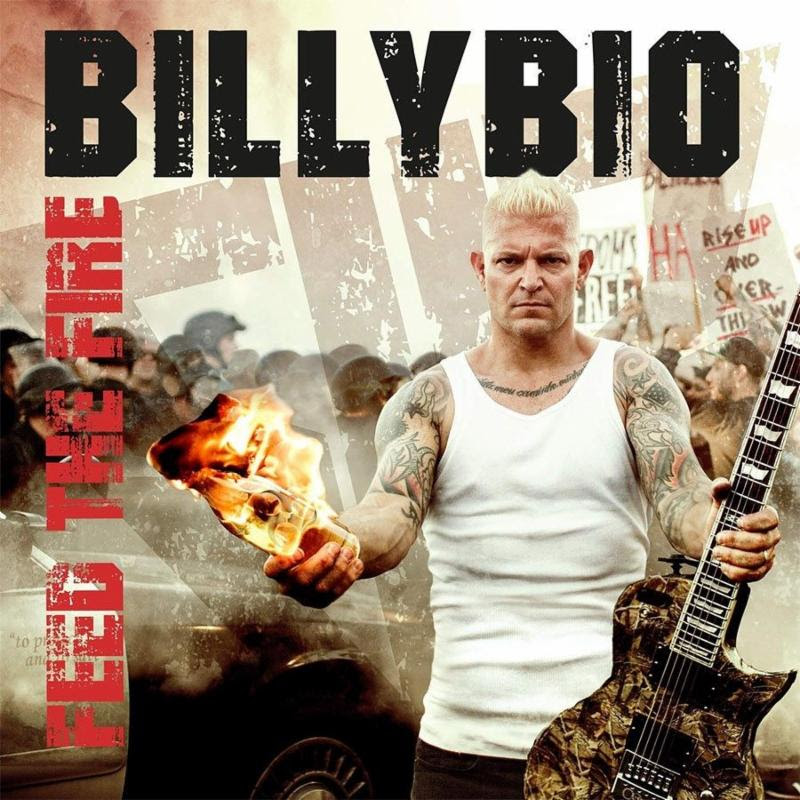 New Album, Feed The Fire, Out Now via AFM Records | Order Here
Influential hardcore/thrash guitarist/vocalist Billy Graziadei, aka
BILLYBIO
, of groundbreaking bands
Biohazard
and
Powerflo
dropped his debut solo album,
Feed The Fire
, late last year via AFM Records. The aggressive, no-holds-barred record is available now via all digital retailers and the official AFM store here:
https://linktr.ee/billybiohazard
In addition,
Feed The Fire
is now available in a limited 7″ vinyl edition featuring unreleased material via Bridge Nine Records. Order here:
www.b9store.com/billybio
Today, following up to his three previously released music videos for "
Freedom's Never Free
", "
Rise and Slay
" and "
Feed the Fire
",
BILLYBIO
has unleashed a fourth new music video, this time for the unrelenting track "Enemy". Watch the volatile new video, directed by
BILLYBIO
and Steedo for Rock 'N' Roll Video, here via
YouTube
and
Facebook
.
BILLYBIO says about "Enemy": "I wrote a song about the two sides of a political enemy. Is the political detainee who stands up for his kind, sacrificing their own well-being for the benefit of everyone else, an actual enemy? Is the person who stands up for those who can't stand on their own, a friend or a foe? One of the most controversial subjects while I was writing this song was waterboarding, the scene at the end of the video was the worst thing I've ever experienced. There are two sides in life, with, or against. Pick one."
Unfiltered and incendiary, Feed The Fire is an adrenaline rush of hardcore-thrash at its purest form. The relentless sonic attack features 13 unwavering tracks that conjure early Biohazardnostalgia while sounding nevermore fresh. Billy's unabashed lyrics speak his truth as he leaves it all on the record unabashed and ready to whip the pit into a furious cyclone.
"I've always wanted to do a solo release and the timing of everything that I have been working on just seemed to fall in place," says BILLYBIO about his solo venture. "I always let the creative juices flow, I don't try and restrict them to fit a certain genre. With BILLYBIO, it's 100% me. No influence from anyone else. This is who I am and what I've become. I'm a product of everyone I've met, talked with, shared my stories with… and a bit of their stories as well. Anyone who's a fan of what I've done, especially with Biohazard, will love this! There's something there for every fan of heavy underground music!"
BILLYBIO will tour in Europe this June, with a kick off performance at Antwerp Metal Fest on May 31. Then, BILLYBIO will tour in the US in July and August with hardcore bands Cutthroat, from Los Angeles, and Aggressive Dogs, from Japan. Links for Cutthroat and Aggressive Dogs can be found below.
See below for all currently confirmed tour dates:
European dates:
May 31 – Merksem, Belgium @ Antwerp Metal Fest
June 1 – Rennes, France @ 1988 Live Club
June 2 – Bègles, France @ BT59
June 3 – Toulouse, France @ L'usine a musique
June 4 – Genève, Switzerland @ L'usine
June 13 – Lünen, Germany @ Das Greif
June 14 – Strasbourg, France @ La Laiterie
June 15 – Euralille, France @ L'Aéronef
June 17 – Kassel, Germany @ Goldgrube
June 18 – Wien, Austria @ Viper Room
June 20 – Budapest, Hungary @ Dürer Kert
June 21 – Chrudim, Czech Republic @ R club
June 22 – Ostrov Nad Ohří, Czech Republic @ ISLAND Fest
June 23 – Essen, Germany @ Turock
June 25 – Lodz, Poland @ Magnetofon
June 26 – Hamburg, Germany @ Monkeys Music Club
June 27 – Osnabrück, Germany @ Bastard Club
June 28 – Ysselsteyn, Netherlands @ Jera On Air
June 29 – Gräfenhainichen, Germany @ Full Force Festival
US dates with Cutthroat and Aggressive Dogs:
July 16 – Fullerton, CA @ Programme Skate & Sound
July 20 – Long Beach, CA @ TBC
July 21 – Orangevale, CA@ The Boardwalk
July 22 – Redding, CA @ The Dip
July 24 – Spokane, WA @ The Pin
July 25 – Seattle, WA @ Club Sur TBC
July 26 – Boise, ID @ TBC
July 29 – Denver, CO @ Hermans Hideaway
July 31 – Salt Lake City, UT @ Metro Music Hall
August 1 – Las Vegas, NV – The Dive Bar
August 2 – San Diego, CA – Brick By Brick
August 3 – Hollywood, CA – The Whisky
Stay tuned for more news from BILLYBIO coming soon!
BILLYBIO online: