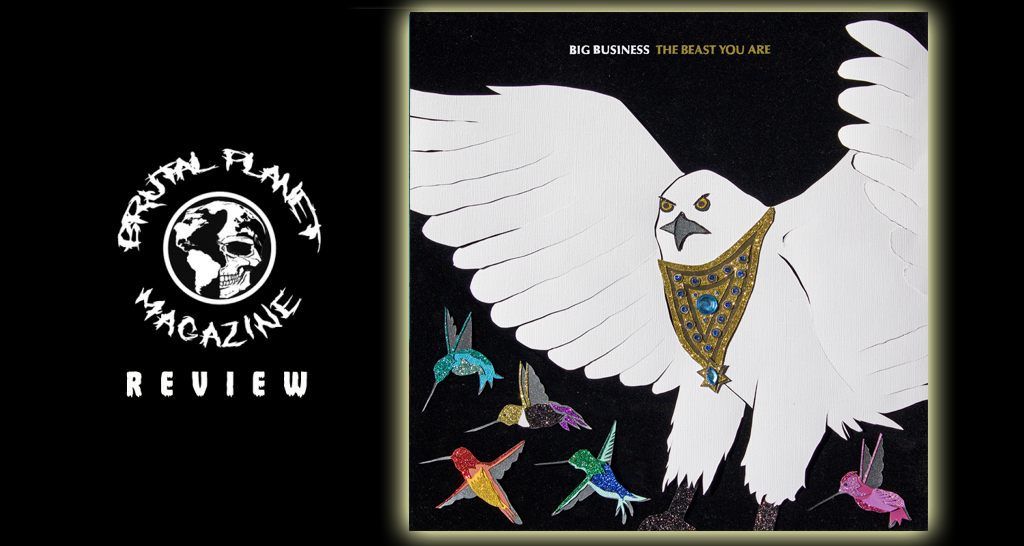 Big Business have been… well…. big business for a quite a while now. Formed in Seattle 15 years ago, they made some waves with their first release "Head for the Shallow" back in 2005 and the band has been churning out fantastic sludge / stoner rock ever since.
In late 2006, after relocating to LA Jared and Coady both became members of The Melvins, first appearing on their album (A) Senile Animal. The tour that followed was called "the Double-Drumming Rock for Peace tour." It featured Warren and Willis playing a set as Big Business before being joined by Crover and Osborne to perform as the Melvins.
The band has released 5 albums over the course of their 15 year existence and "The Beast You Are" is their sixth full length album. The press kit for the new record included this note from the band:
We humbly submit unto you our sixth full-length album. It's all yours now, isn't that great?! It's a cosmic sweepstakes, all are eligible. It doesn't matter who you are, what you want, or what you're willing to do to get it. If you just let the Biz do the driving for the next 45 minutes or so, you could win an all-inclusive vacation from this spacetime ghetto we've been forced to subjectively experience. Enter as often as you like, peel off that smelly old human costume and relax, bud! You're a gorgeous beast. ~ Coady & Jared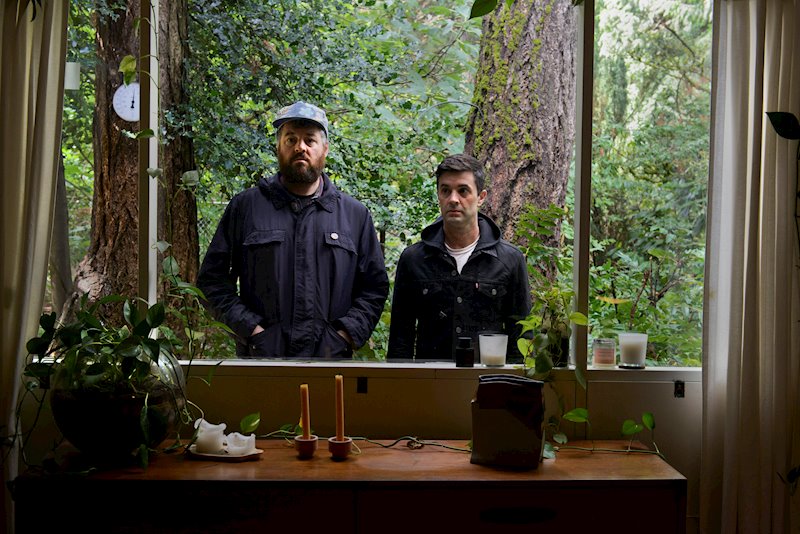 Before Big Business Coady Willis did some time with the band The Murder City Devils. His bandmate, bassist / vocalist Jared Warren, was a member of the noise rock band Karp. They officially combined as Big Business in 2004. In an odd way, their first few albums didn't mesh well with their label HydraHead's "post-metal" aesthetic. This mattered little though, as their idiosyncrasies eventually caught the attention of The Melvins. They recorded three albums, an EP, and various songs between 2006 and 2016 with that iconic grunge/doom/experimental act, all while maintaining their own identity as Big Business. Along the way, they picked up guitarists Toshi Kasai and Scott Martin, but on 2016's Command Your Weather, they returned to their core duo format. They remain in that lineup today for their sixth full-length, The Beast You Are.
"It's just better. We work faster, and we know what we're both going for. It gives us more room to be weirder in certain aspects and try different things. It makes sense because that's how we established ourselves in the beginning and how we learned to write songs together, it was just the two of us. Coming back to that lineup felt natural," continues Willis. The two performed everything on the album, which was recorded between the early November and early December of 2018 at El Studio in San Francisco by Phil Becker (Pins of Light, Terry Gross). Warren has also once again hacked up some construction paper for one of his unique cover art pieces.
With a new, dynamic demoing process leading to the creation of the most songs they've ever written for an album, The Beast You Are delivers 13 doses of sludgy, heavy rock music. From the ominous death march of "The Moor You Know" to the soaring "Let Them Grind" to the delicate, ethereal "Under Everest," Big Business pummels your eardrums with a sound that is very reminiscent of bands like the Melvins or Kyuss.
My favorite track on the record is called "Time and Heat." It's a slower groove that almost has a Deep Purple or Led Zeppelin like classic rock vibe to it. The pairing of the guitar and synths the band uses creates a sound that is a lot more original than the majority of their counterparts in the stoner / sludge genre. It makes the music sound "electric" in a way that a lot of bands can't even get close to.
For fans of raw driving rock, this record will definitely hit the spot. Each track has an energy and a groove all it's own and the album is consistent as a single piece of work. The new album AVAILABLE APRIL 12th EVERYWHERE serves as a reminder that Big Business is still out here kicking more ass than ever in 2019.