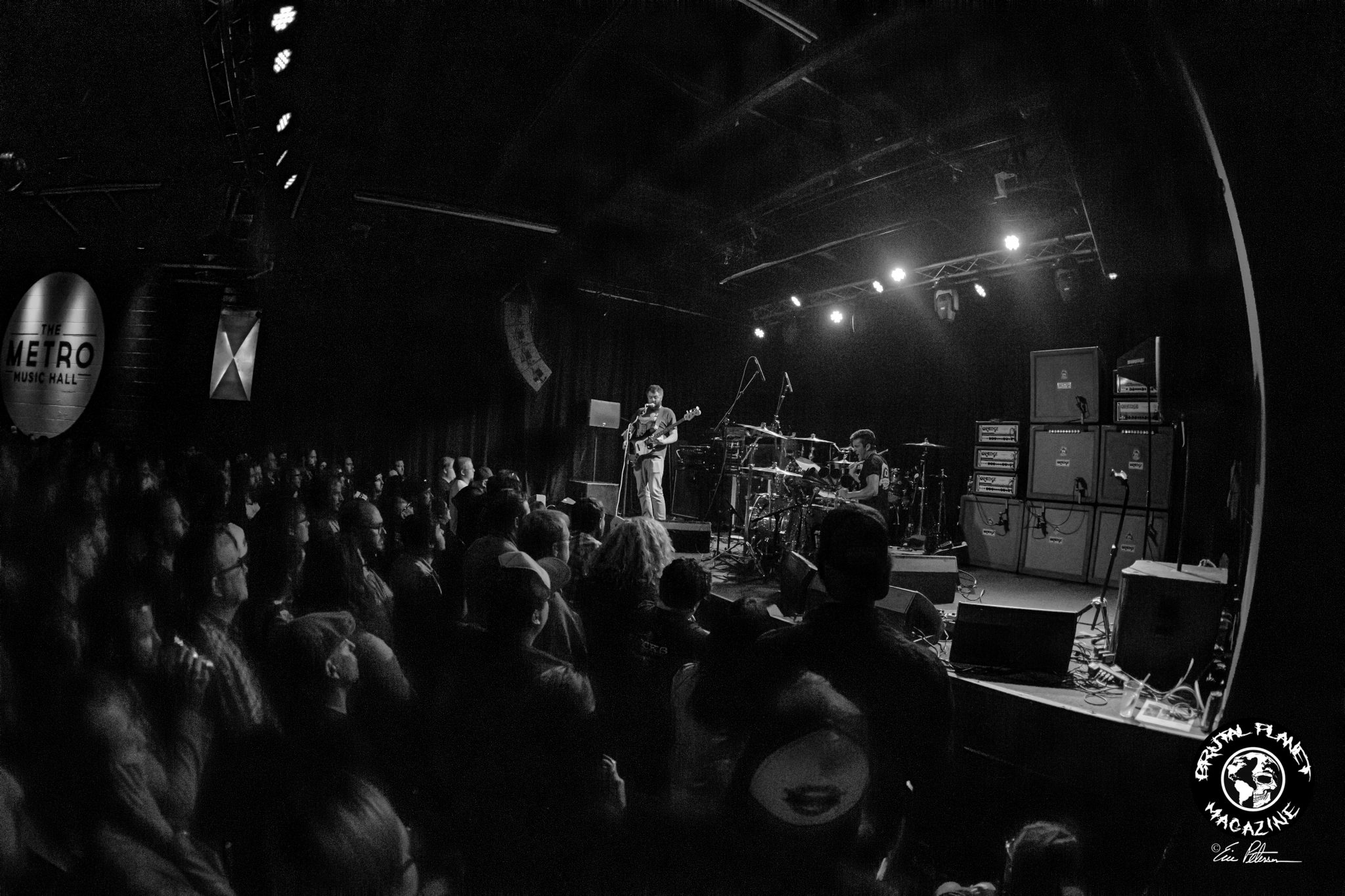 It was yet another rainy Tuesday night in Salt Lake City, Utah and I was eagerly awaiting the adventures ahead.  I head for downtown and as I arrived at the Metro Music Hall what I saw shocked me. As I got closer, I noticed there was a line of people wrapped around the block just waiting to get in.  Now, keep in mind I have never seen something like this here in SLC for an opening act.  Seeing that gave me butterflies in my belly and I instantly got more excited to see the band, Big Business.
Big Business is a power duo out of Seattle, Washington.  With Jared Warren on Bass and Coady Willis on Drums, they have been putting albums out since 2005. This group has a sludge metal or stoner metal sound to them but they put their own unique taste on it. Jared and Coady are no strangers to playing big; they were also both members of the band The Melvins which gives them huge credibility in my world.
The lights dim and the sounds of an angelic choir start off the song, "Own Throats." All of a sudden, they just rip your face off with the thick, distorted bass and constant moving drums. One would never imagine this was just a two piece given how their sound really fills the whole club.
They go on tearing our eyes out of their sockets with tunes like, "Father's Day" and "Blacker Holes." By this time I was sure the drummer had to have been tired as he was not letting up. His drumming style did not allow for any breaks longer than a split second. He was constantly moving, and it sounded amazingly tight. They finish the set up and left the crowd hungry for more as we were all waiting for an encore, that unfortunately never happened.
I had such a great time watching Big Business shred on stage. I would highly suggest seeing them the next time they are in your town.  
Check out their upcoming dates for 2019:
Wednesday 05 June 2019
Intersection, Grand Rapids, MI, US
Thursday 06 June 2019
Town Ballroom, Buffalo, NY, US
Friday 07 June 2019
Skyloft, Albany, NY, US
Saturday 08 June 2019
Baltimore Soundstage, Baltimore, MD, US
Sunday 09 June 2019
Jefferson Theater, Charlottesville, VA, US
Tuesday 11 June 2019
Neighborhood Theatre, Charlotte, NC, US
Wednesday 12 June 2019
The Mill & Mine, Knoxville, TN, US
Thursday 13 June 2019
Marathon Music Works, Nashville, TN, US
Friday 14 June 2019
Saturn, Birmingham, AL, US
Saturday 15 June 2019
40 Watt Club, Athens, GA, US