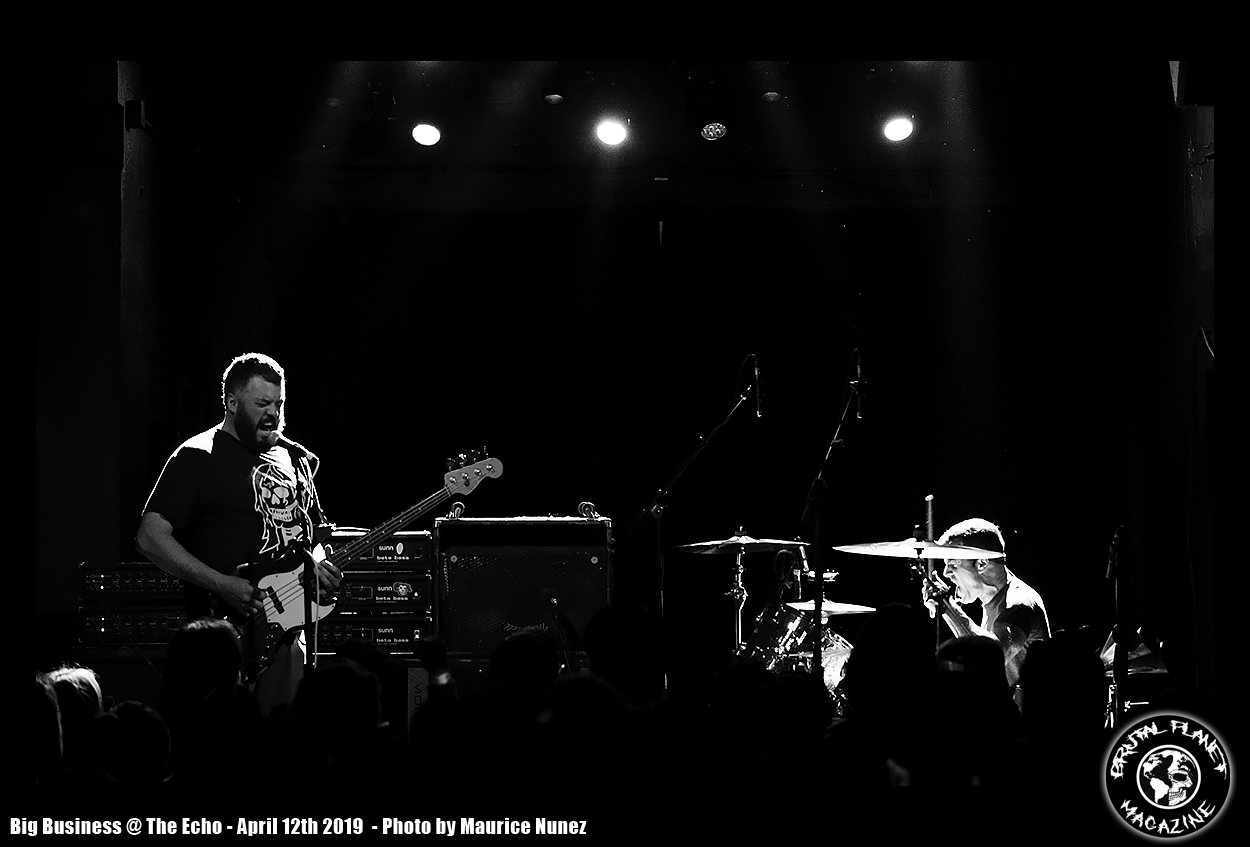 What to do on a musty Friday night in Echo Park? You could get some Thai food, have a gourmet burger… or how about go and see a legendary sludge rock band that has close ties to the Melvins? If you think the latter sounds like a good idea, you're on my wavelength.
I got to the venue earlier than I probably should have but also early enough to catch both the opening acts. The first band Grave Zone was decent and had some pretty cool layered guitar stuff going on. They had no bass player just a drummer and 3 guitarists. The sonic wall of sound they put out had a lot of interesting texture and nuance.
The next band "Yawning Man" was really good. They were a completely instrumental band in the vein of Russian Circles or Mogwai. They didn't say a word and I don't think they could have if they had wanted to since there were no mic's on the stage. They let the music speak for itself and it honestly did a great job.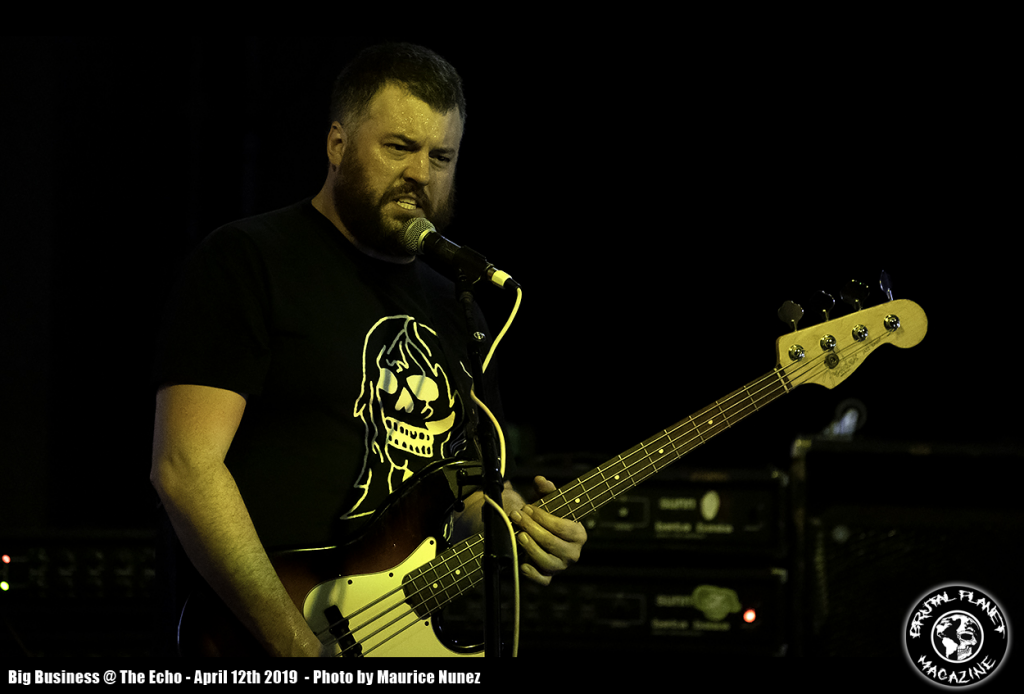 Then the house lights went down as Big Business was ready to take the stage. When Jared and Coady emerged on stage to the cheers of the waiting crowd we all knew the time had come. Jared stepped to the mic and began to sing "THE HILLS ARE ALIVE…. WITH THE SOUND OF…." and with that they tore into their set.
If you've never seen Big Business live they are a 2 piece with a huge sound. Jared Warren the bass player / lead vocalist uses some different effects to make his sound wide and thick. He also does a lot of tricks with looping. There were some points in the show where he was recording his own voice multiple times and then singing over those loops.
Photos by Maurice Nunez https://www.instagram.com/devilman.138/
The drummer Coady Willis is a power house. When you're a 2 piece band you need a drummer with his level of energy. I took a little bit of video to give you an idea – but he went off all night. He also does a lot of unique percussion riffs with different sized cowbells. This is something that really sets him apart from other drummers… aside from the intensity and energy he puts off.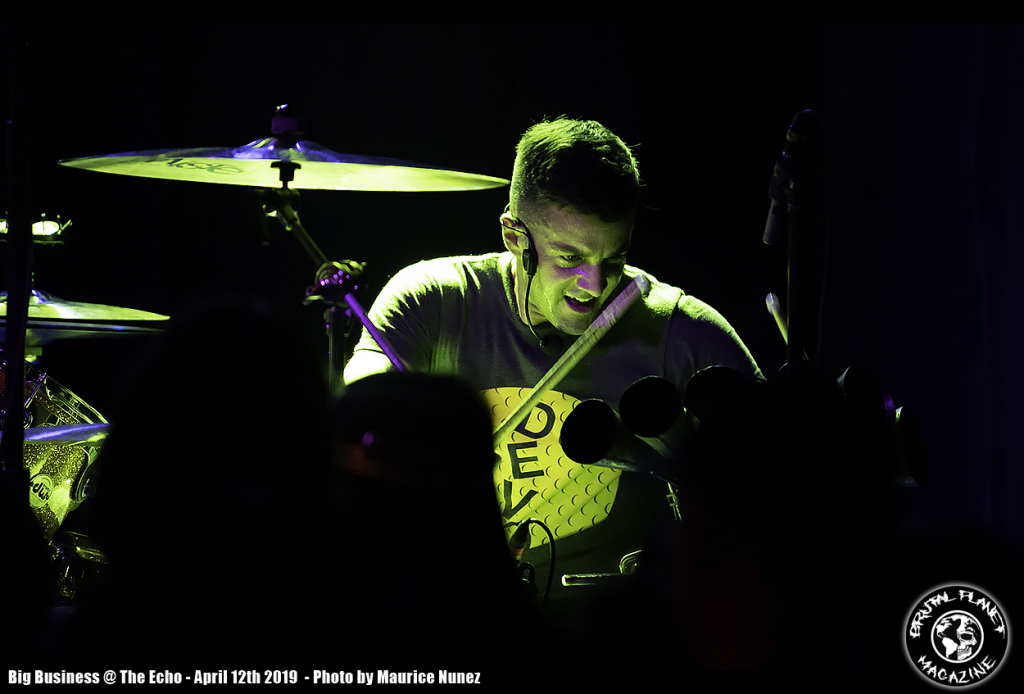 The band is touring this summer with "Sleep" and if you get a chance to see them do it. You won't be sorry.
Here are the dates:
APR 16 – Portland, OR – Mississippi Studios
APR 17 – Vancouver, Canada – The Wise Hall
APR 18 – Bellingham, WA – Shakedown
APR 19 – Tacoma, WA – Fawcett Hall at Alma Mater
APR 20 – Seattle, WA – Sunset Tavern
APR 21 – Spokane, WA – The Bartlett
APR 23 – Salt Lake City, UT – Metro Music Hall
APR 24 – Denver, CO – Hi-Dive
APR 26 – Kansas City, MO – The Riot Room
APR 27 – Norman, OK – Norman Music Festival
APR 29 – Albuquerque, NM – Sister Bar
APR 30 – Flagstaff, AZ – Flagstaff's Green Room
MAY 27 – Las Vegas, NV – Brooklyn Bowl
MAY 28 – Salt Lake City, UT – Metro Music Hall
MAY 29 – Boulder, CO – Boulder Theater
MAY 31 – Omaha, NE – Slowdown
JUN 03 – Madison, WI – The Sylvee
JUN 05 – Grand Rapids, MI – Intersection
JUN 06 – Buffalo, NY – Town Ballroom
JUN 07 – Albany, NY – Skyloft Albany
JUN 08 – Baltimore, MD – Baltimore Soundstage
JUN 11 – Charlotte, NC – Neighborhood Theatre
JUN 12 – Knoxville, TN – The Mill & Mine
JUN 13 – Nashville, TN – Marathon Music Works
JUN 14 – Birmingham, AL – Saturn
JUN 15 – Athens, GA – 40 Watt Club
JUN 17 – Tampa, FL – The Ritz Ybor
JUN 18 – Miami, FL – The Ground – FL
JUN 20 – New Orleans, LA – One Eyed Jacks
JUN 22 – Austin, TX – Hotel Vegas
JUN 24 – Tucson, AZ – Club Congress