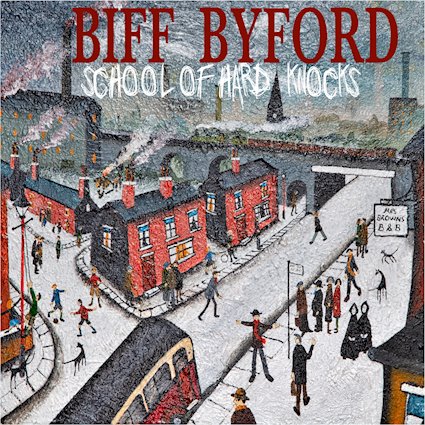 Biff Byford, vocalist for England's Saxon has released his first-ever solo album titled School of Hard Knocks through Silver Linings Music.
Byford is no stranger to the heavy metal genre as he has been the sole front man of Saxon over their lengthy career. The band can be considered one of the pioneers of the NWOBHM along with Iron Maiden, Judas Priest, Witchfinder General and others.
Byford has an impressive roster joining him on the release. Respectable names such as Phil Campbell (Motorhead), Alex Holzwart (Rhapsody of Fire), Nick Barker (Voices), Dave Kemp (Wayward Sons) and Nibbs Carter (Saxon).
Even though Byford fronts a long running metal band, the release itself is not just a heavy metal record. It's more of a reflection of his personality, life and him personally.
Of course, there are classic heavy metal sounding tracks like the opener "Welcome to the Show" followed by the title track both, which have a Wheels of Steel vibe. Yet, Byford tosses in some diversity music wise. This is evident from "Inquisitor," a spoken word poetic approach to the Spanish Inquisition.
Even though "Worlds Collide" can be consider a chugging fist pounding and head banging of a track, Byford surprises with "The Pit and the Pendulum." It's more of a progressive offering with a nice acoustical passage, showing a softer vocal side of Byford.
The listener should truly appreciate "Scarborough Fair". It allows Byford to continue with more toned down and softer vocals. What the listener may not expect is the song was recorded by Simon and Garfunkel and released in 1966. Fredrik Akesson from Opeth lends a hand helping to Byford give new life to the classic Yorkshire folk song.
Not to slow the pace down too much, Byford returns back to the heavier side of things with "Pedal to the Metal" and "Hearts of Steel," both respectable heavy metal tracks.
Rounding out School of Hard Knocks, Byford pulls back once again. He delivers three classic sounding and flowing final tracks, "Thrown Down the Sword," "Me and You" and "Black and White".
With the release his first solo effort, Byford was able to explore. Fans should not expect a solo Saxon album at all. Yes, there may be hints of Saxon greatness but School of Hard Knocks is a Biff Byford solo album. It's an amazing offering that showcases his versatility as vocalist and songwriter.
Enrollment for this gem called School of Hard Knocks begins on Friday, February 21.