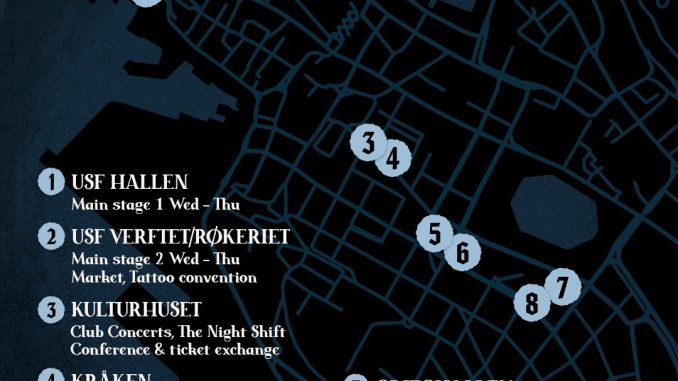 + Beyond the Gates Experience
Explore black metal landmarks with Tore Bratseth, have a wine tasting with Gaahl, check out the grand opening for the Dimmu Borgir Exhibition, and so much more!
So this is it, folks – Beyond the Gates 2023 in all its glory! The festival is now revealing the daily schedules and is extremely excited to announce that its going even bigger this year! For the first time ever, Beyond the Gates will move into the new venue Kjødehallen, or simply "Hallen," which is an old ship hangar. Hallen is located behind Røkeriet, and both are a part of the expanded cultural complex, USF Verftet.
The old main stage, Røkeriet, which will still be used, is tied to Hallen by a huge parking lot where you'll find food trucks, seated areas, DJs and more!
The concerts will alternate between two venues – Røkeriet and Hallen.
In addition, the shorter changeover times has given the festival the opportunity to add another band. Please welcome Spirit Possession to this already impressive lineup, who will now open the festival on Wednesday. This incredible duo knows how to encapsulate their riffs in pure magic.
Be aware that the festival has sold out in several categories, including day tickets for Grieghallen on Saturday. There are only 10 festival passes left and club tickets are running low too. In other words – no need to sit on the fence.
See you in a month!
The eleventh edition of Beyond the Gates will take place in the heart of Bergen, Norway from August 2 – August 5, 2023! The full lineup and daily schedules, which includes Dimmu Borgir's only performance in 2023 as well as special album sets from Deicide, Enslaved, and Primordial, can be found below!
This pummeling festival will take place for four days across multiple venues, including USF Verftet, Kjødehallen, Kulturhuset, and the legendary Grieghallen, where many seminal Norwegian black metal albums were recorded in the 90s.
Tickets can be found HERE.
WEDNESDAY AUG 02
USF Verftet
Deicide (performing Legion)
Possessed
Midnight
Bölzer
Grave Miasma
THURSDAY AUG 03
USF Verftet
Gorgoroth
Marduk
Blood Incantation
Negative Plane
The Ruins of Beverast
Venue X
Perturbator
The Day Shift – Kulturhuset
(Dolch)
Black Curse
Sijjin
FRIDAY AUG 04
Grieghallen
Kreator
Alcest
Primordial (performing To the Nameless Dead)
Eternal Champion
The Day Shift – Kulturhuset
In Twilight's Embrace
Stormkeep
Issolei
The Night Shift – Kulturhuset
Pentagram
SATURDAY AUG 05
Grieghallen – Grieghallen Messe XXMMIII
Dimmu Borgir (only performance of 2023)
Enslaved (performing Eld)
Taake
Aeternus
The Night Shift – Kulturhuset
Mare
Beyond the Gates Festival previously revealed its second annual Beyond the Gates Experience, which offers special guided tours in the heart of Bergen (NO) by some of the Norwegian music scene's own icons! These once-in-a-headbanger-lifetime experiences will be offered to fans during the festival. The festival has now revealed the full lineup, which now also includes a wine tasting with black metal legend Gaahl, a grand opening of a Dimmu Borgir exhibition hosted by Finn Håkon Rødland, a live taping of Alan Averill's 'Agitator's Anonymous' podcast, and so much more!
The experience details are as follows:
Black Metal Landmarks with Tore Bratseth
Metal legend and storyteller bar none, Tore Bratseth (Old Funeral, The Batallion, Bömbers) will take you on a trip to the outskirts of Bergen to show visitors a series of key locations in the Norwegian black metal lore. The trip includes stops at the Lysekloster ruins, where a series of legendary photo and video shoots have taken place, as well as the bunker where Euronymous was photographed for the "De Mysteriis Dom Sathanas" promo cycle. Another stop on the trek is the location of the original Os Rock Club where Mayhem rehearsed before the recording "DMDS" in Grieghallen, and also regular rehearsal place for Old Funeral and Amputation.
This trip will go by bus from outside of Grieghallen (Nygårdsgaten).
Date: Thursday Aug 03 – 11:00 CET
Meet-up: Grieghallen 10:45 CET
Duration: Approx 3 hours
Beyond the Black Metal Classics – a guided tour of Grieghallen with Pytten
If you want to get an in-depth look at how some of the most renowned black metal classics from the 90s came together, look no further! Legendary producer Pytten has offered to take the Beyond the Gates audience on a guided tour of Grieghallen, where he recorded seminal albums such as Enslaved's Vikingligr Veldi, Frost and Eld, the first two Emperor albums, In the Nightside Eclipse and Anthems to the Welkin at Dusk, Gorgoroth's Pentagram and Antichrist, Mayhem's De Mysteriis Dom Sathanas, and Immortal's Diabolical Fullmoon Mysticism, Battles in the North. Without a doubt, all of these records were instrumental in shaping what became the sound of the inimitable Norwegian Black Metal scene in the 90's.
In an effort to make this an intimate experience for all attendees, there will only be a very limited number of tickets available for each group.
Date: Friday Aug 04 – 13:00 / Saturday Aug 05 – 13:00 CET
Duration: Approx 60 minutes
"As a festival, Beyond the Gates is immediately lovable. Bergen is intrinsically part of that embrace… Sure, Norway's expensive, but seeing the best bands out there, taking in a Tolkienesque fjord or two, pilgrimaging to Fantoft church, hitting up Gaahl's art gallery (Galleri Fjalar) nestled in the quaint houses at Bryggen while Freyr gleefully and continually pisses rain on you from the heavens? All worth its weight in hordes of kroner." – Decibel Magazine, December 2022 issue
Since the inception of the Beyond the Gates festival, fans have been coming to Bergen to see performances of their favorite Norwegian artists in their home environment. As most visitors know, nature and local culture has always been a poignant source of inspiration for the bands emerging from the Bergen scene. Yet again, Beyond the Gates will give all of the traveling fans the opportunity to get an unique insight into all aspects of the Norwegian Metal scene and the local culture in general. In that regard, we're putting together a series of events before and during the festival so that all of you can discover what inspired – and still does – the Norwegian metal scene.
More special events will be announced, including an very special art gallery exhibition of a certain well-known singer and wine enthusiast at Bryggen in Bergen as well as guided tour to the infamous Fantoft Stave Church.
In addition, there will be exclusive listening parties, music and culture panels, in-depth live interviews, and a wealth of of events and activities that will give you a Beyond the Gates Experience that will last for a lifetime. Stay tuned for more…
TICKET CATEGORIES
4 Day Festival Pass @ USF Verftet & Grieghallen NOK 3095
Weekend Pass @ Grieghallen NOK 1695
Wednesday Day Ticket @ USF Verftet NOK 945
Thursday Day Ticket @ USF Verftet NOK 945
Friday Day Ticket @ Grieghallen NOK 945
Saturday Day Ticket @ Grieghallen NOK 945
The Day & Night Shift Pass @ Kulturhuset NOK 795
Thursday The Day Shift @ Kulturhuset NOK 245
Friday The Day Shift @ Kulturhuset NOK 245
Friday The Night Shift @ Kulturhuset NOK 345
Saturday The Night Shift @ Kulturhuset NOK 245