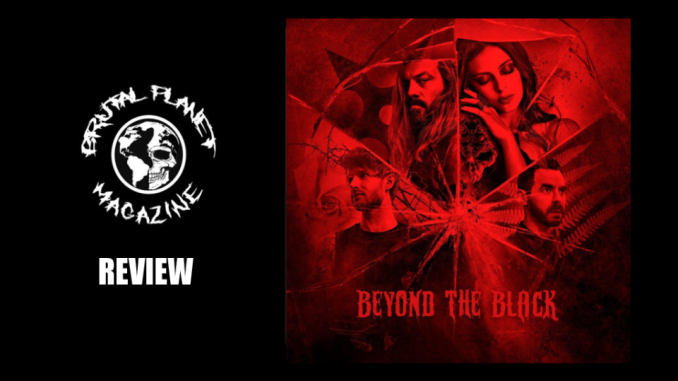 Beyond the Black, the symphonic metal band from Mannheim, Germany is releasing their fifth full-length album on January 13th. The album, which is self-titled "Beyond the Black," will be released through Nuclear Blast Records and is sure to please their fans.
In addition to frontwoman Jennifer Haben's powerful vocals, Christian Hermsdörfer (guitar/backing vocals), Tobias Lodes (guitar/backing vocals), and Kai Tschierschky (Drums) show off their musicianship on the album's ten songs. The opening track, "Is There Anybody Out There?" features catchy riffs and a killer guitar solo. The official music video premiered last August and has nearly one million views. "Reincarnation" is really unique as it blends acoustic guitar along with the band's familiar metal riffs. The sound shifts a little on the third track, "Free Me." It is quite anthemic and really builds throughout the song. "Winter Is Coming" pounds at the speed of a blustery gale from the North- Tschierschky's double kick pedals rarely let up.
Halfway through the album is " Into the Light." This one didn't stick out to me as much but it's still a solid track. "Wide Awake" starts out with acoustic guitar. It's really refreshing to hear a metal band writing with diversity. Haben's voice is beautiful and fits well with the music. The next track, "Dancing In the Dark," is probably my favorite song on the album. It starts out with some chanting and conjures up a symphonic metal version of a spirit dance. It swells into a heavy bridge with a great solo and drumming. "Raise Your Head" is a heavier song with some interesting vocal arrangements.
Sometimes, bands will throw their less-impressive songs near the end of the album, however, that is not the case with Beyond the Black. "Not In Our Name" hits hard and easily stands out with its taunting guitar and bass-heavy riffs. The final track, "I Remember Dying," is another favorite of mine. Its eerie and ambient background fits well with the lyrical theme of the song. If you chose to have a symphonic metal band play at your funeral, this song could be it. It's one of the best songs I've heard the band write. I'm certain you'll love the way this album concludes.
This band is incredibly talented and Jennifer truly is an amazing vocalist. This is a great album and my only critique is that there aren't enough tracks. It's quite short compared to the band's norm. When bands put out a "self-titled" album, it usually tells me that they are making a statement- "This album is who we are. We found our sound." For long-time fans, you'll love this release. For those who have never heard of Beyond the Black, this album is a perfect gateway to a great band. Check it out!