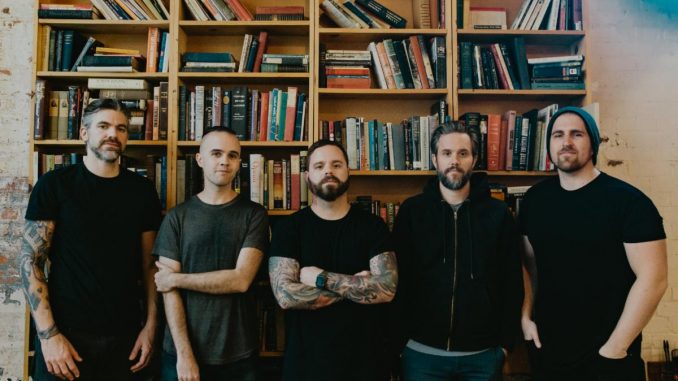 Friday, July 23rd, 2021 – Grammy Award nominated progressive metallers Between The Buried And Me have have dropped new track, "Revolution In Limbo", the second song taken from their highly anticipated new album, 'Colors II', which will be released on Friday, August 20th via Sumerian Records with pre-orders available now from
betweentheburiedandme.com
.
"Revolution In Limbo" follows the release of first single "Fix The Error" which spawned a brilliant
animated music video
, paying homage to the 90s cartoons the band grew up watching. "Fix The Error" debuted in the top 10 on the iTunes Metal charts and was the third most played track on SiriusXM's Liquid Metal the week it launched. Fans were so excited by new Between The Buried and Me music and the announcement of 'Colors II' that the first pressing of vinyl pre-orders completely sold out in just 24 hours.
Between The Buried and Me built their influential 2007 album, 'Colors', on an unwavering commitment to artistic integrity. They've only fortified that commitment on its 2021 sequel, "Colors II" [Sumerian Records]. The circumstances surrounding both records bear key similarities, yet the North Carolina quintet—Tommy Rogers [lead vocals, keyboards], Paul Waggoner [lead and rhythm guitar, backing and lead vocals], Dustie Waring [rhythm and lead guitar], Blake Richardson [drums], and Dan Briggs [bass, keyboards]—once again stretch the boundaries of their signature sound and heavy music at large.
"Especially with 2020, we really wanted to give it all we could and show the world we're still here," explains Tommy. "That's part of the reason we named it Colors II. We were in a similar spot when we did the first Colors. Back then, we had just gotten done with OZZfest. We were wondering, 'Where do we belong in this music scene?' We still struggle with that. At both of these moments in our career, we decided to just be ourselves and write the best album we can. We came out guns blazing, and I feel like it's some of our most creative material in a long time."
"Colors was very much our attempt at a do-or-die statement," recalls Paul. "We had to establish our identity and be who we really wanted to be in order to have a career. This time around, our industry was shutdown for a year. Once tours were cancelled due to the Pandemic, we were like, 'We've got to write a record, and it's got to be good'. We had to do something next level."
Between The Buried And Me

Colors II

1. Monochrome

2. The Double Helix of Extinction

3. Revolution In Limbo

4. Fix The Error

5. Never Seen/Future Shock

6. Stare Into The Abyss

7. Prehistory

8. Bad Habits

9. The Future Is Behind Us

10. Turbulent

11. Sfumato

12. Human Is Hell (Another One With Love)
Between The Buried And Me will also be hitting the road next month for their "An Evening With Between The Buried And Me" Tour. In celebration of their 21 years as a band, Between The Buried And Me will play two special sets each evening, the first consisting of a career spanning set-list and the second, playing their album, 'The Great Misdirect' in full. Tickets are available now from
betweentheburiedandme.com
and VIP Package are available from
btbamvip.com
. Full dates listed below.
Aug 3 Atlanta, Ga At Masquerade

Aug 4 Richmond, Va At Canal Club

Aug 5 Philadelphia, Pa At Tla

Aug 6 Washington, Dc At Black Cat

Aug 8 Nyc, Ny At Gramercy

Aug 9 Nyc, Ny At Gramercy

Aug 10 Worcester, Ma At Palladium

Aug 11 Hartford, Ct At Webster Theater

Aug 13 Poughkeepsie, Ny At The Chance

Aug 14 Rochester, Ny At Anthology

Aug 15 Pittsburgh, Pa At Mr. Smalls

Aug 16 Cleveland, Oh At Beachland Ballroom

Aug 17 Detroit, Mi At Magic Stick

Aug 19 St. Louis, Mo At Old Rock House

Aug 20 Chicago, Il At House Of Blues

Aug 21 Minneapolis, Mn At Lyric Theater

Aug 22 Lawrence, Ks Liberty Hall

Aug 23 Denver, Co At Summit

Aug 25 Salt Lake City, Ut At The Complex

Aug 26 Boise, Id At Knitting Factory

Aug 28 Seattle, Wa At El Corazon

Aug 29 Portland, Or At Bossanova Ballroom

Aug 31 Sacramento, Ca At Ace Of Spades

Sep 1 Garden Grove, Ca At Garden Grove Amp.

Sep 2 Los Angeles, Ca At Teragram

Sep 3 Las Vegas, Nv At Fremont Country Club

Sep 4 Phoenix, Az At Crescent

Sep 6 Dallas, Tx At Trees

Sep 7 San Antonio, Tx Vibes Event Center

Sep 8 Houston, Tx At Rise

Sep 10 Pensacola, Fl At Vinyl

Sep 11 Tampa, Fl At Orpheum

Sep 12 Fort Lauderdale, Fl At The Culture Room

Sep 15 Nashville, Tn At Marathon Music Works

Sep 16 Charlotte, Nc At Underground

Sep 17 Charlotte, Nc At Underground
About Between The Buried And Me
With nearly 20 years of hard-earned experience behind them, Between The Buried And Me have seen enormous success and gathered huge critical acclaim. Their fourth offering 'Colors' represented the first in a series of high watermarks. It graced numerous tastemaker lists, including KERRANG!'s "The 21 Best U.S. Metalcore Albums of All Time," Prog Magazine's "The 100 Greatest Prog Albums of All Time," ThoughtCo's "Essential Progressive Metal Albums," and Loudwire's "Top 25 Progressive Metal Albums of All Time" and "Top 100 Hard Rock and Heavy Metal Albums of the 21st Century." In its wake, 2015's 'Coma Ecliptic' opened at #12 on the Billboard Top 200 and received a perfect rating from The Guardian. During 2018, they unleashed the two-part 'Automata I' and 'Automata II' to further acclaim and a Grammy Nomination. Along the way, the group toured with everyone from Mastodon and Coheed and Cambria to Lamb of God and Devin Townsend in addition to selling out headline shows around the globe and have clocked up over 100 million streams across streaming platforms. The band are also one of the only musical acts to have a rare species of prehistoric Starfish, discovered in 2018, named after them. The Amphilimna intersepultosetme (the literal Latin translation of their name) lived 67 million years ago in South Carolina.
Between The Buried And Me Are
Tommy Rogers – Lead Vocals, Keyboards
Paul Waggoner – Lead and Rhythm Guitar, Backing and Lead Vocals
Dustie Waring – Rhythm and Lead Guitar
Blake Richardson – Drums
Dan Briggs – Bass, Keyboards
Find Between The Buried And Me