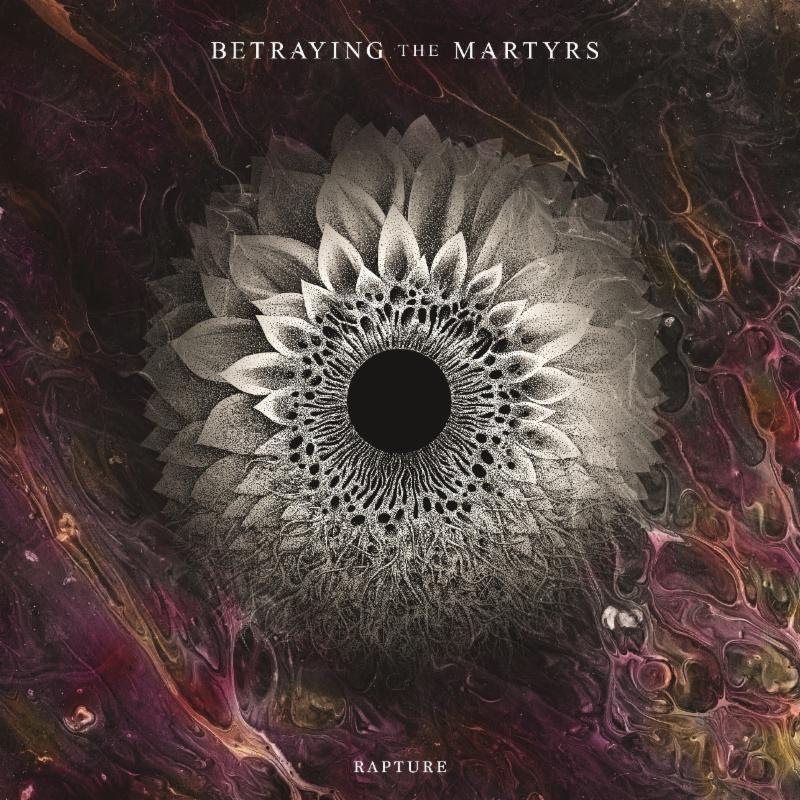 New Album, Rapture, out September 13, 2019 via Sumerian Records |
Pre-Order Here
Album art by Valentin Hauser featuring original art, "Pestilence View", by Searing Limb
Metal heavyweights BETRAYING THE MARTYRS recently announced the upcoming release of their fourth full-length studio album, Rapture (out September 13 via Sumerian Records), preparing fans for what they describe as their "ultimate" album. Pre-orders for Rapture are available now
here
, with merch bundles are available
here
.
Today, BETRAYING THE MARTYRS announced their headline European Parasite Tour, featuring support from Russian R&B-metal crossover band Shrezzers and Nepalese metal outfit Underside. See below for all currently confirmed European tour dates:
18.09 – Germany, Berlin, Musik & Frieden
19.09 – Czech Republic, Prague, Modra Vopice
20.09 – Germany, Dresden, Reithalle
21.09 – Austria, Vienna, Viper Room
22.09 – Germany, Munich, Backstage Halle
23.09 – Germany, Stuttgart, Wizemann Club
24.09 – Germany, Ashaffenburg, Colos-Saal
25.09 – Switzerland, Baden, Werkk Kulturlokal
26.09 – Switzerland, Lyss, Kulturfabrik
27.09 – Netherlands, Rotterdam, Baroeg
28.09 – Netherlands, Eindhoven, Dynamo
29.09 – Germany, Cologne, Euroblast Festival
30.09 – Germany, Hamburg Logo
02.10 – Sweden, Gothenburg, Tradgam
03.10 – Sweden, Stockholm, Fryshueset Klubben
05.10 – Finland, Tampere, Lost In Music Festival
06.10 – Finland, Helsinki, On The Rocks
UK headline dates to be announced soon.
Coinciding with this European tour announcement is the release of an impressive playthrough by drummer Boris LeGal, performing the band's new single "Parasite". Check it out via Sumerian's YouTube channel here:
https://youtu.be/Tkenb3ll9fM
Make sure to also check out the band's recently released video for "Eternal Machine", a track also appearing on Rapture:
https://youtu.be/u7J4cXFpCZ0
Rapture promises to deliver many more neck-breaking metal tracks packed with huge hooks and melodies. The sextet set out to create their most impressive release yet and have exceeded all expectations with Rapture. Tracks like "Incarcerated" depict how deep the band is willing to go down the personal rabbit hole lyrically, while songs like "Rapture" and "Imagine" showcase the true span of the band's musical spectrum – proving that any metal fan can find something to love on Rapture.
Aaron comments on Rapture: "Rapture for us is a product of each one of our experiences up until this moment; each moment lived on the road, and every drop of inspiration picked up along the way. Written musically in the only way we know how, we took each one of our musical tastes and formed it into the ultimate album for ourselves, hoping that it will translate and fall onto the ears of the listeners the same way it falls onto ours. Rapture is a musical journey through each one of our minds, lyrics that come from both the darkest and lightest corners of our souls. We put everything into this one, leaving behind any preconceptions, and what came out the other side is something that we're all so proud of, and we hope that the listener will feel it within themselves also."
BETRAYING THE MARTYRS are currently on their first headline tour of North America, the Summer Rapture Tour, also featuring support from Entheos, Within Destruction, Sentinels and Defying Decay. See below for a full listing of currently announced North American tour dates:
Remaining BETRAYING THE MARTYRS Summer Rapture Tour Dates
w/ Entheos, Within Destruction, Sentinels and Defying Decay:
7/3 – Orlando, FL @ Soundbar
7/5 – Houston, TX @ White Oak
7/6 – Ft. Worth, TX @ Tomcats West
7/7 – Austin, TX @ Come and Take It Live
7/8 – Albuquerque, NM @ The Launchpad
7/9 – Mesa, AZ @ Club Red (Small Room)
7/10 – Los Angeles, CA @ 1720
7/11 – Orangevale, CA @ The Boardwalk
7/12 – Portland, OR @ Bossanova Ballroom
7/13 – Armstrong, BC @ Hassen Memorial Arena
7/14 – Seattle, WA @ Club Sur Rocks
7/16 – Salt Lake City, UT @ Kilby Court
7/17 – Denver, CO @ The Roxy Theatre
7/18 – Kansas City, MO @ The Riot Room
7/19 – Des Moine, IA @ Vaudeville Mews
7/20 – Minneapolis, MN @ The Whiskey Junction
7/21 – Cudahy, WI @ X-Ray Arcade
7/22 – Joliet, IL @ The Forge
7/23 – Hamtramck, MI @ The Sanctuary
7/24 – Toronto, ON @ Rockpile West
7/25 – Ottawa, ON @ Mavericks
7/26 – Quebec, QC @ L'Anti Bar & Spectacles
7/27 – Hartford, CT @ Webster Theater Underground
7/28 – Brooklyn, NY @ The Kingsland
About BETRAYING THE MARTYRS:
Based in Paris, France, and featuring members from France and the UK, BETRAYING THE MARTYRS' approach to brutality and melody has established them as one of the most unique bands unrivalled in any genre.
Their stunning debut offering, Breath In Life (2011), made a huge impact in North America and Europe and quickly established BETRAYING THE MARTYRS as one of the hottest new bands around. Coupled with relentless touring and high-profile festival appearances including Rockstar Energy Drink Mayhem Festival and All Stars, the band quickly built a strong fan base, which would only continue to grow throughout their career.
Their second album, Phantom (2014), saw BETRAYING THE MARTYRS take their live show to the next level, earning them slots at the biggest European festivals, including Grass Pop, With Full Force, Resurrection Festival and more, and reach entirely new audiences with their cover of 'Let it Go' from the movie Frozen.
In 2016, BETRAYING THE MARTYRS joined forces with esteemed producer Justin Hill to create third album The Resilient, a record that cemented the band as the European kings of 21stcentury metal. The Resilient showcased their newfound focus on songwriting, which earned them many more huge touring opportunities – including a slot on the Summer Slaughter Tour (US), and further propelled them to become one of today's most important heavy acts.
2019 will see the band embark on a global headline tour and raise the bar even further with their highly anticipated fourth album Rapture.
BETRAYING THE MARTYRS is:
Keyboard/Vocals: Victor Guillet
Drums: Boris Le Gal
BETRAYING THE MARTYRS online: