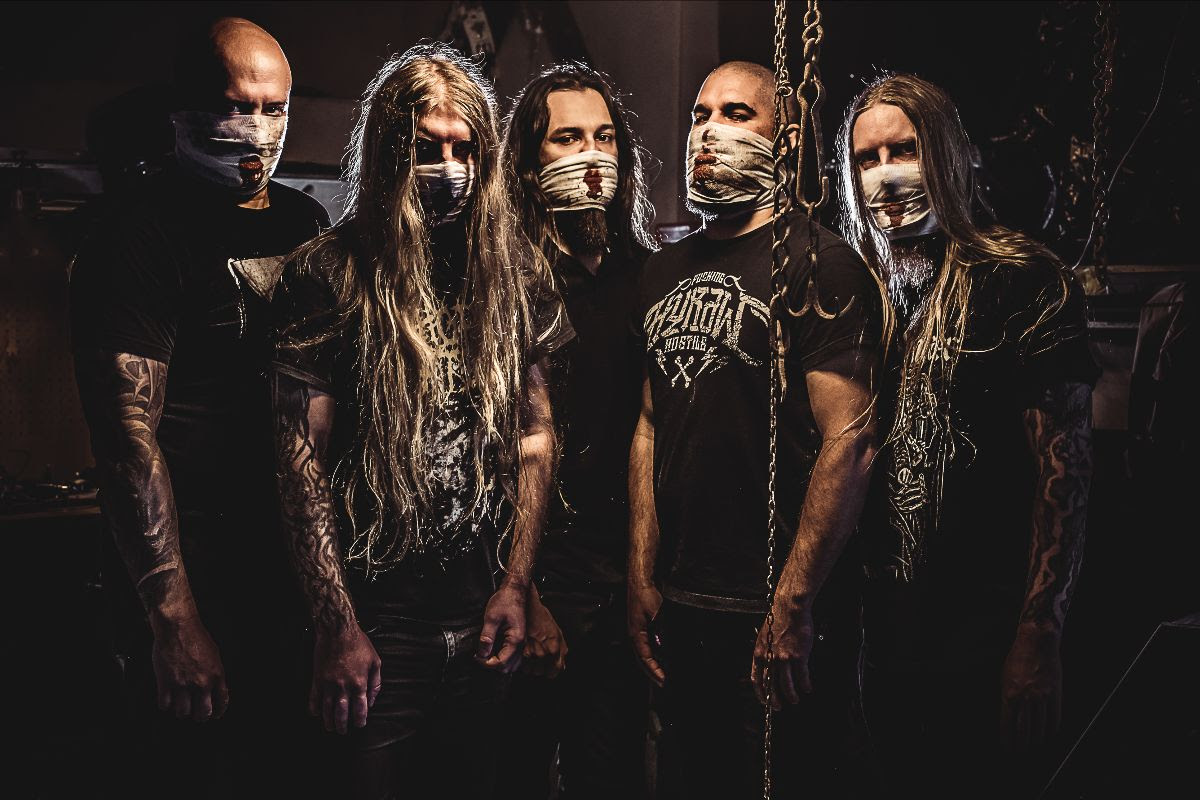 Extreme death metal outfit
BENIGHTED
will release their full-length offering, 'Obscene Repressed,' on April 10, 2020! In anticipation of the release, the French death grind outfit have revealed the cover artwork and album details, which can been seen below.
Vocalist Julien Truchan comments: "We are so happy and proud to show you the official cover of our new album 'Obscene Repressed,' created by the amazing Grindesign! It's an insane piece of art, representing the beautiful oedipal love story you will discover within this album…"
In celebration of the announcement, BENIGHTED have shared a joyful Christmas poem, which gives a small glimpse of the grim and unique album concept. Watch it HERE.
Brutal Holidays from Benighted!
The cover artwork of 'Obscene Repressed' has been created by Grindesign, and can be viewed with the track-list below.
Track-list
1. Obscene Repressed (2:26)
2. Nails (3:21)
3. Brutus (2:49)
4. The Starving Beast (3:07)
5. Smoke Through The Skull (2:59)
6. Implore The Negative (4:05)
7. Muzzle(2:43)
8. Casual Piece Of Meat (4:04)
9. Scarecrow (2:57)
10. Mom, I Love You The Wrong Way (3:56)
11. Undivided Dismemberment (2:28)
12. Bound To Facial Plague (3:29)
Bonus tracks
13. The Rope (3:04)
14. Get This (1:57) (Slipknot cover)
Total playing time: 43:25
BENIGHTED were spawned by members from French Death and Black metal bands DISHUMANIZED, DARKNESS FIRE, and OSGILIATH, who joined forces in 1998 for a more brutal, heavy and modern way of expression. When their first self-produced and self-titled full-length hit the streets in 2000, it immediately had a strong impact. This turned a side-project into a main act. A fast-growing fan base was built by a string of acclaimed albums: 'Psychose' (2002), 'Insane Cephalic Production' (2004), 'Identisick' (2006), and 'Icon' (2007) were all enthusiastically received. With their latest full-length 'Necrobreed', the French sidestepped the steadily growing complexity of their previous albums 'Asylum Cave' (2011) and 'Carnivore Sublime' (2014) by recalibrating their sound along their roots. 'Necrobreed' came based on a theme revolving around the abysmal potential of the human psyche.

On the live front, BENIGHTED quickly started to capture audiences with sweat driver performances that bulldozer any resistance mercilessly aside. This allowed the French to climb up the ladder fast and soon came invitations to all major European festivals including Neurotic Death Fest, Hellfest, Wacken, Brutal Assault, Summer Breeze, and Inferno Festival among many more.

After their 20th anniversary, it was time for BENIGHTED to capture the live madness on 'Dogs Always Bite Harder Than Their Master' which not only contains three brand new tracks and the brutal AT THE GATES cover of 'Slaughter Of The Soul', but also live recordings with guest musicians such as Sven Decaluwé (ABORTED), Nikita Kamprad (DER WEG EINER FREIHEIT), Arno (BLACK BOMB A), Niklas Kvarforth (SHINING) and Ben Wright (UFATHOMABLE RUINATION).

Line-up
Julien Truchan – vocals
Emmanuel Dalle – guitars
Fabien Desgardins – guitars
Pierre Arnoux – bass
Kévin Paradis – drums
Presskit: https://presskit.season-of-mist.com/Benighted
Guest Musicians
to be announced soon

Style: Brutal Death Grind

Recording: Kohlekeller Studios (DE)
Producer / sound engineer: Kristian Bonifer
Mixing / mastering: Tom Porcell

Cover art: Grindesign
Live:
01/18: Zurich (CH) @ Meh Suff Festival 2020
04/10: Oslo (NO) @ Inferno Festival 2020
05/16: Osaka (JP) @ Am Hall (Hellfest Warm Up Tour Japan)
05/17: Tokyo (JP) @ Tsutaya O East (Hellfest Warm Up Tour Japan)
07/07: Dunau Jvaros (HU) @ Rock Maraton
07/11: Malmö (SE) @ Goro Fest. Plan B
07/25: Steenwijk (NL) @ Stonehenge Festival 2020
08/07: Jaromer (CZ) @ Brutal Assault 2020
08/14: Dinkelsbühl (DE) @ Summer Breeze 2020
08/15: Saint-Nolff (FR) @ Motocultor 2020
08/21: Andernach (DE) @ Deathfeast Open Air 2020
08/22: Spital am Semmering (AT) @ Kaltenbach Open Air 2020
For more on BENIGHTED, visit their official FACEBOOK, INSTAGRAM, WEBSITE, BANDCAMP, and TWITTER.