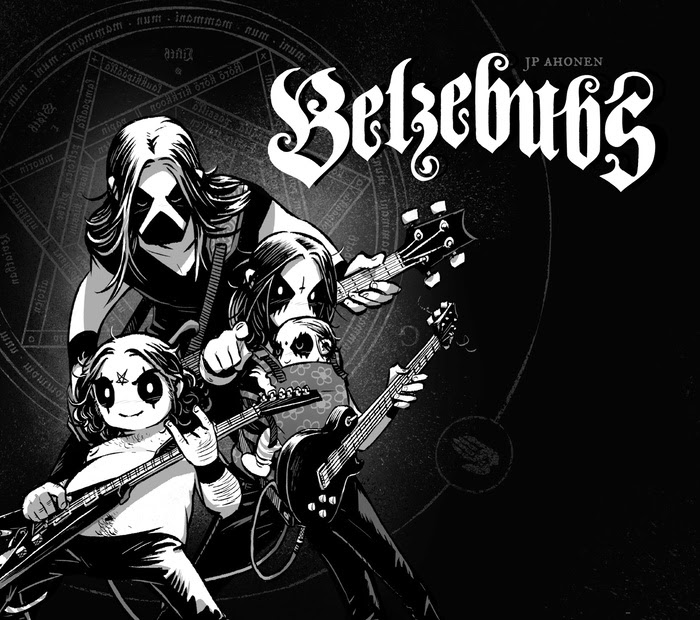 "The only thing funnier than Belzebubs is how much black metal elitists will complain about it being 'false' on message boards."
-Loudwire-
"Guaranteed To Turn Your Corpse-Painted Frown Upside Down!"
-The Grim Tower-
"Belzebubs is a fun read if you like metal music, especially if you grew up on comic strips like Calvin and Hobbes."
-The Metal Crypt-
"Strikes that delicate balance between adorable and totally f***ing metal."
 -Talking Comics-
"Belzebubs takes the blueprint of the modern nuclear family and gleefully twists it into a counter-culture extravaganza that would make Charles Addams throw the horns high… one of the funniest, most instantly relatable and charming books it has been my pleasure to read in many a year."
-Mass Movement-
"A visual sonic boom."
-The Village Voice-
Belzebubs is a "trve kvlt mockumentary" focusing on the everyday challenges of family life: raising kids, running a small business, and making time for worship. Except the kids are named Lilith and Leviathan, the business is a black-metal band, and the worship… isn't exactly aimed upstairs.
In a few short years, what started out as improvised social-media doodles has now become a wildly successful webcomic with hundreds of thousands of fans. The irresistible cartooning of JP Ahonen (Sing No Evil) combines relatable slice-of-life humor with over-the-top occult antics and references from metal music to Lovecraftian horror, makingBelzebubs a devil of a good time.
This hilarious hardcover is available now via Top Shelf Productions. The book is available for pre-order from 
Amazon
, 
Barnes & Noble
, 
Indiebound
, directly from the
publisher
, or anywhere books are sold.
More about the Author:
JP Ahonen is the author of two Sunday newspaper comic strips (Villimpi Pohjola and Puskaradio) published weekly in his native Finland. He also appeared in volumes 4-8 of the beloved Flight anthology series. His debut graphic novel Sing No Evil, co-written with KP Alare, gathered international critical acclaim, and he was the guest of honor for the 2018 Helsinki Comics Festival.
After spending his teenage years immersed in making music and comics, Ahonen studied graphic design at the University of Lapland. Today, he works as a full-time comic book artist and teaches classes in schools & universities. JP lives in Tampere, Finland with his family.
PLUS: Watch for the official Belzebubs album, coming in April 2019 from Century Media!