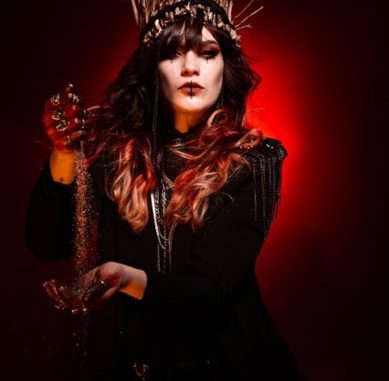 Watch the New Music Video HERE
New Album, 'Tomorrow Will Be Without Us',
Out this Friday, November 4 via Napalm Records
Pre-Order HERE
Belgian rock sensation BLACK MIRRORS is gearing up for the release of their critically acclaimed studio album and new masterpiece, 'Tomorrow Will Be Without Us', out this Friday November 4, 2022, via Napalm Records.

Today, the band fronted by extraordinary vocalist Marcella Di Troia, have shared a music video for the catchy new single "Snake Oil"!

BLACK MIRRORS' second album is a deep, soulful and vividly textured 90's inspired rock record with umpteen layers just begging to be picked apart with each spin, and lyrically, it traverses humankind's increasing apathy towards the world around them.

Are we killing our own planet? No, BLACK MIRRORS doesn't believe that we as humans have the power to destroy mother earth. However, as the album cover below portrays, it's clear who will end up burning – all living creatures, us. 'Tomorrow Will Be Without Us' is a clear statement impacting every single one of us living on our planet.

The album's grunge-infused guitar lines meld in harmony, giving way to memorable riffs, rhythmic gems, big grooves and the addictive, beautifully unchained vocals of Di Troia. It fluxes from fierce and blustery to often gentle and calming – channeling the flavor of MTV's glory era of acts like Nirvana, Radiohead, Hole, Alain Johannes, Alice In Chains and beyond – showcasing BLACK MIRRORS' unforced, versatile and organic talent.

Give ear and get ready for one of THE rock release highlights of the year!

The band's new video for "Snake Oil" is now streaming HERE
BLACK MIRRORS about the new single:

"Snake Oil is one of the last songs we wrote for "Tomorrow Will Be Without Us". As soon as we started working on it, we could feel its great potential — it absolutely had to be on our second album! We can already tell you that it's the first track off our new record. It perfectly gives you an idea of the tone of our new album: raw and wild!

"The song is about being manipulated by someone… then realizing how stupid you've been not to notice the game they played to fool you.

"The idea behind the video was to combine the main theme of "Tomorrow Will Be Without Us" with the manipulation story of the song," the band continues, "so Marcella started to think of this girl being in a psychiatric hospital room, stuck, unable to see anything. Increasingly, she becomes the carrier of some important information that you get to see at the very end of the video."

Contrary to the album's title and its evocative themes about today's society and a world falling apart, tomorrow does belong to BLACK MIRRORS – there is no doubt they will own the next decade, providing us with the finest in heavy rock and melodic grunge grandeur the world of tomorrow unconditionally needs.

"Like all of us, we had to go through a lot during these past years. 'Tomorrow Will Be Without Us' is our answer to all the questions we had during that time, our reflection on the ecological catastrophe we're all witnessing, our thoughts on our consumerist society," the band recently explained. "Writing these songs gave us the strength to go forward and to heal us, it was our catharsis. We deeply hope it will bring you some light in these dark times."

Together with the touch of worldwide-acclaimed producer Alain Johannes (Eagles of Death Metal, Queens of The Stone Age, Arctic Monkeys, No Doubt), BLACK MIRRORS have reset the bar to unexpected heights, and their new album promises to leave its mark on today's rock scene worldwide!

One can be sure, the music world of tomorrow would be a lonely place without BLACK MIRRORS, and 'Tomorrow Will Be Without Us' locks them at the top!
Album Track List:
1. Snake Oil
3. Tomorrow Will be Without Us
4. Hateful Hate, I'll Kill You
5. Ode to my Unborn Child
6. Through the Eyes of a Giant
7. Collapsology (Raise Your Voice), feat. Alain Johannes
8. Anthropocene
9. Tears to Share
10. Say it Again
'Tomorrow Will Be Without Us' will be available in the following formats:
=>CD Digisleeve
=>LP Gatefold BLACK
=>LP Gatefold Marbled BLACK/GOLD (ltd. 300)
=>Digital Album
[ LP Gatefold Marbled BLACK/GOLD ]
In support of their upcoming album, BLACK MIRRORS
will be playing a series of exclusive release shows.
Make sure to catch them live at the following dates:
03.11.2022 (DE) Hamburg – Headcrash
04.11.2022 (DE) Berlin – Cassiopeia
18.11.2022 (BE) Brussels – Botanique
FOLLOW FREEMAN PROMOTIONS: