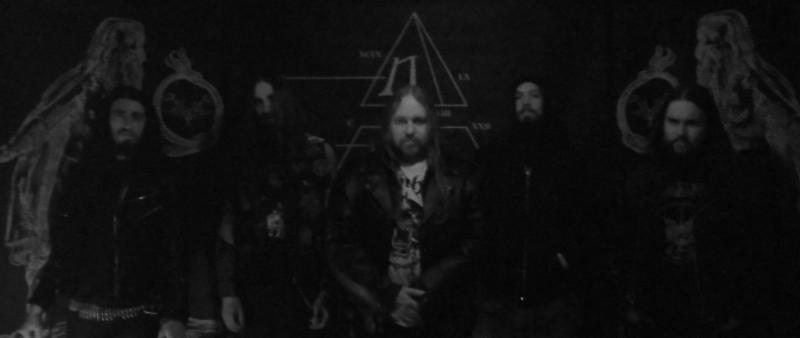 Edmonton (AB) – Long running Canadian death metal band BEGRIME EXEMIOUS will self-release compilation CD Primeval Wasteland to kick off 2019! The album, which compiles three EPs that were recorded in two sessions between October 2012 and February 2013, will be released on February 15.
Primeval Wasteland album stream and pre-order:
With 14 tracks clocking in at 60 minutes, this compilation highlights a period of time in which BEGRIME EXEMIOUS operated as a quintet between their second and third albums.
The first half of the compilation is comprised of the Primeval Satellite mLP, originally released by DARK DESCENT RECORDS in 2014. During the recording of these songs, the band opted to re-record some additional tracks, which ended up being released as an exclusive tour tape for their west cost US/Canada tour in 2013. Both of these releases have been long sold out since. Also featured is the Wasteland of Damnation EP, which was originally released as a 7″ in 2013 on now the now defunct label FUEL INJECTED RECORDS. These songs were written and recorded almost immediately after the Primeval Satellite sessions. 
BEGRIME EXEMIOUS turned into their current quartet incarnation before Primeval Satellite was even released, but the band's lineup has remained stable since. The songs on the compilation were remastered by Cody Baresich at CIRCLE A STUDIOS in Victoria, BC. From the other side of Canada, Adam Kindred of Halifax, NS is responsible for the cover art. The booklet features all of the releases' original artwork by Dennis Thomsen, with the layout done by the band's frontman Derek Orthner. 
 

Track Listing

 

1. Entrails & Barbed Wire   

2. BXH-42 Transition     

3. Silent Observer Older Than Earth        

4. Wolf Hound Bitch   

5. Bloodworms

6. Nuclear War (Nuclear Assault)             

7. Grand Deceiver     

8. Filthy Sodomite of Christ 

9. Carnage (Mayhem)  

10. Path of the Goat   

11. Morbid Invocation  

12. Armageddon's Whore  

13. Beyond the Threshold of Oblivion    

14. Stellar Stillbirth

 
 

BEGRIME EXEMIOUS is:

 

D. Orthner – Vocals & Guitar

F. Thibaudeau – Guitar & Vocals

A. Rintoul – Bass

L. Norland – Drums

 

 

 

 

 

BEGRIME EXEMIOUS Bio:

 

BEGRIME EXEMIOUS was formed in 2005 in Edmonton, AB, Canada. They have released three full lengths and several EPs/splits, which have been supported by extensive touring of both Canada and the USA. The band is currently recording their fourth album and will continue to work with DARK DESCENT RECORDS for its eventual release.