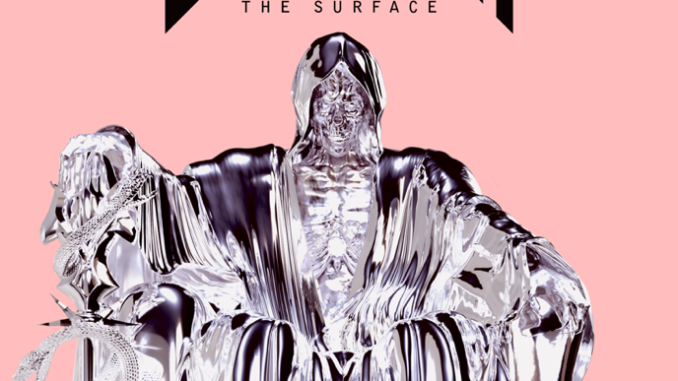 NEW ALBUM THE SURFACE OUT OCTOBER 13 VIA RED BULL RECORDS
Gold-selling, billion-streaming rock band BEARTOOTH — Caleb Shomo, vocals; Zach Huston, guitars; Will Deely, guitars; Oshie Bichar, bass; and Connor Denis, drums — have announced their fifth album The Surface. It will arrive October 13 via Red Bull Records. Pre-order it here.
Like its predecessors, The Surface is an intensely personal and powerful journey for Shomo, who has never shied away from sharing his demons in his music and with his fans. However, the frontman has turned a corner with a more optimistic outlook and demonstrates exceptional growth as both an artist and a human being through the songs that comprise the album.
Today, the band has shared the video for new track "Doubt Me." Watch it here.
The footage captures Beartooth in their most natural state — performing live and unleashed on their instruments with ferocious abandon!
"We all have our own struggles that we deal with quietly," says Shomo. "Sometimes, it can be hard to explain to the people around you what you're dealing with. What may be perceived by others as weakness is actually a battle with yourself that you know will be conquered. Being in the thick of serious change is never easy, and being brought down by those who don't understand can add to the weight. Know that when you're in those moments, sometimes you need to just put your head down and fight with all you have, regardless of whatever people say you're capable of at the moment."
The first single "Might Love Myself" has stormed out the gates and is proving itself to be a hit, as the fastest moving song on the active rock radio charts in the band's history, landing in the Top 20 within three weeks.
Additionally, all previously released tracks — "Riptide," "Sunshine!," and "Might Love Myself" have tallied nearly 50 million total streams thus far.
THE SURFACE TRACK LISTING:
"The Surface"
"Riptide"
"Doubt Me"
"The Better Me" (Feat. HARDY)
"Might Love Myself"
"Sunshine!"
"What's Killing You"
"Look The Other Way"
"What Are You Waiting For"
"My New Reality"
"I Was Alive"
ABOUT BEARTOOTH:
Caleb Shomo first turned the pain of his struggle with mental health and self-image into music in 2013. Beartooth began as a living document, a diary, a journal of repressed rage and depression. Alone in his basement studio, screaming and singing, playing all the instruments, and self-producing a batch of furious but melodic songs filled with reflection and confession, the Ohio native stared into the abyss, initially with no intention of returning to the heavy music world that burned him as a teen. A decade later, the different pieces of his body of work connect in title, sound, and spirit. As the frontman hits 30, Beartooth's fifth album, he Surface, completes this era in 2023. Even more importantly, it kicks off a new chapter filled with surprising optimism and just as honest. Depression is a sick, disgusting, aggressive disease below the surface. Shomo stands ready to bask in the light.

Like Nine Inch Nails, Beartooth remains a one-person band in the studio. On the heels of the introductory Sick EP (2013), Disgusting (2014) produced the band's first Gold single, "In Between." Aggressive (2016) and Disease (2018) expanded on the desperation and pain, each a step closer to a balance between the blood and tears of classic recordings and the shimmer of modernity.

Rolling Stone heralded Beartooth as one of 10 Artists You Need to Know. The rabid response to Shomo's music demonstrated how many people related to his struggle for self-acceptance. Below (2021) topped the Rock and Alternative charts and several Best Rock/Metal Albums of the Year lists. As of 2023, the Beartooth catalog boasts more than 1 billion streams across all platforms.

Beartooth began as both bomb and balm, an outright refusal to suffer in silence, weaponizing radio-ready bombast, delivering raw emotion mixed with noise-rock chaos. Other bands play the "devastating riffs and catchy hooks" game, but this music is the difference between life and death, and now, a sort of life after death while still here. The band Forbes sees "inching towards a tipping point of becoming the latest arena headliner" is now one step closer.