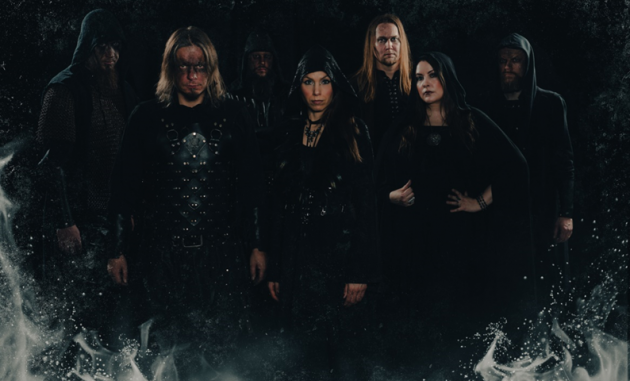 Watch HERE
Cut From Latest Album, 'The Return Of The Shadow'!
Order HERE
Following their much-acclaimed, latest studio album, 'The Return Of The Shadow' (released June 2022 via Napalm Records), Finnish fantasy metal masters BATTLELORE strike back with the release of a new lyric video for the song "True Dragons"!

'The Return Of The Shadow' marked the band's first offering in more than ten long years, and immediately showcased the incredible energy the Tolkien-inspired band delivered on their seventh album; making this record one of their strongest, heaviest and best works to date. Named after Tolkien's original, shelved title for his legendary epic fantasy novel, Fellowship of the Ring, BATTLELORE's latest album features nine Middle-earth themed songs, shining with the blistering aura the band has become known and loved for. Enter "True Dragons", a song the band has just unleashed a brand new lyric video for!

Watch the clip for "True Dragons" HERE
"Behold the 'True Dragons'! Creatures of legend and fearsome power! Born of fire and magic, imbued with the wisdom of the ages," the band comments, "These mysterious beasts played a huge part in the history of Middle-earth and surely deserve a mighty hymn! Let us stand in awe of these magnificent guardians of the skies and keepers of ancient knowledge!"

'The Return Of The Shadow' was recorded by Janne Saksa at the Sound Supreme Studios, Finland, and was mixed and mastered by Dan Swanö at Unisound Studios. As a special gift to fans, the album includes a bonus EP, entitled 'Lost Lands', that features three songs written around the beginning of the band's hiatus that, sound wise, are different from the tracks on the main album.

'The Return Of The Shadow' was released on June 3, 2022 through Napalm Records!

You can order your copy of this epic, must-have fantasy metal album HERE
BATTLELORE Live:
10.06.2023 FIN – Tampere / Bar Hönö (with Crimson Sun)
10.-12.08.2023 FIN – Dark River Festival
with many more shows to be announced soon!
BATTLELORE are:

Tomi Mykkänen – Vocals

Kaisa Jouhki – Vocals

Maria Honkanen – Synths

Jyri Vahvanen – Guitars

Jussi Rautio – Guitars

Timo Honkanen – Bass

Henri Vahvanen – Drums

FOLLOW BATTLELORE: