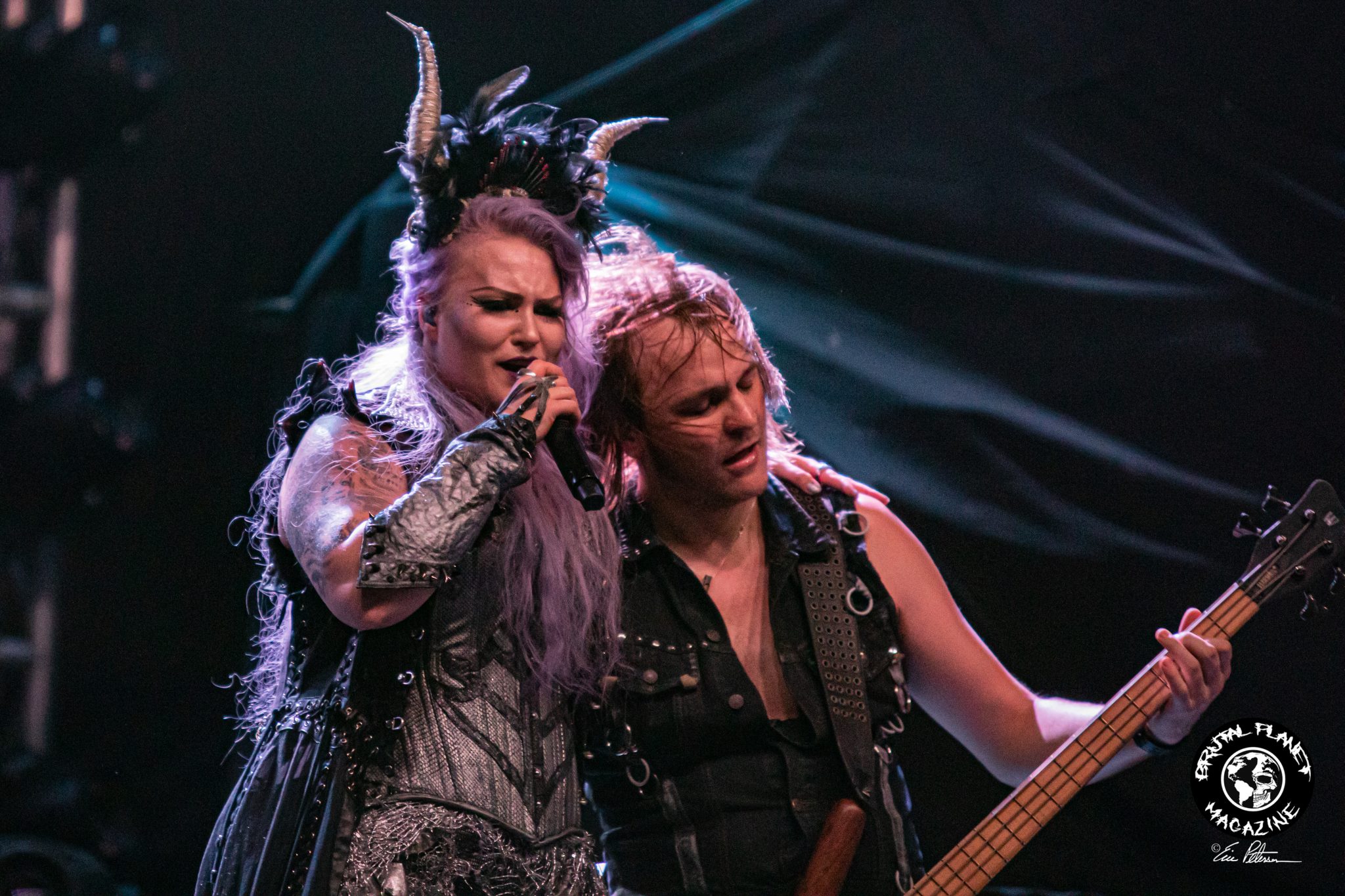 The kings of Viking metal, Battle Beast took to the stage in Salt Lake City as part of the Kamelot tour on September 26, 2019. Battle Beast will settle at nothing less than total world domination and The Complex in Salt Lake City was the site for an epic battle.
It began with "Unbroken" the opening track from their latest album No More Hollywood Endings. The song enlists the strength we all harbor inside to conquer the personal demons that haunt us. Up next was "Straight to the Heart." The song's fast beat paired with singer Noora Louhimo vocals, brought the energy up to the next level. It was the battle hymn up next that began the charge to victory. "The Golden Horde's" lyrics say it all:
"Fire or steel
We'll make them kneel
Torching their temples with ease
Unstoppable force
We are the Golden Horde"
After a short band introduction, it was time for reflection into the deep dark demons that lie within us all. "Eden" is a song written by Guitarist Joona Björkroth and as he stated in an interview, "The song is a sincere 'fuck you!' to fear, pain… whatever it is that is holding you down!"
The title track to No More Hollywood Endings began and the crowd went wild. The song also chronicles the struggles and shortcomings we all face throughout our lives.
It was next that Battle Beast announced their plan for world domination. They began by asking who had seen them live before. About half of the crowd raised their hands; the other half had already given their souls to Battle Beast. They then introduced the Viking themed "Bastard Son of Odin." The crowd erupted and the fight began. The song's beat is reminiscent of galloping horses headed to war. Noora's vocal in "Bastard Son of Odin" left no doubt that supremacy was inevitable.
"King For a Day" followed with its dance-like beat, which served as Battle Beast's victory dance in Salt Lake City.
It was the final song of the set that gave us all hope that Battle Beast would return to Salt Lake City. "Beyond the Burning Skies" lyrics say it all:
"Close your eyes and reach beyond the heavens
Touch the moonlit sky
An awe-inspiring view of the world
Feel the beast, go on and grasp your future
Leave the pain behind
On your way beyond, beyond the burning skies"
By the end of the set those who had not heard Battle Beast had been conquered and converted. The intensity of Battle Beast's performance left no other options: convert or forever hold your peace. Battle Beast clearly enjoyed every minute on stage. When Battle Beast comes to your town, be prepared to be submit, and give your soul. You will enjoy every minute of it.
Tour Information