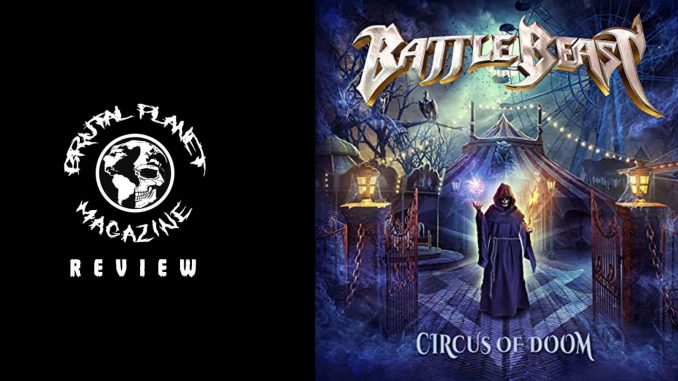 Finnish power metal giants Battle Beast will release the follow up to 2019's No More Hollywood Endings. Circus of Doom will hit streets on January 21, 2022. With several successful albums this one follows the same pattern for success as the past two. The use of Keyboards, guitars, catchy beats and roaring vocals of Noora Louhimo keep proving to the world that Battle Beast is only improving over time.
The album opens with what sounds like an out of tune music box and quickly turns chaotic as the title track "Circus of Doom" commences. Things continue to go off the rails as Noora belts out lyrics behind frenzied keyboards and even some horns. "Wings of Light" continue the spiral out of control with a song that sounds similar to songs from No More Hollywood Endings. A fast-paced mix of screams and keys lead the march.
"Master of Illusion" continues the journey in to the mouth of madness. The backing vocals on this song are stellar and make it one of my favorites. "Where Angels Fear To Fly" slows the pandemonium to a medium beat, but screams are magnified as Noora belts out an amazing vocal performance.
Possibly, one of my favorite tracks on Circus of Doom is "Eye Of The Storm." The vocal ranges achieved from bottom to top are simply remarkable. It also has some great guitar riffs that are often overlooked. Both Joona Björkroth and Juuso Soinio shred like crazy on the whole album but most notably on "Eye Of The Storm."
"Russian Roulette" is a very catchy song with beats that take me back to 2017's Bringer of Pain. "You place your bets with no regrets, in this game of Russian Roulette" Noora professes in the chorus. If you like songs like "The Golden Horde" and "Bastard Sons of Odin" you are going love "Freedom." The Galloping beat screams repeat every time I blast it on my headphones.
"The Road To Avalon" takes the road less traveled but the consistent beat is sign that we are on the right path to Battle Beast paradise. Chiming bells throughout add extra royalty to the track that once again utilizes the often-undermentioned keyboard skill of Janne Björkroth who provides a wonderful solo mid-way through the song. "Armageddon" adds a sinister side to Noor's already beastly sound. Circus of Doom concludes with "Place We Call Home" the drums in this song are insane.
Another undermentioned key to the pandemonium is drummer Pyry Vikki, who consistently keeps things in time during the circus. Just when you thought the show was over, we are gifted with the bonus track "The Lightbringer." Keys play the focal point in this song and keep the disarray focused like the ringmaster at a circus would. I am not sure why this is a bonus track because it is album worthy. "Tempest of Blades" is another bonus track that is guitar propelled. The fast pace of the song includes a "Break it down" from Noora followed by a "Jump, Jump, Jump." Right after those words we get a guttural burst, that could provide a direction for Noora's vocals. It is brief but gives a glimpse of the power she holds in her lungs.
Circus Of Doom is a welcome continuation to the line of amazing albums Battle Beast has released. 2022 marks 10 years since their first album Steel. Since then they have had a few line-up changes but one thing stays the same, they consistently continue to beat the shit out of our ears with great albums. You can… and should pick up Circus Of Doom on January 21, 2022 via Nuclear Blast Records.