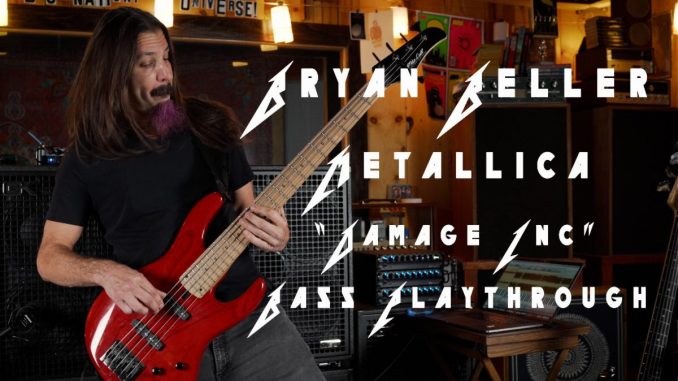 A new prominently-mixed bass track from huge Metallica fan Bryan Beller
and a mastering reimagination from engineer Forrester Savell (Karnivool, Twelve Foot Ninja) brings a whole new depth and brutality to the original cut.
BRYAN BELLER (bassist for Dethklok, The Aristocrats, and Joe Satriani) has released a bass play-through video for "Damage, Inc.", the classic final track from Metallica's landmark album Master Of Puppets. A Metallica fan since his teens, BELLER decided to pay tribute to a song so fast and brutal that it forced him to develop new techniques at the age of 16 just to be able to play it – techniques he still employs today in other genres.
"It's just such a fast riff," says BELLER, "and the song floored me. It also intrigued me because I wasn't a pick player, and I couldn't imagine how any fingerstyle bassist could keep up with it. So I started doing this flicking thing with my fingers, and a three-finger triplet thing, and after some work I could hang with it. Then no one asked me to play metal professionally for 20 years, until Brendon Small asked me to join Dethklok. Suddenly I was like, 'Wait, I have this little bag of tricks I totally forgot about!' Then earlier this year I started thinking about getting back to this tune and really doing something with it that I could share, just as a passion project."
As a 15-year old growing up in Westfield, NJ, BELLER saw the Metallica Master Of Puppets tour show in New York City on December 1, 1986, at a 5000-seat capacity venue which was then called The Felt Forum. Metallica closed their main set with "Damage, Inc.", and BELLER knew he was witnessing something special, even then.
"I could tell these guys were going to take over the world – the energy in the room was just electric. But as a young bassist, I was also watching Jason Newsted hammering everything out with a pick, and I knew I couldn't do that," BELLER says. "And I never got to see Cliff Burton live, which means I never saw what he was doing with his fingers…and it wasn't like the bass was mixed super loud on Master Of Puppets either, even though everyone talks about the lack of bass on And Justice For All to this day. So I figured, why not play what I would have played on it if I'd had the chance, as a tribute to the song that pushed my playing along all those years ago? Or put another way: If someone sent me this song for a remote recording today, what would I do with it?"
BELLER meticulously worked through each one of the song's blazing riffs, brought them back up to speed, and laid down the track over the summer. Then he sent it to audio wizard Forrester Savell, who integrated the new bass part with a reimagined mastering of the original album track. The result is a Metallica Master Of Puppets track as you've never heard it before – with the bass featured prominently, on equal footing with the guitars and drums, and then some.
"Serious Metallica fans have heard the 'And Justice For Jason' stuff, but there's no version of that for 'Damage, Inc.' And this isn't really 'And Justice For Cliff' anyway, because Master of Puppets has a vibe on the bass mix, low as it is. This is just something we tried to make new and exciting. Forrester did an amazing job bringing out the guitars a little more, getting the new bass part in the right space, and just making the whole track heavier."
Finally, BELLER went to Portland, OR in October for a video shoot led by Forest Gallien, who creates marketing content for the company that bears his name – bass amplifier manufacturer Gallien-Krueger, whose gear BELLER plays and endorses. "We had a huge rig set up for some other stuff we were capturing, and it just made sense to shoot it in front of something that big. It couldn't be just another shot-at-home video. Not for this. Not for such an epic song."
BELLER sums up his thoughts with some sentimentality for the band that inspired him as a young player and metalhead. "Really, this whole thing is a love letter to Metallica. They don't know I did this or that I was working on it. I just did it because the impact this song and this album had on me as a kid was just massive. Also, I hope it gives more people some appreciation for this song in particular, especially from a bass perspective. This tune is not easy to play, even 35 years later! But it's loads of fun when you get your hands around it. And the song itself really stands the test of time – the true mark of a classic track."
* * * * * * * *
About BRYAN BELLER:
BRYAN BELLER has maintained a multi-faceted career as a bassist, composer, solo artist and clinician for over 25 years, earning his reputation as a uniquely talented yet supremely tasteful team player for instrumentally-minded artists. In the power super-trio The Aristocrats (with uber-players Guthrie Govan on guitar and Marco Minnemann on drums) he's a part of one of the hottest acts in rock/fusion today; their 2019 release You Know What…? debuted at #2 on the Billboard Jazz Chart. He's been Joe Satriani's touring bassist since 2013, marking three trips around the world with a fourth to come once touring resumes. He was Steve Vai's choice for the 2009 live CD/DVD Where The Wild Things Are, and he also toured and recorded in the "band" Dethklok, a tongue-in-cheek extreme metal band borne of the hit Cartoon Network Adult Swim show Metalocalypse. He's been a musical partner of freak/genius guitarist Mike Keneally (Frank Zappa) for over 20 years and 10 albums.
On his own, BELLER's solo album catalog includes 2003's View, 2008's Thanks In Advance, and 2011's Wednesday Night Live, as well as an Alfred instructional DVD, all released to widespread acclaim. His 2019 solo release – the progressive concept double album Scenes From The Flood featuring Joe Satriani, John Petrucci, Guthrie Govan, Mike Keneally, Gene Hoglan (Dethklok), Ray Hearne (Haken) and many more – was hailed by multiple outlets as an instant classic: "A colossal artistic statement and a career triumph…one of the year's most intriguing and staggering albums, it will for sure end in our 2019 best of lists." (Scott Medina, Sonic Perspectives)
As a pure player, a composer, a masterclass clinician and endorsing artist for Mike Lull Basses, Gallien-Krueger Amplification, and D'Addario Strings, a former Contributing Editor for Bass Player Magazine, and a former VP of SWR bass amps, BRYAN BELLER brings a holistic perspective to the world of bass, and music.
photo: Daniel Work
For additional information on BRYAN BELLER, please visit: