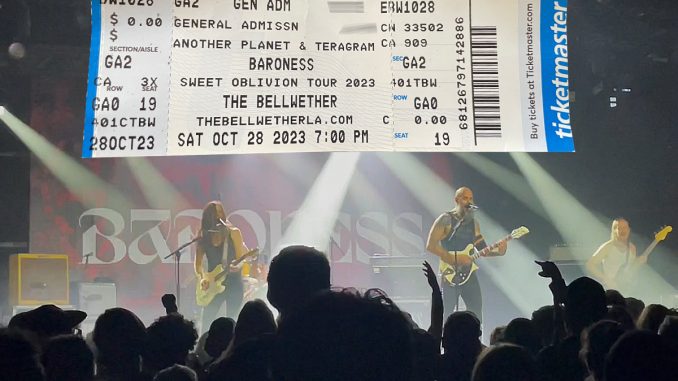 I talk a lot about Baroness because they are a band I have been a fan of for quite some time. I reviewed their latest album "Stone" and praised it as one of the best heavy records of 2023. So as you can imagine I was excited to catch the band live again. This time at a new venue in LA called "The Bellwether"
The last time I saw the band was a few years ago in a smaller venue in called The Echo. They put on an impressive set and shook a packed room so my expectations this time around were high. This time they were playing The Bellwether who's capacity is listed as being 1,500 – The Echo's is closer to 700. A band like Baroness has worked their asses off recording and releasing music and touring the country paying dues. It is fantastic to see them booking a venue twice the size of the one they played on their previous round of touring.
The band blew the doors off the place opening with "Last Word" and almost instantly meeting my expectations. This is an absolutely perfect song from beginning to end and the perfect track for the band to open a set with.
The rest of their set was a long list of my favorite classic Baroness tracks, along with some new classics. After the opener they plowed into "A Horse Called Golgotha" and then did "March to the Sea" – another absolute classic track. Later in the set they played "Anodyne" which has one of my favorite riffs from the new album and then "Shock Me" which is another catalog classic. They ended the set with one that only OG Baroness fans know "Isak." The lights went down and the crowd began to chant…
When the band finally returned to the stage they gave us "Take My Bones Away" and "The Sweetest Curse."
Everything about this show from the size of the venue to the level of the performance has improved since the last time I saw this band. People are noticing how great they are and they are deservedly booking bigger shows. As a longtime fan I was happy to see the band performing at the top of their game to a new and larger group of fans.
Do not miss Baroness when the Sweet Oblivion tour stops in your town.