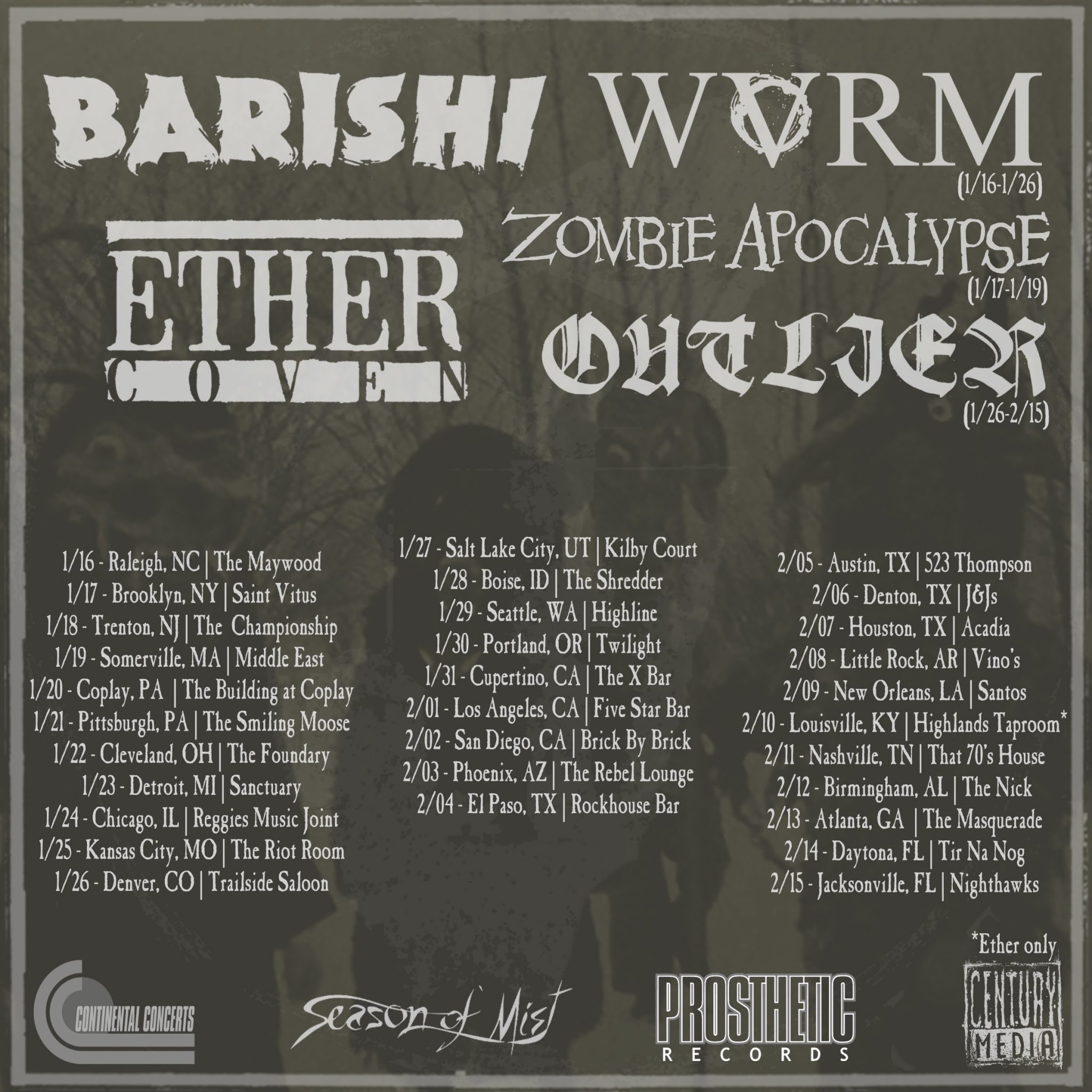 Progressive metal outfit BARISHI have announced a North American co-headliner with ETHER COVEN. The trek will kick off on January 16 in Raleigh, NC and will conclude a month later in Jacksonville, FL on February 15. The full run of dates can be found below. Ticket links are TBD.

BARISHI are touring in support of 2016's 'Blood from the Lion's Mouth,' which can be heard HERE.

BARISHI w/ ETHER COVEN:
1/16: Raleigh, NC @ The Maywood
1/17: Brooklyn, NY @ Saint Vitus
1/18: Trenton, NJ @ The Championship
1/19: Somerville, MA @ Middle East
1/20: Coplay, PA @ The Building at Coplay
1/21: Pittsburgh, PA @ The Smiling Moose
1/22: Cleveland, OH @ The Foundary
1/23: Detroit, MI @ Sanctuary
1/24: Chicago, IL @ Reggies Music Joint
1/25: Kansas City, MO @ The Riot Room
1/26: Denver, CO @ Trailside Saloon
1/27: Salt Lake City, UT @ Kilby Court
1/28: Boise, ID @ The Shredder
1/29: Seattle, WA @ Highline
1/30: Portland, OR @ Twilight
1/31: Cupertino, CA @ The X Bar
2/1: Los Angeles, CA @ Five Star Bar
2/2: San Diego, CA @ Brick By Brick
2/3: Phoenix, AZ @ The Rebel Lounge
2/4: El Paso, TX @ Rockhouse Bar & Grill
2/5: Austin, TX @ 523 Thompson
2/6: Denton, TX @ J&Js
2/7: Houston, TX @ Acadia
2/8: Little Rock, AR @ Vino's
2/9: New Orleans, LA @ Santos
2/10: Louisville, KY @ Highlands Taproom
2/11: Nashville, TN @ That 70's House
2/12: Birmingham, AL @ The Nick
2/13: Atlanta, GA @ The Masquerade
2/14: Daytona, FL @ Tir Na Nog
2/15: Jacksonville, FL @ Nighthawks
ABOUT BARISHI:
Gritty progressive metal quartet BARISHI unveils its adventurous new album 'Blood From the Lion's Mouth.' More than simply "progressive," BARISHI strikes a deft and unique balance between elegance and aggression. Tracks such as "Grave of the Creator," "Bonesetter," and the title track are ruthlessly heavy and oddly beautiful, and delivered with purpose and poise that belies the quartet's young age. BARISHI are a band on the rise and 'Blood From the Lion's Mouth' a stellar work of truly stirring and artful heavy music.

For more on BARISHI, visit their official FACEBOOK, TWITTER, INSTAGRAM, and BANDCAMP.