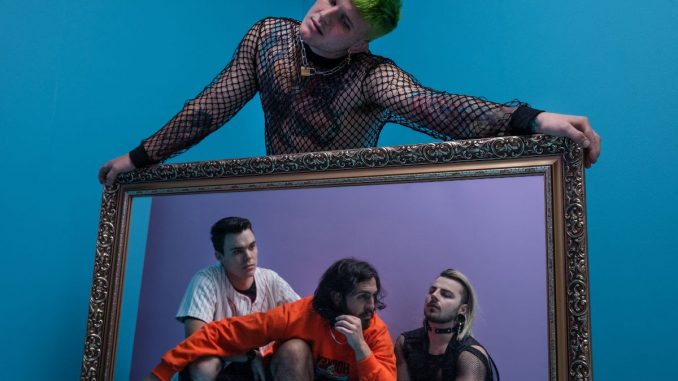 Days ahead of their appearance at UNIFY this weekend, New Zealand-via Melbourne act Banks Arcade return with their brooding, attitude-fueled new single and video "Smile." Watch the visualizer here.

Mashing intense color and visual energy into its accompanying lyric video, viewers will be confronted by the stark lyricism of "Smile" that brings home its message: "We're all too good at getting numb."

Banks Arcadevocalist JoshuaO'Donnell shares more on the meaning behind the track, saying, "The future feels uncertain for a lot of people at the moment. We feel lost and unsure of where we're headed, and it can lead to a lot of masochism and unhealthy escapism. 'Smile' comments on this pleasure seeking mentality and a culture that is obsessed with self gratification."

He continues, "Most of us recognize we are living in a broken, unsustainable state, but we refuse to acknowledge it. We've all become the devil on each other's shoulders and the cycle of negative affirmations and encouragement is leading us to a dark place. Everyone is in pain but we're so concerned about saving face. Hear the lyric, 'Keep that smile cause it won't get better.'"

Darting between elements of hard rock, electro, and metalcore, lovers of names like Northlane, The Prodigy, and SAINt JHN will hear licks of this influence across the band's catalog. As of 2022, the band is now stationed out of the hometown of its new label home UNFD, and is poised to release their debut album later this year. Following the release of the thick, fast and frenzied track "Don't Start," in September 2021, Banks Arcade are kicking off 2022 bringing the heat with "Smile."

The band are set to play UNIFY and Uncaged festivals this month before supporting Windwaker on their Australian tour.
ABOUT BANKS ARCADE:
New Zealandnatives Banks Arcade are the fresh dose of modern heavy this side of the ditch called for. Reflecting on their ambitious beginnings out of Auckland just a handful of years ago, vocalist Joshua O'Donnell shares that the first lyrics the group penned together were "I always wanted to make history." Heard on the single they would eventually title "Ambition," this sentiment has carried through in every highly considered creative move the band has made since. From their compelling visuals and stage presence to their boundary-pushing sound, this history-making urge is evident from all angles of the Banks Arcade camp. Making strides is in Banks Arcade's DNA, and it's this unshakable sense of vision and resolve that's taken the group to new heights on each release. Following their 2018 debut EP Endnote, the band backed it up with 2020's Fever Dreams, spawning colossal singles like "Sick" and "Drown," while amassing over 1 million streams. Snapping all sorts of industry attention in its wake, the five-piece were soon signing deals with UNFD and Future History Management (Holding Absence, Loathe, Sleep Token +), and building a worldwide booking team comprising Select Music (AU/NZ), Sound Talent (The Americas) and United Talent (ROW). With "Don't Start" and "Smile" acting as just the intro to their forthcoming debut record, Banks Arcade are poised to firmly cement their history-making status before too long.

BANKS ARCADE ARE:
Joshua O'Donnell — Vocals/Guitar
Jason Meadows — Guitar
Kenny Kemsley — Keyboards
Harlan Allen-Jones — Bbass
James Feekes — Drums