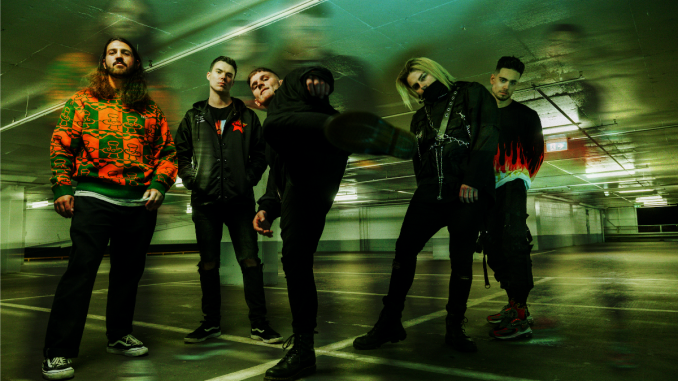 TRACK SELECTED AS E-SPORTS TOURNAMENT THEME

Banks Arcade's attitude-fueled new single "Chosen" has been hand-picked as the theme song of the Rainbow Six Siege Oceanic Nationals for 2022. 

Over a gripping three minutes, "Chosen" channels the best of Banks Arcade's tethers in hard rock, grunge, electro, and metalcore. The Oceanic Nationals is the premier Rainbow Six Siege tournament in the Oceanic region. The tournament will bring together the eight best Rainbow Six Siege teams across Australia and New Zealand to compete online for a $25,000 AUD prize pool in Stage 1 of the tournament.

On the collaboration with Banks Arcade, Ubisoft Managing Director the Asia Pacific Edward Fong says, "The start of the Oceanic Nationals is a big moment for Rainbow Six Siege e-sports locally and we are thrilled to announce this collaboration with Banks Arcade for the 2022 season. We're proud to continue our support of local artists and can't wait for the community to hear 'Chosen' during the broadcast."

On the themes behind the track, Banks Arcade's Joshua O'Donnell shares, "As someone who has competed in MMA, I wanted to capture the feeling you get as you are walking out to fight someone in a cage. The mixture of fear, 'Holy F**k, this is so cool,' and the calm resolve in the face of adversity."

He continues, "I live for these moments. When everything you have anticipated and visualized thousands of times is actually happening and you are completely present in a reality that feels exactly like a movie. There can be chaos all around you, but when your breathing slows and you find peace amidst it, and think 'F**k the world, I've got this,' nothing beats that."

On the opportunity to dive into the gaming world, he adds, "It's so cool to work on a project like this cause it forces you to think outside the box when you are creating something for a specific purpose. Harlan (Allen-Jone, bass) and James (Feekes, drums) are avid gamers, and if Harlan wasn't doing music, he'd be trying to do it professionally. They both played Ubisoft games growing up so it's really exciting to be able to collaborate with them!"

After relocating from New Zealand to Melbourne in 2021, Banks Arcade has since hit up Australian stages including UNIFY, a national support slot for Windwaker, and will soon hit up the rescheduled Uncaged festival stage. Now, the band is now gearing to head out on appearances at major UK festivals including The Great Escape, and Download in May and June, alongside a series of to-be-announced headline club shows. 
ABOUT BANKS ARCADE:
New Zealand-natives Banks Arcade is the fresh dose of modern heavy this side of the ditch called for. Reflecting on their ambitious beginnings out of Auckland just a handful of years ago, vocalist Joshua O'Donnell shares that the first lyrics the group penned together were "I always wanted to make history." Heard on the single they would eventually title "Ambition," this sentiment has carried through in every highly considered creative move the band has made since. From their compelling visuals and stage presence to their boundary-pushing sound, this history-making urge is evident from all angles of the Banks Arcade camp. Making strides is in Banks Arcade's DNA, and it's this unshakable sense of vision and resolve that's taken the group to new heights on each release. Following their 2018 debut EP Endnote, the band backed it up with 2020's Fever Dreams, spawning colossal singles like "Sick" and "Drown," while amassing over 1 million streams. Snapping all sorts of industry attention in its wake, the band was soon signing deals with UNFD and Future History Management (Holding Absence, Loathe, Sleep Token +), and building a worldwide booking team comprising Select Music (AU/NZ), Sound Talent (The Americas), and United Talent (ROW). Darting between elements of hard rock, electro, and metalcore, lovers of names like Northlane, The Prodigy, and SAINt JHN will hear licks of this influence across the BA catalog. As of 2022, the band is now stationed out of the hometown of UNFD, and has already brought the heat to their new label home with single releases including "Don't Start" and "Smile." With their debut record now in the pipeline, Banks Arcade is poised to firmly cement their history-making status before too long.

BANKS ARCADE ARE:
Joshua O'Donnell — Vocals/Guitar
Jason Meadows — Guitar
Harlan Allen-Jones — Bass
James Feekes — Drums
ABOUT TOM CLANCY'S RAINBOW SIX SIEGE:
Alongside a thriving professional esports scene and a community of over 80 million registered players, Tom Clancy's Rainbow Six Siege puts players in the middle of a fast-paced, ever-evolving multiplayer experience grounded in the selection of unique Operators. Using the right mix of tactics and destruction, Rainbow Six teams engage their enemies in sieges, where both sides have exclusive skills and gadgets at their disposal. Defenders prepare by transforming the environments around them into modern strongholds, while attackers use recon drones to gain intel for carefully planning their assault. With access to dozens of Operators inspired by real-world counter-intelligence agents from around the globe, players can choose exactly how they want to approach each challenge they encounter. Through the constant addition of new Operators and maps that add to the depth of both strategy and combat, the unpredictability of each round of Rainbow Six Siege sets a new bar for intensity and competition in gaming.