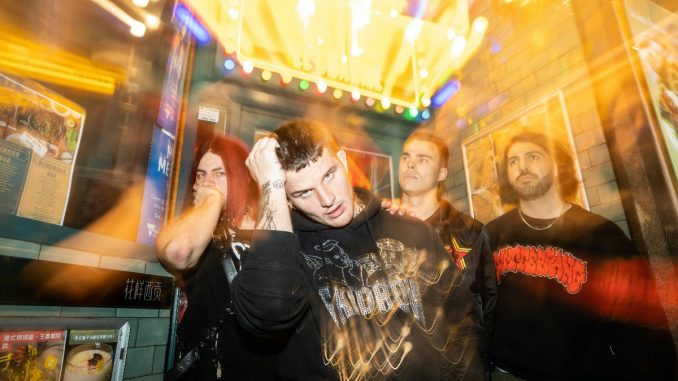 BAND SHARES VIDEO FOR NEW SINGLE "BE SOMEONE" — WATCH
"
I always wanted to make history"
So goes the first lyric that Melbourne-via-New-Zealand modern heavy mavericks Banks Arcade penned together, setting the bar for their ambitions about as high as it gets. Fortunately, the future looks bright as can be for the quartet as they fiercely barrel towards the release of their debut full-length, with the announcement today of Future Lovers, out July 29 via UNFD. Pre-order it here.
Today, the band has shared "Be Someone." Watch the video here.
Starting out in Auckland a short number of years ago, Banks Arcade have always been a group hellbent on innovation and ambition, welding elements of hard rock, electro, and metalcore into their creative DNA. And while the group's impending full-length album was born in the midst of a global pandemic, the end result is one completely lacking constraint, reflecting the band's own personal journey of self discovery while defying expectations; a fact fans will be able to witness with gusto live in action, with a sea of shows and tours imminent for the group, including an appearance at Download Festival in the UK this June.
With two earlier singles "Don't Start" and "Smile" hinting at what lies in wait this July from Banks Arcade, "Be Someone" charms with ambient instrumentals, hip-hop hues, and intimate soundscapes while vocalist Joshua O'Donnell pours his heart out. Showcasing a softer yet still hard-hitting side of Banks Arcade, the accompanying music video is a perfectly wintry affair, with O'Donnell alone in a one-take, blue-soaked setting.
FUTURE LOVERS TRACK LISTING:
"Future Lovers"
"Freaks"
"Fake Your Death"
"Smile"
"Ether"
"Spark"
"Be Someone"
"Used"
"System Failed"
"Trip"
"Don't Start"
"Medicine"
"Wine"
ABOUT BANKS ARCADE + FUTURE LOVERS:
Originally conceived as a concept album before morphing into a dedicated capsule of introspection,
Future Lovers
was ultimately shaped by its own surrounding hurdles and unique opportunities. "The pandemic definitely allowed the space to have no expectations," says O'Donnell
of the album's conception. "For me, I've been so busy over the past five years, grinding to try and make this music thing work, and this finally freed up the time to not have to go to work and to focus. I basically went back to New Zealand to my family home where everything is cozy and nice, I was in nature in New Zealand and was just able to wake up every day and write."

And while escaping into nature and familiar surroundings, O'Donnell was also offered the opportunity to explore new sounds alongside uninterrupted introspection, expanding upon the unique array of genres that both he and the broader Banks Arcade band have been immersed in over the years. "It wasn't even just heavy music," O'Donnell explains. "Our whole musical journeys came to a head, and there was the space there for the creation to happen."

Crafted in New Zealand in the throes of an ongoing lockdown, cancelled shows and ever-changing plans, Banks Arcade teamed up with former bandmate Kenny Kersley to collaborate on sound design and engineer Rich Brian, leaping at a rare moment to travel to Auckland and smash out recording Future Lovers in a mere seven days. Bunking up in a "shitty Airbnb" for the duration, the band persevered through various hurdles, including a revolving door of illness with each member falling prey to strep throat throughout the entire recording process. But despite the unique complications, there was undeniably something special brewing in that Auckland studio that was felt across the board for the band.

"Everything just felt right," says O'Donnell looking back at the fast and furious recording of Future Lovers. "It all was very smooth, and we had so much fun doing it. I think when we all look back to that time, we felt like we were making something that was going to change it all for us, and we felt that we were making songs that were going to resonate with the industry and the people. And obviously you're not sure, because at that point we hadn't had any validation. But we all felt the same; I'm pretty sure that people are going to like this."

With a sea of genre-bending delights lying in wait, Future Lovers ain't your average heavy album: from the stirring hues and thematics of "Be Someone," to the oscillating additions of metal, electronic and beyond of "Wine," "Don't Start," and the hip hop-soaked "Fake Your Death," there's a permeating freshness poised to capture the imaginations and ears of new and old fans alike throughout the album.

Ending with an ambiguous question mark lyrically on closing track "Wine," Future Lovers leaves the door wide open for boundless innovation and exploration from Banks Arcade, and will unquestionably cultivate future lovers of the band alongside current fans. They always wanted to make history, and with this debut album Banks Arcade bring heart, passion and potent execution to springboard them to even greater heights:

"The kind of releases that will follow Future Lovers is where we'll really be able to expand and make this into something even bigger," O'Donnell concludes. "This is just the opening act."