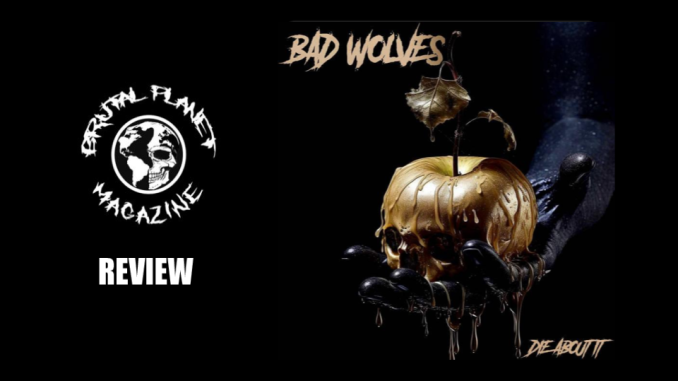 The Los Angeles-based band, Bad Wolves is releasing a highly-anticipated, fourth album, "Die About It" on November 3rd through Better Noise Music. Since their inception in 2017, their hard work has really paid off– they have around one billion streams worldwide, a handful of #1 hits, and tours with the likes of Five Finger Death Punch, Shinedown, and Metallica.

I have enjoyed following the band over the years and have really been looking forward to getting my hands on this album. Just an FYI, I'm old school. I often avoid listening to singles until I can experience an album in its entirety and "Die About It" was no exception. So, here are my thoughts track-by-track as I listen to the album for the first time:

"Intro"
A softly strummed banjo is a unique way to start out a hard rock album, but somehow it seems fitting to precede the next song.

"Bad Friend"
This is easily one of the heaviest riffs the band has written so far. The song has a great melody but the guitars are obviously tuned way down and this song hits really hard right out of the gate.

"Die About It"
I wasn't ready for this and at my first listen I had mixed feelings. This song has everything I love and hate about Nu-metal. Don't get me wrong, I grew up in the peak of Nu-metal and it holds a dear place in my heart. With that said, I've never been a fan of the rap-fused lyric style, but the chorus on this song is great and the riffs are killer. I'm sure this song will grow on me.
"Savior"
The double kick of the drums really sticks out to me right away. This song should and will probably be a single. It's catchy and is easy to sing along to. It also features a great guitar solo.

"Hungry For Life"
This song starts off pretty quiet with DJ singing in a falsetto voice. By the second verse, he breaks out in his regular voice as the music builds. This song is very anthemic and has a great message.

"Legends Never Die"
This was the band's first single. It was released on August 17th and the accompanying music video has already amassed over 300,000 views on YouTube. As I mentioned earlier, I will often avoid listening to singles in advance of the album's release so I can get the full experience of the order of tracks. I like the song but I have mixed feelings on the bridge. It gets pretty heavy and DL shows off his impressive rapping abilities. Overall, I'd say the song is well classified as radio-friendly and it was a good choice for a single.
"NDA"
This song moves along at a fast pace and has a good melody. At the bridge, I noticed a sweet saxophone solo before the guitar came back in. It is interesting to feature a sax on a hard rock record, but the guys in Bad Wolves really know how to pull it off well. The sax comes in once again toward the end of the song, this time with a much sexier solo. I'm impressed when bands can fuse non-typical instruments into a heavy genre. "NDA" is also the longest track on the record, being the only one that is over five minutes long.

"Move On"
Wow. The beginning of this song reminds me of something Slipknot would write. It's really heavy! The chorus isn't nearly as heavy as the verses, but all in all, it's one of my favorite tracks.

"Masquerade"
This is a solid song and I like the different tempo changes. Nothing unique really stands out to me, but it's not at all bad.

"Say It Again"
On the band's previous album, "Dear Monsters," we heard the debut performance of the new vocalist Daniel "DL" Laskiewicz. In my opinion, it was a solid transition from Tommy Vext, but I sensed that he was holding back a bit. Throughout this record, his passionate and aggressive vocals feel like a force to be reckoned with, and his incredible vocal range is really heard on "Say It Again."

"It's You (2 Months) ft KILLBOY"
Although I typically like the heavier side of things, this song is one of my favorites on the album. It's half pop/half hard rock and features the beautiful vocals of Killboy. The delivery from both vocalists is moving and heartfelt.
"Turn It Down"
I really like this song and it's a shame it's placed so far back in the tracklisting. I'm aware that many deep tracks often get skipped or overlooked entirely. Please don't do that with "Turn It Down!" In fact, turn it up! It's not crazy heavy but is worth your time checking it out.
"Set You On Fire"
This is the perfect album closer. This song is beautiful and heavy. The vocal performance is passionate and I'm really hoping it will be released as a single.
There has never been a Bad Wolves album that has disappointed me, but this one is particularly refreshing. The band is gifted in fusing heavy riffs, radio-friendly melodies, and unique musical prowess. "Die About It" is arguably their best album.