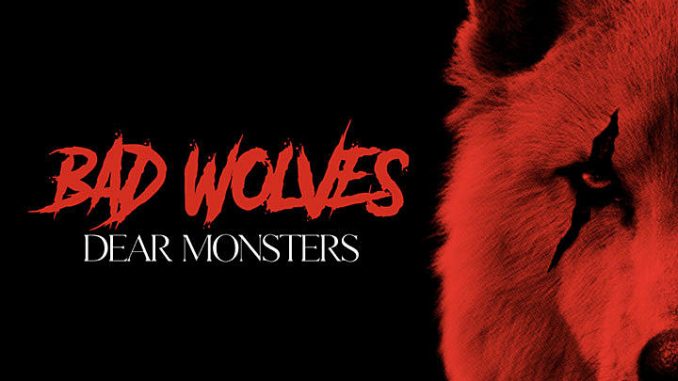 The Los Angeles-based band, Bad Wolves, has endured a lot over the last year, but that isn't stopping them from finally releasing their highly-anticipated third album, "Dear Monsters" on October 29, through Better Noise Music. Since their inception in 2017, this band has worked hard at writing incredible music and their hard work has really paid off- the band has over one and a half billion streams worldwide, over half of their singles reached number one on the U.S. Rock Charts, and their debut album is certified platinum. My love for the band has only grown since I heard their first single, "Zombie," and I can honestly say that "Dear Monsters" is their best work.

The album starts out with fiery riffs on the opening track, "Sacred Kiss." It's heavy, yet melodic and will easily be a fan favorite. From this first track, one of the more notable changes fans may notice is the introduction of vocalist Daniel "DL" Laskiewicz. For those who are unfamiliar with DL, he was a founding member and played guitar with the metalcore band, The Acacia Strain for over a decade, and has produced many metalcore albums for bands such as All That Remains, Legion, and Unearth. DL is an extremely talented vocalist who can showcase an impressive vocal range. He has been warmly welcomed by the band and will continue to be accepted by fans as they embark on upcoming tours.

The band's first single, "Lifeline," was released on September 7th and the accompanying music video has already amassed over one and a half million views on Youtube. This single lacks the aggression of the album's first two tracks, and would probably be classified as more mainstream-friendly, but it is impressive in its own right. The band's second single, "House of Cards," was released on October 4th. This single features heavier riffs than its predecessor, as well as a killer solo in the bridge. The lyrics, however, seem to be confusing. I'm not typically one to pick apart lyrics, but I'm unsure what this song is about. Musically, this single is great, but until I understand the meaning behind the lyrics, it doesn't seem as strong of a single as "Lifeline."
The rest of the album has been teased each day until the album's release day. Although readers may have heard snippets, you have not heard each song's entirety and how impressive this album is as a whole. "Never Be the Same," and "If Tomorrow Never Comes" are solid rock hits with driving riffs and catchy choruses, while "On the Case" and "Classical" are the album's heavier songs, drawing from the band's roots heard on their debut album, "Disobey." As mentioned earlier, DL has an outstanding vocal range, and it is most evident in "Gone." Several times throughout the song, he moves to his falsetto voice all the while remaining ardent.
One thing I love about Bad Wolves is their diversity in songwriting- they can write the bangers, but they also know how to write slower and more melodic songs such as "Wildfire," "In the Middle." "Comatose" features sultry vocals while the music takes on an anthemic tone- carrying the listener on a rollercoaster ride of dynamics and tempo. My favorite track is probably "Springfield Summer." This song starts out with finger-picking on an acoustic guitar but soon builds into a giant sound that will satisfy the harshest critic. This band puts a lot of heart into songwriting and it is most evident in this song.
Rock bands that can survive past their first couple of albums and carry the weight of extensive touring will most likely continue to find success for years to come. Bad Wolves has proved they can not only make great music but can sustain the behemoth of the music industry and endure a change in their lineup. It takes a special kind of determination to undergo all that affliction and come out on top with an album as stunning as this. "Dear Monsters" is an intense and passionate response to all the beasts who attempted to devour them.