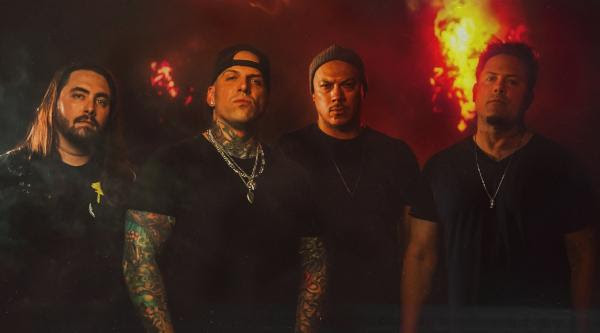 BAD WOLVES
ANNOUNCE DETAILS ON FOURTH ALBUM
'DIE ABOUT IT'
DUE NOVEMBER 3 VIA BETTER NOISE MUSIC
PRE-ORDER NOW HERE
PLATINUM-CERTIFIED, FIVE-TIME #1 HARD ROCK HEAVYWEIGHTS
REVEAL MUSIC VIDEO FOR SECOND TRACK
"LEGENDS NEVER DIE"
OUT TODAY, AUGUST 18
BAND TO JOIN LABELMATES
ASKING ALEXANDRIA & THE HU ON CO-HEADLINING "PSYCHO THUNDER" U.S. TOUR
AUGUST 30 – OCTOBER 8
DIE ABOUT IT Cover Artwork (Download HERE)
BAD WOLVES refuse to follow. Instead, the platinum-certified, 5x #1 Hard Rock radio- charting Los Angeles band circumvent convention by stretching the boundaries of hard rock with earthquaking heaviness, enigmatic experimentation, and enthralling melodies. The group–John Boecklin (drums), Daniel "DL" Laskiewicz (lead vocals), Doc Coyle (lead guitar, backing vocals) and Kyle Konkiel (bass, backing vocals)— are starting a new chapter on their own terms with their fourth full-length album DIE ABOUT IT due November 3 via BETTER NOISE MUSIC. Nodding to inspirations as diverse as The 1975 and Meshuggah. BAD WOLVES challenged themselves to experiment and redefine their sound on DIE ABOUT IT with trusted collaborator Josh Gilbert (As I Lay Dying) who co-produced the album alongside BOECKLIN and DL. With a story that emphasizes the sarcastic statement pointed towards those defending their own beliefs into absurdity, wrong or right, BAD WOLVES believe if you're gonna cry about it, then you might as well DIE ABOUT IT. Pre-order options including digital download, CD, cassette and three vinyl color variants are live now at https://badwolves.ffm.to/dieaboutit.
"We definitely challenged ourselves to experiment, but we maintained a heavier edge," notes BOECKLIN. "We spent a lot of time making sure these songs weren't all the same, which was important to us. We tried to push the possibilities of what you can do with heavy music. This is as fresh of a start as you can get on your fourth album."
"Nobody is against any idea in the studio," says DL. "That's the most beautiful thing about this. There's no limitations. We went to the far ends of the really soft and the extreme. We made it a point to separate ourselves from the past and make this our own."
Following the release of DIE ABOUT IT's opener and lead single, "Bad Friend," on July 21, BAD WOLVES today (August 18) have unveiled a hypnotic new track "Legends Never Die" today across all digital platforms. Stream/download it HERE. Watch the "Legends Never Die" music video via YouTube HERE or streaming below.
"We wanted to write a song for our heroes, whether that's our children, mothers, fathers or the likes of, sending their stories into eternity, forever igniting spirits and imaginations of those who follow," DL shares. "With every retelling, their legacies resonate forever. This song reminds us that true greatness can never be extinguished. Legends NEVER die."
DIE ABOUT IT Track Listing:
1. Intro
2. Bad Friend
3. Die About It
4. Savior
5. Hungry For Life
6. Legends Never Die
7. NDA
8. Move On
9. Masquerade
10. Say It Again
11. It's You (2 Months)
12. Turn It Down
13. Set You On Fire
BAD WOLVES will head out on tour across the U.S. this fall with BETTER NOISE MUSIC labelmates Asking Alexandria and The Hu on their co-headlining "Psycho Thunder" tour from August 30 to October 8. Tickets are on-sale now at https://badwolvesnation.com/pages/tour. See full dates listed below.
BAD WOLVES arrived with the rarity and the force of a lightning bolt in 2018. This collective of tried-and-true musicians rallied around an unconventional vision for heavy music, grafting rafter-reaching hooks to pit-splitting riffs and mind-bending rhythms with a penchant for unexpected twists and turns. Their full-length debut, Disobey, bowed in the Top 25 of the Billboard 200 and delivered a platinum single and a gold single. On its heels, they showed no signs of stopping with N.A.T.I.O.N. [2019]. However, Dear Monsters kickstarted another season in 2021 as "Lifeline" netted their sixth #1 at Active Rock Radio. Reaching a critical high watermark, Billboard hailed the latter as "Bad Wolves' most diverse and far-reaching album to date," and Hysteria raved, "The band has served up something truly monumental." Nearing 1 billion total streams, they sold out headline shows on multiple continents and toured with everyone from Papa Roach and Hollywood Undead to Volbeat.
BAD WOLVES 2023 Tour Dates:
8/30 San Antonio, TX – Boeing Center at Tech Port #
9/1 Dallas, TX – The Factory In Deep Ellum #
9/2 Pryor, OK – Rocklahoma *
9/3 Houston, TX – 713 Music Hall #
9/5 Atlanta, GA – The Eastern #
9/7 Baltimore, MD – Rams Head Live #
9/8 Philadelphia, PA – Franklin Music Hall #
9/11 New York, NY – Terminal 5 #
9/12 Boston, MA – House of Blues #
9/13 Bethlehem, PA – The Wind Creek Event Center #
9/15 Harrisburg, PA – Harrisburg Midtown Arts Center #
9/16 Johnstown, PA – 1st Summit Arena at Cambria County War Memorial #
9/17 Sayreville, NJ – Starland Ballroom #
9/19 Cleveland, OH – TempleLive #
9/20 Detroit, MI – The Fillmore Detroit #
9/22 Ft Wayne, IN – Piere's Entertainment Center #
9/25 Chesterfield, MO – The Factory #
9/26 Chicago, IL – Riviera Theatre #
9/27 Ashwaubenon, WI – EPIC Event Center #
9/29 Milwaukee, WI – The Rave/ Eagles Club #
10/1 Council Bluffs, IA – Harrah's Council Bluffs – Stir Cove Event & Concert Venue
10/3 Denver, CO – Fillmore Auditorium #
10/4 Salt Lake City, UT – The Union #
10/7 Las Vegas, NV – The Industrial Sound #
10/8 Los Angeles, CA – The Wiltern #
# "Psycho Thunder Tour" with The HU, Bad Wolves and Zero 9:36