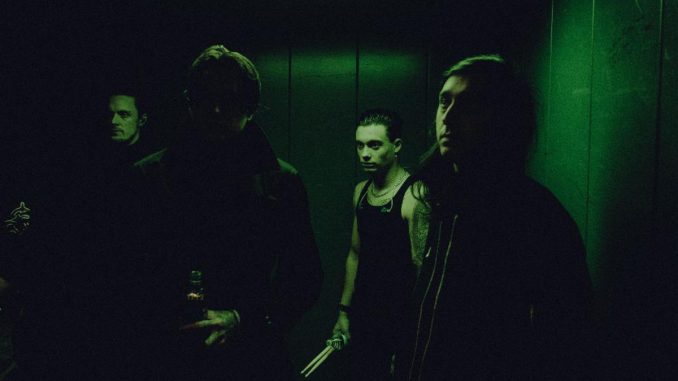 Bad Omens
Announces: CONCRETE FOREVER
North American Fall Headlining Tour
With ERRA + I See Stars
Artist Presale Starts Tomorrow at 10 am, Tickets On Sale Friday 4/7 at 10 am
All Times Local
Photo Credit – Bryan Kirks
Monday, April 3, 2023 – If you have missed out on seeing Bad Omens's live show, now's your chance! The Los Angeles-based rock sensation has today announced their North American headliner, the CONCRETE FOREVER tour with support from ERRA and I See Stars. Artist presale starts tomorrow, Tuesday, April 4 at 10 am local through Thursday, April 6 at 10 pm local, and tickets go on sale to the general public on Friday, April 7 at 10 am local. The headliner will also have a separate, limited availability of VIP upgrades which will go on sale this Friday, April 7 at 10 am local. Having swiftly sold out their previous North American and EU/UK headliners as well as their Knotfest sideshow Australia headline dates, these tickets are sure to go quickly so get them while you can at the link here.
CONCRETE FOREVER North American Headliner Dates

September 1 – Houston, TX @ Bayou Music Center

September 2 – Austin, TX @ Stubb's Waller Creek Amphitheater

September 4 – New Orleans, LA @ Joy Theater

September 5 – St. Petersburg, FL @ Jannus Live

September 6 – Orlando, FL @ House of Blues

September 8 – Atlanta, GA @ Coca-Cola Roxy

September 9 – Nashville, TN @ Marathon Music Works

September 12 – New York, NY @ Terminal 5

September 13 – Philadelphia, PA @ Franklin Music Hall

September 14 – Pittsburgh, PA @ Stage AE

September 15 – Silver Spring, MD @ The Fillmore

September 16 – Boston, MA @ Roadrunner

September 18 – Montreal, QC @ MTELUS

September 19 – Toronto, ON @ Rebel

September 21 – Chicago, IL @ The Salt Shed

September 24 – TBA

September 26 – Milwaukee, WI @ The Eagles Ballroom

September 27 – Minneapolis, MN @ Myth Live

September 29 – TBA

September 30 – Salt Lake City, UT @ The Union

October 2 – Portland, OR @ Crystal Ballroom

October 3 – Vancouver, BC @ Vogue Theatre

October 4 – Seattle, WA @ Showbox SoDo

October 8 – Los Angeles, CA @ Hollywood Palladium

October 9 – Las Vegas, NV @ The Theater at Virgin Hotels

October 10 – Tempe, AZ @ Marquee Theatre

October 11 – Albuquerque, NM @ Revel

October 13 – Dallas, TX @ The Factory in Deep Ellum

Fall Festival Dates

September 10 – Alton, VA @ Blue Ridge Rock Festival

September 22 – Louisville, KY @ Louder Than Life

October 6 – Sacramento, CA @ Aftershock
Upcoming US Dates with ERRA + Invent Animate

May 17 – Birmingham, AL @ Iron City (Sold Out)

May 18 – Chattanooga, TN @ The Signal (Sold Out)

May 19 – Asheville, NC @ Orange Peel (Sold Out)

May 21 – Myrtle Beach, SC @ House of Blues (Sold Out)

May 23 – Raleigh, NC @ Ritz Raleigh (Sold Out)

May 26 – Grand Rapids, MI @ Intersection (Sold Out)

May 28 – Fort Wayne, IN @ Clyde's (Sold Out)

May 30 – Des Moines, IA @ Horizon Event Centre (Low Ticket Warning)

June 1 – Omaha, NE @ The Admiral (Sold Out)

June 2 – Kansas City, MO @ Uptown Theatre (Sold Out)

June 3 – Memphis, TN @ Minglewood Hall (Sold Out)

June 4 – Wichita, KS @ Cotillion Ballroom (Sold Out)

Spring Festivals/Radio Shows

May 4 – Greenwood Village, CO @ 107.9 KBPI Birthday Bash

May 6 – Atlantic City, NJ @ Bamboozle Fest

May 12 – Oklahoma City, OK @ 100.5 KATT's KATTFEST

May 25 – Columbus, OH @ Sonic Temple

May 27 – St Louis, MO @ 105.7 KPNT The Point's Pointfest
THE DEATH OF PEACE OF MIND

BAD OMENS

Track Listing:

3. Take Me First

5. What It Cost

7. bad decisions

8. Just Pretend

9. The Grey

10. Who are you?

11. Somebody else.

12. IDWT$

13. What do you want from me?

15. Miracle
Bad Omens slither through boundaries, only to ultimately choke convention in the process. The quartet—Noah Sebastian (vocals), Joakim "Jolly" Karlsson (guitar), Nick Ruffilo (bass), and Nick Folio (drums)—materialize with ghostly atmospherics, striking hooks, and the tingles of sensual high-register harmonies uplifted by cinematic production. Racking up over 250M worldwide streams to date and earning acclaim, the band presents an uncompromising and undeniable vision on their third full-length album, 'THE DEATH OF PEACE OF MIND' (Sumerian Records).
"Making the record changed us as songwriters and musicians. In many ways, I feel like it set me free as an artist because every decision made in the writing process was for myself, with no fear for anyone else's expectations of what our third album should sound like. Be it our fans or our record label."
They've always wielded this level of magic though…
The group's 2016 self-titled debut, 'Bad Omens', yielded fan favorites such as "Glass Houses" and "The Worst In Me" which eclipsed 35 million Spotify streams. On its heels, 2019's 'Finding God Before God Finds Me' spawned "Dethrone" (23 million Spotify streams) and "Careful What You Wish For". Along the way, they toured with numerous marquee acts and received tastemaker praise.
After their first headline tour was canceled mid-way at the top of the global pandemic, the band found themselves at home in Los Angeles with plenty of time. Where they absorbed and imparted a different palette of unexpected inspirations. Channeling what the frontman describes at times as a "cursive sound" they embraced newfound confidence and boundlessly loose creativity. Anything went in the studio, and all "rules" were broken. Noah and Jolly wrote, produced, and engineered the music themselves while GRAMMY® Award-nominated producer and songwriter Zakk Cervini (Halsey, Grimes, Poppy, blink-182) lent his talents with the mix and master. Challenging himself, Noah decided to "make a track sampling items around the house, none of which were musical instruments".
This ultimately became the framework for the first single "THE DEATH OF PEACE OF MIND". Claps puncture the icy soundscape as his voice stretches from a breathy moan into an evocative and entrancing hook, breaking from a whisper into the seductive chant, "It wasn't hard to realize. Love's the death of peace of mind." It culminates on a climactic scream uplifted by a distorted crunch.
"The whole record really details the loss of peace of mind," he explains. "The lyrics in the title track are a little more specific in terms of the conflict at the heart of something more intimate and personal."
By speaking it aloud, Bad Omens offer a level of comfort and empathy, with a sinister shroud. At the same time, they also give rock music a sexy new shape on 'THE DEATH OF PEACE OF MIND'.
"Sonically, we want to do something you can't arrive late or early too," he leaves off. "You can't cheat your way to the final act. You have to get on the ride and process it until the end. The songs are meant to be heard from start to finish. We want you to take the whole trip with us."