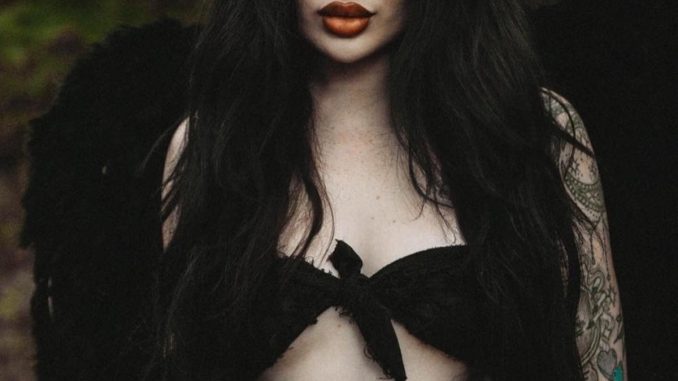 photo credit: @ofloveandothertales_
babychaos is the creation of 21 year old model Lyzzie Larosa. Using influence from industrial, metal, rock, pop and club music, she hypnotizes with her words on her personal experiences and the world she creates through her music and expression. Born and raised in witch city Salem, Massachusetts, babychaos has now arrived.
Los Angeles-based independent record label Cleopatra and babychaos have now joined forces to present the creation and video for "Babylon".
babychaos is learning to dance her way through the dark model and musician babychaos has released her fifth single 'Babylon', and the video has just arrived to the party.
Watch "Babylon" here: https://www.youtube.com/watch?v=nzIUnWTXxZE
"Post-apocalyptic Bratz doll from hell," babychaos has carved out a unique space in music, which she dubs 'industrial pop. 'Combining the harsh electronic tones and distorted guitar of industrial metal with a vocal and songwriting sensibility that aims for big pop hooks, babychaos's newest single 'Babylon' is her most accomplished musical statement to date. Check it out we are very excited to her what y'all think! She's definitely an icon." – Ken Tighe, Cleopatra Records
"'Babylon' is about the inevitable vilification of people living their authentic truth. I've found that no matter what, people will project their inner wounds and fears into others no matter how morally good you may think you are. My mom told me growing up that people are going to talk no matter what, so you may as well give them something to talk about. This is exactly what that song is about as it's been such a prominent theme in my life. Learning to dance in your darkness, even at your loneliest is something that no one can take from you." – babychaos
When it comes to 21-year-old babychaos, the alternative model turned solo musician is anything but predictable. With a multi-range of influences that extend from industrial, rock, classical, and club music genres to nostalgic 90s and 2000s rock/metal soundscapes, babychaos delivers an intense, heavy, electronic, eclectic experience that is refreshing to the music scene. babychaos is no stranger to being confident in her skin. Her journey of breaking away from spiritual ties and turning that religious repression into art is one of many undisguised lyrical subjects the multi-genre artist touches on within her music. While babychaos is just getting started in the music industry, she hopes to use her stories to connect with others. With the Salem/Florida-based artist's first 2021 single, "Flesh", approaching over 1 million streams and currently working on her first EP with Cleopatra Records, the future looksbright for the up-and-coming artist.
"I've built a community of my listeners who are simply visionaries, and I love how they
use my music and art in general to fuel their own visions and creative endeavors." – babychaos
"Babylon" was produced by: Goodjohn Productions and mixed/mastered at Wolfe Studios. The "Babylon" video was shot by 4102 productions
photo credit: @ofloveandothertales_