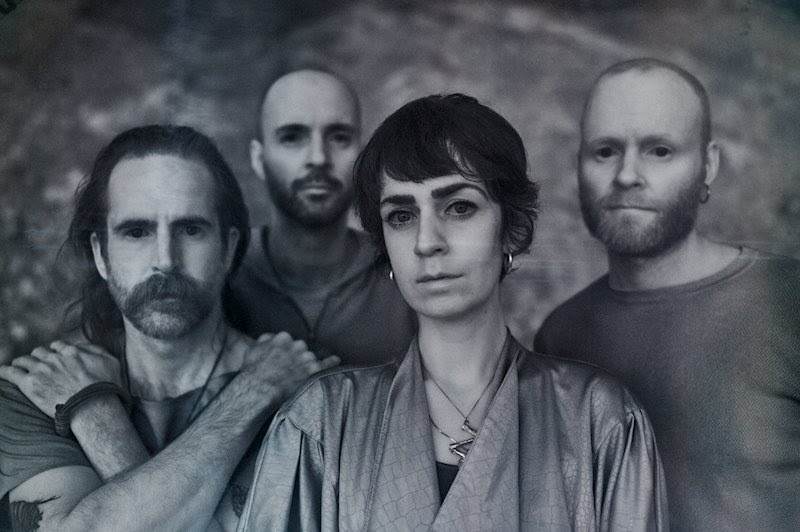 NEW ALBUM LOOP OF YESTERDAYS OUT VIA SOLID STATE ON APRIL 10AZUSA
—
the globally-based band featuring vocalist
Eleni Zafiriadou
(Sea + Air), bassist
Liam Wilson
(The Dillinger Escape Plan),
guitarist
Christer Espevoll
(Extol), and drummer
David Husvik
(Extol) — have premiered the video for their new song "
Monument
" over at
Revolver.
Watch + listen
here
.
"'Monument' is a mid-tempo banger about false idols, hypocrisy, and the shortcomings of faith systems as a one-size-fits-all recipe for the 'correct' ways of living," the band says. For this video, Azusa once again worked with director
Troll Toftenes
.
The song appears on the band's second album
Loop of Yesterdays
, due out April 10 on
Solid State
.
Loop of Yesterdays
is available for pre-order
here
.
Check out the previously issued song "
Memories of an Old Emotion
."
Loop of Yesterdays
follows Azusa's critically adored first album
Heavy Yoke
, which was described by
NPR
as a "debut album wrapped in rapturously beautiful discord."
Everything Is Noise
called it "a singular experience" while
Metal Injection
deemed it
"basically perfect progressive metal" while
MetalSucks
said it was "one of the strangest, most dynamic, and utterly captivating releases of the year, leaping from avant-garde wackiness to dream-like, psychedelic art pop without a flinch." The record was also described as an "expansive, all-encompassing sound in which tradition spins on its head and heavy music gets made new" by
New Noise Magazine
.
Loop of Yesterdays
finds the band with more to say but less to prove — achieving a more aerodynamic and accessible approach to their intricate sense of songwriting and inherently technical style. On their sophomore release, Azusa step off the tightrope and stand with feet on solid ground.
"The line 'cannot lose myself in a loop of yesterdays' was inspired by an eerie dream I had and became a recurring reminder for me. I had been out of focus for a long time that I wanted to get back to reality, to the present," says Zafiriadou.
As Wilson says, "
Heavy Yoke
was the initial impact,
Loop of Yesterdays
is the aftermath."
LOOP OF YESTERDAYS TRACK LISTING:
"Memories of an Old Emotion"
"One Too Many Times"
"Detach"
"Seven Demons Mary"
"Support Becomes Resistance"
"Monument"
"Loop of Yesterdays"
"Rapture Boy"
"Skull Chamber"
"Kill-Destroy"
"Golden Words"
"Ritual Aching"