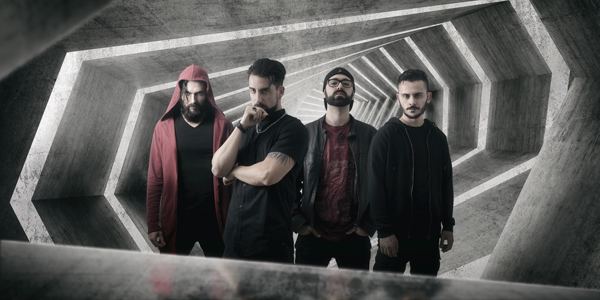 FOR IMMEDIATE RELEASE: Nuoro, Sardinia – This is Cold's first tour in eight years which kicks off August 29th in Teaneck, NJ and runs through October 20th in Lexington, KY and Cold have chosen Sardinia's exploding stars Awake For Days to be main support for this amazing return to the road.
Awake For Days on this tremendous news, "There are no words to describe how excited we are to take part in the Cold Tour as Main Support. This for us is the coolest thing that has happened in our career so far, and it is a great honor to have been called to open the shows of such an important band in the world music scene. We will never forget the day when that news was communicated to us by our manager Shawn Barusch! We would thank our management Music Gallery International for working so hard for our band and for all the efforts it is putting in place to make this tour for us as professional as possible! "

Here's what Shawn had to say about Awake For Days Landing the main support slot on the upcoming Cold tour, "We at Music Gallery International are more than excited to have Awake For Days on their First USA tour going out with such an Outstanding Band like Cold! This tour will bring the European Sounds of Sardinia to our shores. I can tell you people will be enthralled and amazed by this hard hitting 4some that it will pave the way for many more outstanding bands from abroad! Awake For Days will "Break your Chains"!!

Sardinia's Awake For Days are an alternative modern metal band of pure heart, unwavering talent and unrelenting drive on the bleeding edge of creativity and performance in the genre. Based out of the island paradise of Sardinia in the Mediterranean Sea off the coast of Italy Awake For Days bring a positivity and strength to their songwriting and lyrics that is desperately missing in the current status quo of bleakness in heavy music.
Tickets on sale here:https://coldarmy.com/

Connect with Awake For Days:www.awakefordays.com
www.facebook.com/AwakeForDaysOfficial
https://open.spotify.com/artist/0e1u1vT8epERelbOT2hvBH
https://www.youtube.com/channel/UCh51O3pryYZjDH9nxOO0FcA

Broken Human Tour (w Cold/ Awake For Days / University Drive) Aug. 29 – Teaneck, NJ (Debonair Music Hall) Aug. 30 – Stafford Springs, CT (Palace Theater) Aug. 31 – New Bedford, MA (The Vault at Greasy Luck) Sept. 1 – Scranton, PA (Levels) Sept. 4 – Buffalo, NY (Iron Works) Sept. 6 – Warrendale, PA (Jergels) Sept. 7 – Lancaster, PA (Chameleon Club) Sept. 8 – Concord, VA (DeVault Vineyards – Blue Ridge Rock Festival) * Sept. 10 – Greensboro, NC (Blind Tiger) Sept. 11 – Atlanta, Georgia (The Masquerade (Hell) Sept. 13 – Greenville, SC (The Firmament) Sept. 14 – Winchester, VA (Blue Fox Billiards) Sept. 15 – Poughkeepsie, NY (The Chance) Sept. 17 – Brooklyn, NY (Brooklyn Bazaar) Sept. 19 – Baltimore, MD (Baltimore Sound Stage) Sept. 20 – Lakewood, OH (Winchester Music Tavern) Sept. 21 – Flint, MI (The Machine Shop) Sept. 22 – Cincinnati, OH (Riverfront Live) Sept. 27 – Houston, TX (Scout Bar) Sept. 28 – San Antonio, TX (The Rock Box) Sept. 29 – Dallas, TX (Trees) Oct. 1 – Austin, TX (Come And Take It Live) Oct. 4 – Denver, CO (Herman's Hideaway) Oct. 5 – Grand Junction, CO (Mesa Theater) Oct. 6 – Colorado Springs, CO (Sunshine Studios Live) Oct. 8 – Lincoln, NE (Bourbon Theatre) Oct 10 – Angola, IN (The Eclectic Room) Oct. 11 – Ringle, WI (Q and Z Expo Center) Oct. 12 – Kansasville, WI (1175) Oct. 13 – Chicago, IL (Bottom Lounge) Oct. 16 – Belvidere, IL (The Apollo Theater) Oct. 18 – Indianapolis, IN (The Vogue) Oct. 19 – Champaign, IL (The City Center) Oct. 20 – Lexington, KY (Manchester Music Hall) *No Awake For Days / University Drive