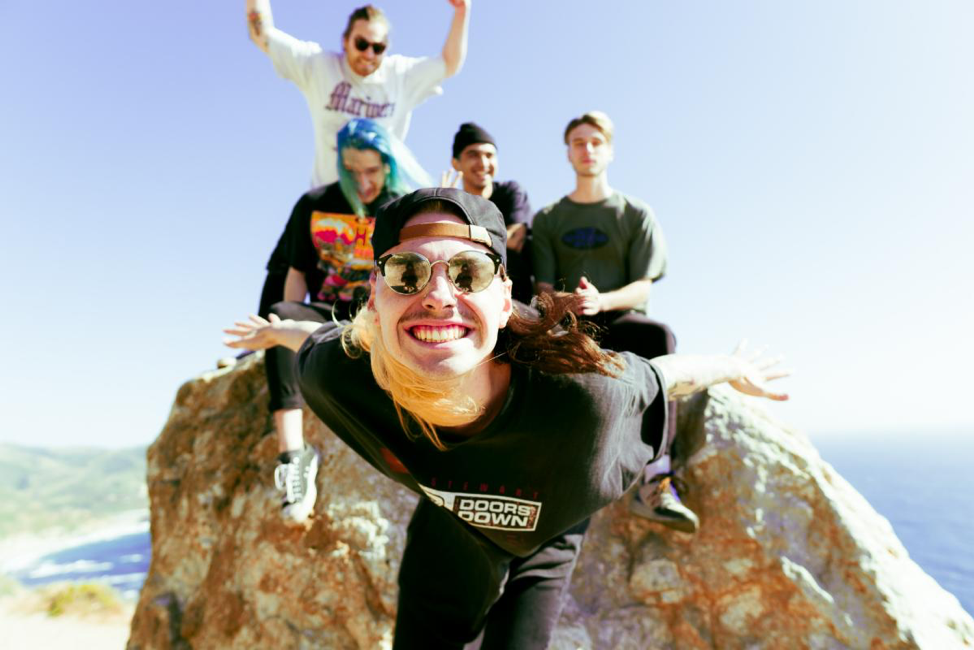 WATCH

the Music Video via New Noise!

New Studio EP 'The Burner' out Nov. 6th

Band Inks Sponsor Partnership with NASCAR Driver Joe Graf Jr.
Rising rock outfit AVOID are living up to their 'kick ass' ethos on the heels of a landmark week. Yesterday the band premiered their new single "Song About James" at SiriusXM OCTANE, where they have entered into rotation as an Accelerator Featured Artist. Today, AVOID has partnered with New Noise Magazine to unveil the music video for SAJ, which can be found
right here
. The unhinged and decidedly jocular video is the strongest offering to date from one of Seattle's most industrious new acts.
"Song About James" has already received strong coverage across Spotify and Apple playlisting, and is featured on the cover of Tidal's Hybrid Theories playlist. Check it out
HERE
."
In addition to "Song About James", AVOID are proud to announce that their new studio EP, titled 'The Burner', will see a November 6th release on Revival Recordings. For more details, keep an eye out on the band's website,
https://www.avoidkicksass.org
.
Speaking to New Noise Magazine about the new single + music video, lead vocalist Benny Scholl states,
"We're so excited to share our video for 'Song About James'. This song has opened so many new doors for us. It's really been a mind blowing experience. From being on the soundtrack of NASCAR HEAT 5, to debuting on Octane yesterday, and here unveiling the video on New Noise. We are thrilled to finally share this with our fans."
No strangers to the world of NASCAR and boasting two tracks off 'The Burner' being featured in the new videogame "NASCAR Heat 5", AVOID has partnered with NASCAR Racer and current driver on the Xfinity Series JOE GRAF JR. as a featured sponsor on his #08 car. For more details about Graf and the announcement, visit
joegrafracing.com/news
/
About AVOID
Exploding out of Seattle, WA, hotly-tipped hard rock five-piece AVOID have been rapidly making a name for themselves thanks to their electrifying live show and an unabashed experimental approach to music. The result is an alchemistic audio dose of heavy hedonism; the stamp of a young act unafraid to equally embrace both their innovation and individuality.
Forming in 2017, AVOID's debut full length 'Alone' (Revival Recordings) was released in 2018, garnering more than 1.5 million streams to date and strong Spotify playlisting support. The record debuted at #3 on Billboard's Heatseekers Pacific Chart.
AVOID is:
Benny Scholl – Vocals
Nick Olsen – Guitar
Luke Ryder – Guitar
Chris Echols – Bass
Paul Jaton – Drums
AVOID Online: