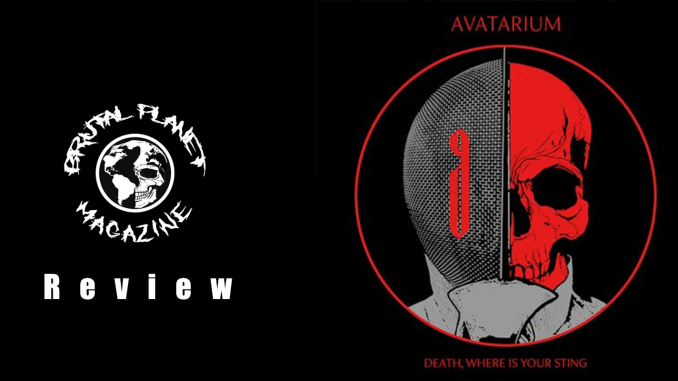 The world of doom metal has always been a dark place. With its Sabbath inspired guitar and dark lyrics, it can encompass a variety of vocal and musical styles. One of my favorite doom bands is Avatarium. Marcus Jidell mixes doom metal guitar, and melts in some blues infused riffs. That, paired with the female front voice of Jennie-Ann Smith takes the doom down, or up depending on the depth of the song. Avatarium has four albums under their belt in almost 10 years. All have a signature doom-like sound, but each have a unique sound of their own. In 2022, Avatarium is set to release its most diverse album to date called Death, Where Is Your Sting.
The album starts with "A Love Like Ours." Violin paired with an acoustic guitar sets the dark scene. Jennie-Ann begins her vocal arrangement, which has a dark and melancholy sound to it.  If a song could speak with colors, "A Love Like Ours" would be the deep blues and grays of a brewing thunderstorm. The song projects darkness, while infusing a sinister cello throughout.
"Stockholm" has a pure doom opening that quickly turns into poetic magic, delivered by Jennie-Ann. The song utilizes slide guitar provided masterfully by Marcus Jidell. The song gives a vibe similar to their song "Pearls and Coffins."
The title track, "Death, Where Is Your Sting" is a mid-paced song that has a bit of an early Fleetwood Mac sound to it. The chorus is a beautiful mix of acoustic guitar, and harmony that kept me coming back to this song over and over. "Psalm For The Living" is another beautiful song that isolates striking vocals with distorted guitar, and meshes them into an almost fairytale-like package.
"God is Silent" is the complete opposite of the previous song. The bass of Mats Rydström postulates the foundation of this song. It has pace changes that are brilliant, and a guitar solo that is a work of art in its own category. "Mother Can You Hear Me Now" is led by a heavy drum intro that gives a slow, but dark beat delivered by the underrated Andreas Habo Johansson. When you hear Jennie-Ann deliver the chorus of this song, it will cause your hair to stand on end. It has an eerie almost ghostlike echo sound. "Nocturne" is the one song that is different amongst the rest. The upbeat sound of the song misplaces itself in this doomlike compilation. Galloping guitars stomp throughout the song, and give it almost a sense of victory. On the verge of a thrash, I found the song very uplifting and listened to its guitar riffs reverently. "Transcendent" takes the listener back down the darkness of the rabbit hole where we expect to be. Dark acoustic guitar integrated in a sea of madness, thrown into a title wave of electric psychosis with a swarm of violin. The song screams musical transformation, taking the listener on an instrumental journey.
Death, Where Is Your Sting is one of my favorite albums by Avatarium. Unlike previous albums, Death, Where Is Your Sting samples pieces of all their different styles. The album is pure musical genius. If you are curious about the brilliance of Avatarium, this album is the perfect starting point. You can pick up the album via AFM records on October 21, 2022.