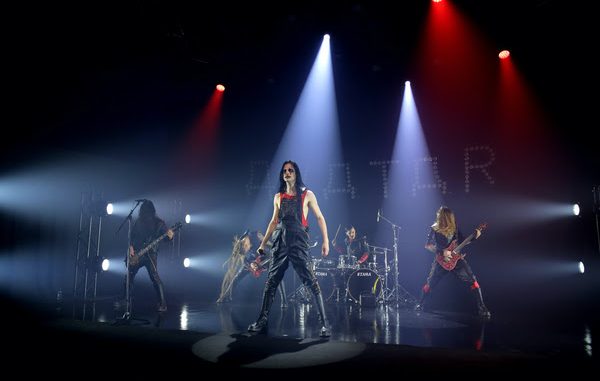 Second Streaming Event In 4-Part Concert Series
Premieres This Saturday, January 16
With Fan-Selected Set Lists From
Feathers & Flesh And Avatar Country Albums
Avatar Ages – An Impossible Concert Experience, debuted January 9 to rave reviews from media and was watched by fans across the globe. The 4-part online concert stream series from Avatar—Sweden's most creative and exciting export—started with Age of Dreams, featuring the band's Hunter Gatherer album from start to finish, plus Avatar's biggest songs.
Age Of Illusions, the second streaming event in the series—co-produced by Danny Wimmer Presents—premieres this Saturday, January 16 and will feature a fan-selected set list from Avatar's Feathers & Flesh and Avatar Country albums.
Tickets are now on sale
here
.
Here's a sample of the media acclaim for Age Of Dreams:
"All in all, Avatar Ages: Age of Dreams proved to be a live stream package as exciting as any band can deliver, with amazing visuals and great sound mixing courtesy of album producer Jay Ruston. If we can expect the same quality for the remaining three shows, then they're more than worth the asking price, and any Avatar fan should go ahead and get a ticket." – Bring The Noise UK (January 9, 2021)
"…an innovative take on the art of live streaming by undertaking a 4-part concert series dubbed Avatar Ages, promising to redefine the current online concert trend…The versatile character of the songs selected for this event could not have been better situated, as the entire set was permeated by a sense of freshness and variety that is not often encountered within a single band's career, let alone a single concert-going experience." – Sonic Perspectives (January 13, 2021)
"Powering through their latest album Hunter Gatherer in its entirety, in true Avatar style they put in a blistering performance, not only looking great in new Black and Red attire, they sound incredible, Johannes Eckerström showing an unfaltering vocal range…With humorous intermissions, costume changes, this production has been carefully thought out and adapted for the enjoyment of a TV audience, unquestionably setting a high standard on live streaming." – Tattoo.com (January 11, 2021)
Each Avatar Ages upcoming concert film experience will feature fan voted set lists—chosen by ticket purchasers—with songs from Avatar's celebrated catalog: Avatar Country, Feathers & Flesh, Hail The Apocalypse, Black Waltz, Thoughts of No Tomorrow, Schlacht and Avatar.
The upcoming schedule of Avatar Ages – An Impossible Concert Experience concert stream events is as follows:
Saturday, January 16 – Age of Illusions (Feathers & Flesh and Avatar Country fan voted set list)
Saturday, January 23 – Age of Madness (Black Waltz and Hail the Apocalypse fan voted set list)
Saturday, January 30 – Age of Memories (Thoughts of No Tomorrow, Schlacht, Avatar fan voted set list)
Each livestream debuts on its respective date at 1:00 PM Pacific / 4:00 PM Eastern / 10:00 PM CET and remains on-demand for 72 hours.
Single show tickets and various ticket bundles are available, offering exclusive merchandise such as t-shirts, hoodies, vinyl, and a commemorative laminate. A limited number of exclusive virtual
Meet & Greets
with the entire band are also available. Fans will be able to select their date and time period in advance, and after their personal Meet & Greet, they'll receive a video file of their conversation, as well as the opportunity to take pictures during the experience. Visit
www.AvatarAges.com
for all details and to purchase tickets.
(Avatar Ages, photo by Johan Carlén)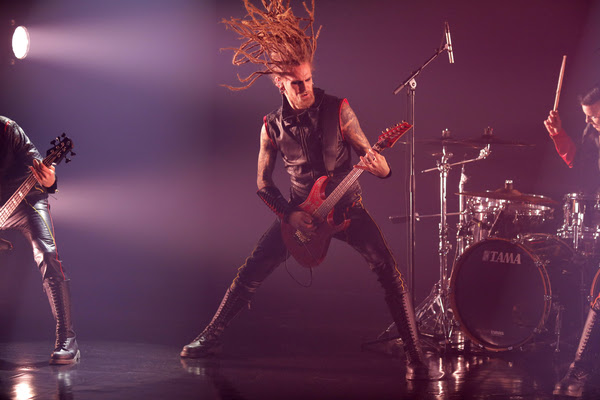 (Avatar Ages, photo by Johan Carlén)
Avatar's current album Hunter Gatherer, out now via eOne, marked the darkest and most thought-provoking release of the band's over decade long career. A striking and bold manifesto, the album is an unflinchingly ruthless study of a clueless humankind's ever-increasing velocity into an uncertain future, furthering the reach of the band's always expanding dark roots. The band's ambitious new era found the band featured as the cover story of Revolver Magazine's Fall Issue, where frontman Johannes Eckerström reflects about the power of live performance during a year that has changed the landscape of live music. In 2019, Avatar reunited with producer Jay Ruston (Stone Sour, Anthrax) at Sphere Studios in Los Angeles, California, where the foundation for each song on Hunter Gatherer was laid with the band performing altogether, as they'd done only once before, on Hail the Apocalypse (2014). The old-school method of playing as one in the studio, more akin to how they are on stage, captured the essence of Avatar. Recorded entirely to two-inch tape, Hunter Gatherer exhibits everything that makes Avatar standouts in the vast, rich landscape of heavy metal's past and present.
Avatar is: Johannes Eckerström – Vocals / John Alfredsson – Drums / Henrik Sandelin – Bass / Jonas Jarlsby – Guitars / Tim Öhrström – Guitars
Danny Wimmer Presents recently entered the digital content curation space, promoting pay-per-view concert streams and creating the popular digital series Offstage with DWP. DWP is known worldwide for their stellar portfolio of music and lifestyle events, which includes Aftershock, Bourbon & Beyond, Epicenter, Hometown Rising, Louder Than Life, Sonic Temple Art + Music Festival, and Welcome To Rockville.