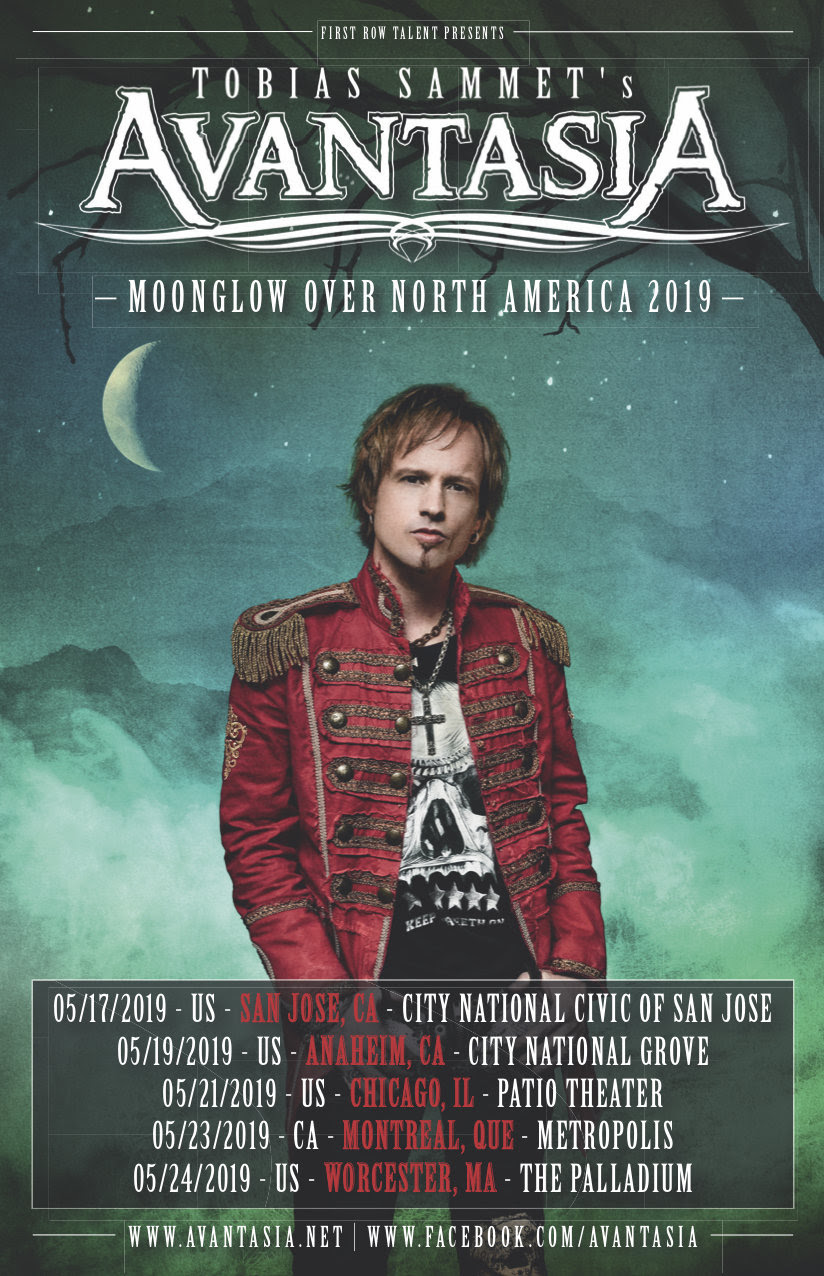 Release New Lyric Video For The Song "Starlight"
With his project AVANTASIA he has long been recognized as one of the most accomplished German rock musicians. With releases and chart success in 40 countries all over the world throughout his career, TOBIAS SAMMET has now reached the top of the charts with a sensational #1 with his album Moonglow. But not only in Germany – the album entered the charts in countries all over the world:
GERMANY   #1
SWEDEN Rock/ Metal   #1
UK Rock Top 40   #1
SWITZERLAND   #3
AUSTRIA   #4
CANADA Hard Music Albums   #5
FINLAND physical   #5
SPAIN   #5
USA Current Hard Music Albums   #5
SWEDEN   #6
CZECH REPUBLIK   #8
SCOTLAND   #9
FINLAND   #13
JAPAN (western music)   #13
CANADA Top Current Albums   #17
FRANCE TOP 150 physical and download   #22
ITALY   #31
UK   #38
BELGIUM VL   #38
FRANCE TOP 150   #43
USA Top Albums   #46
NETHERLANDS   #83
BELGIUM WA   #121
AVANTASIA's latest opus, Moonglow is a masterpiece in rock, that intentionally refuses to follow the spirit of today and goes out to all the fans that are ready to be taken away on a fantastic journey to another world. Only few of the spectacles that nature offers us are as ambivalent as moonlight is. Without the pressure of time or obligation and free from the constraints of the music industry, the singer and songwriter barricaded himself in his own "The Great Mystery" studio and worked on new material night and day, until finally 11 tracks were put together to form Moonglow. "It's beautiful to see how this worked out for me with a sound, for which – according to the opinion of some experts – there is no place in this generic mainstream-world. And the best thing is: Fans all around the world love the record and we can kick off our world-tour knowing of their support and have lots of fun!" comments TOBIAS SAMMET about his first #1 in his home country.
Moonglow can be ordered here: http://nblast.de/AvantasiaMoonglow
"Moonglow" (video): https://youtu.be/Mk0FTHqmO9o
"Moonglow" (lyric video): https://youtu.be/vZGQ1LsdCUM
"The Raven Child" (lyric video): https://www.youtube.com/watch?v=CTN2ZzpQRh4
Watch also the album-trailers, to get more information about the album:
Trailer #1:https://youtu.be/CVSU5VP_U2o
Trailer #2:https://www.youtube.com/watch?v=Dy-gyWoKPTQ
Trailer #3:https://youtu.be/9cicqsmk8-4
AVANTASIA – »Moonglow World Tour 2019
Presented by Metal Hammer, Piranha, Musix, Rock It!
27.03.   SK   Presov – Tatran Handball Aréna
28.03.   SK   Bratislava – Hant Aréna
30.03.   DE   Kaufbeuren – All-Karthalle *SOLD OUT*
31.03.   IT   Milan – Alcatraz
02.04.   CZ   Prague – Forum Karlín *SOLD OUT*
03.04.   DE   Berlin – Huxleys Neue Welt
05.04.   DE   Ludwigsburg – MHP Arena *SOLD OUT*
06.04.   DE   Bamberg – Brose Arena
08.04.   DE   Fulda – Esperantohalle
09.04.   DE   Saarbrücken – Saarlandhalle
10.04.   FR   Paris – Olympia
12.04.   DE   Osnabrück – Osnabrück Halle
13.04.   DE   Hamburg – Mehr! Theater *SOLD OUT*
14.04.   DE   Oberhausen – König-Pilsener-Arena
16.04.   UK   London – The Forum
18.04.   DE   Offenbach – Stadthalle
19.04.   CH   Pratteln – Z7
20.04.   CH   Pratteln – Z7 *SOLD OUT*
21.04.   CH   Pratteln – Z7
24.04.   ES   Bilbao – Santana 27
26.04.   ES   Barcelona – Razzmatazz 1
27.04.   ES   Madrid – Palacio Vistalegre
02.05.   SE   Stockholm – Arenan
04.05.   RU   Moscow – Glavclub Green Concert
06.05.   HU   Budapest – Barba Negra Track
09.05.   JP   Tokyo – Blitz Akasaka
12.05.   AU   Sydney – Metro Theatre
14.05.   AU   Melbourne – The Forum
17.05.   US   San Jose, CA – City National Civic
19.05.   US   Anaheim, CA – City National Grove
21.05.   US   Chicago, IL – Patio Theater
23.05.   CA   Montreal, QC – Metropolis
24.05.   US   Worcester, MA – Palladium
26.05.   MEX  Mexico City – Auditorio BlackBerry
29.05.   RCH  Santiago – Teatro Caupolican
31.05.   RA    Buenos Aires – El Teatro Flores
02.06.   BR    São Paulo – Espaço das América
Festivals:
11. – 13.07.     D         Balingen – Bang Your Head!!!
11. – 14.07.     CZ       Vizovice – Masters of Rock
09.- 11.08.     B         Kortrijk – Alcatraz Metal Festival
14. – 17.08.     D         Dinkelsbühl – Summer Breeze
18.08.            BG       Varna – Varna Rock
23.08.            D         Giessen – Giessener Kultursommer
More dates to be announced soon…!
AVANTASIA is:
Tobias Sammet | vocals, additional keys & bass
Sascha Paeth | guitars & bass
Michael Rodenberg | keyboards, piano & orchestration
Felix Bohnke | drums