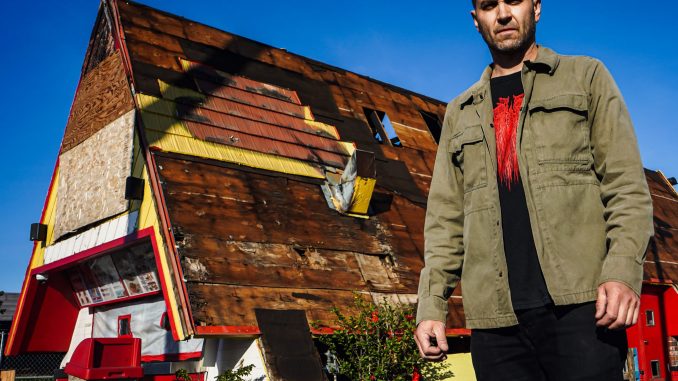 Feb. 1, 2022, SAN DIEGO – Author & Punisher treat fans to a third and final preview of the San Diego-based outfit's forthcoming album (Krüller, out Feb. 11 via Relapse Records) with today's release of "Blacksmith" (https://youtu.be/hbAtufmWiZ0).

"'Blacksmith' is a track that I co-wrote with the Krüller producer Jason Begin (Vytear)," explains Tristan Shone. "This one is a bit of an adventure where we go from my slow bending drones and morph into Jason's jungle and breaks with the same halftime bassline and vocals tying it together. Lyrically, this is an ode to Black women-led movements who have been fearlessly leading the way against oppression in this country for a long time."

Shone began work on Krüller after returning from his opening slot with Tool across the U.S., Australia, and New Zealand, before being cut short due to the March 2020 lockdowns. "Melody has been and is still a part of my sound," says Shone. "I've always bathed them in a lot of reverb, delay, and distortion, though. This time around, I was bothered by the wall of distortion I had created. I wanted a little more clarity. I wanted to refine the sound. I wanted to step back from my own show and analyze it a bit. I had all these competing distortions that I wanted to streamline. I like contrast and wanted the vocals to be immediately noticeable. There's something about mixing punishing drones and rumble with a mellow thing on top that I really like on Krüller."

Two already-released singles: "Drone Carrying Dread" (https://youtu.be/5BrAAXCbUXE), and "Maiden Star" (https://youtu.be/c52RTO8fvL0), have showcased the new avenues Shone is taking his music. Consequence said "Drone Carrying Dread" is "one of the prettiest A&P tracks to date, though no less sonically powerful," Metal Injection noted the music's "massive industrial percussion, floating synths and dreamy guitars," and Revolver succinctly dubbed the collection "emotional machine music."

Part of the Krüller revamp included refining the machines that have become synonymous with Author & Punisher. As a result, Shone is also launching a bespoke audio gear company called Drone Machines to coincide with the release of Krüller. The gear company launch follows nearly two decades of Author & Punisher honing in on his craft – meticulously inventing, machining, experimenting, and creating custom musical instruments for his incredible live performances and recordings.

Krüller pre-orders are available now (https://orcd.co/authorandpunisher-kruller) with the 52-minute collection available on a selection of limited-edition vinyl variants that tie into the color palette of the album artwork, CD, cassette and digitally.

Author & Punisher have added several U.S. tour dates while simultaneously moving the forthcoming European headlining tour to Spring. The planned U.K. dates have been cancelled. An overseas Fall trek with Perturbator and Health begins on Oct. 6.
Tour dates:

March 6 Los Angeles, CA Resident

March 8 Seattle, WA Clock Out Lounge

March 9 Portland, OR Hawthorne Theater (Lounge)

March 10 Oakland, CA Elbo Room Jack London

March 28 Warsaw, Poland Hydrozagadka

March 29 Wroclaw, Poland Akademia

March 30 Prague, Czech Republic Modra Vopice

March 31 Bratislava, Slovakia Randal Club

April 1 Zagreb, Croatia Mocvara

April 2 Linz, Austria Kapu

April 3 Luzern, Switzerland Sedel

April 4 Milan, Italy Legend Club

April 5 Montpellier, France The Black Sheep

April 6 Barcelona, Spain Bóveda

April 7 Toulouse, France L'Ecluse Saint Pieere

April 9 Poitiers, France Le Confront Moderne

April 11 Antwerp, Belgium Kavka

April 13 Vilnius, Lithuania Gallery 1986

April 14 Riga, Latvia Melna Piektdiena

April 15 Tallin, Estonia Sveeta Bar

April 16 St. Petersburg, Russia Latochka

April 17 Moscow, Russie Bumazhnaya Fabrika

Mvtant opens March 28 to April 11

May 11 Albuquerque, NM Launchpad

May 13 Austin, TX TBA

May 18 Denver, CO Hi-Dive

May 19 Salt Lake City, UT Metro Music Hall

May 20 Las Vegas, NV Backstage Bar

May 22 San Diego, CA Casbah

w/Perturbator & Health:

October 6 Lille, France Aeronef

October 7 Paris, France L'Olympia

October 12 Bordeaux, France Krakatoa

October 13 Toulouse, France Bikini

October 14 Madrid, Spain La Riviera

October 15 Barcelona, Spain Razzmatazz 2

October 16 Nantes, France Stereolux

October 18 Lyon, France Le Transbordeur

October 19 Strasbourg, France La Laiterie

October 20 Lausanne, Switzerland Les Docks

October 21 Munich, Germany Freiheiz

October 22 Vienna, Austria, Arena

October 23 Budapest, Hungary Akvarium Nagyhall

October 25 Prague, Czech Republic Lucerna Music

October 26 Wroclaw, Poland Zaklete Rewiry

October 27 Warsaw, Poland Progresja

October 28 Berlin, Germany Heimathafen

October 29 Göthenburg, Sweden Trädgår'n

October 30 Stockholm, Sweden Berns

November 1 Helsinki, Finland Tavastia

November 3 Oslo, Norway Vulkan Arena

November 4 Copenhagen, Denmark Pumpehuset

November 5 Hamburg, Germany Uebel & Gefährlich

November 6 Utrecht, Netherlands Tivoli

November 8 Cologne, Germany Kantine

November 9 Esch-Sur-Alzette, Luxembourg Rockhal

November 10 Brussels, Belgium Ancienne Belgique
Photo credit: Becky DiGiglio
Author & Punisher formed in January 2004 as the brainchild of mechanical engineer, artist and sculptor Tristan Shone. His innovation, and the unique way he has melded his seemingly disparate background, has been highlighted in a wide range of outlets, from Wired Magazine who dubbed him a "doom metal auteur," to Pitchfork who noted he "literalized the idea of sound sculpture." He has released seven full-length albums and an EP over the years: The Painted Army (2005), Warcry (2007), Drone Machines (2010), Ursus Americanus (2012), Women & Children (2013), Melk En Honing (2015), Pressure Mine EP (2017) and Beastland (2018).

# # #

Facebook.com/authorandpunisher

Instagram.com/authorandpunisher