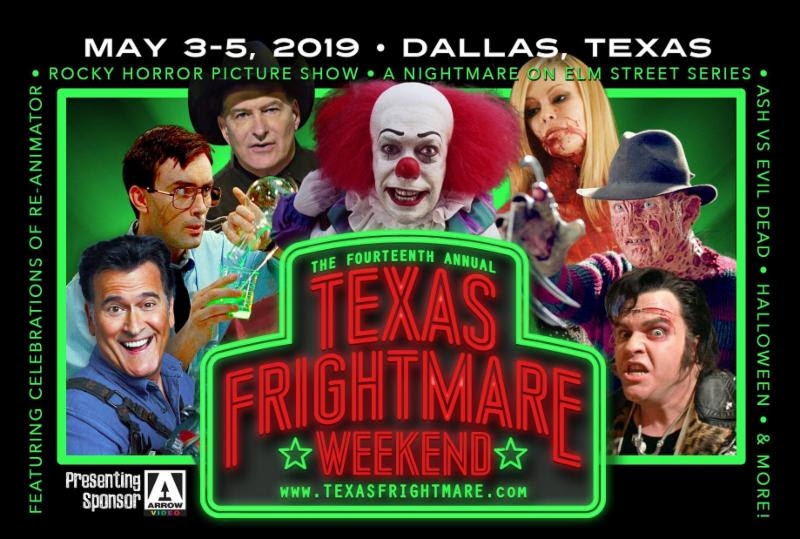 Texas Frightmare Weekend is pleased to announce the addition of author and musician JEREMY WAGNER to its already stacked list of guest appearances. Author JEREMY WAGNER – who will appear at the event on May 4 – is an award-nominated novelist who has also written hundreds of lyrics and songs spanning several albums with his internationally-recognized death-metal band, BROKEN HOPE.
Texas Frightmare Weekend, presented by Arrow Video, takes place annually in the Dallas-Fort Worth Metroplex – this year from May 3-5, 2019. True to their tagline – "The Southwest's Premier Horror Convention" – Texas Frightmare Weekend's goal is to provide fans with an unrivaled experience by celebrating all aspects of genre films. Texas Frightmare Weekendhosts celebrity appearances, autograph signings, screenings, exclusive parties and horror memorabilia vendors from all over the country. Texas Frightmare Weekend is also extremely proud to have featured the rising talents of many Texas "Frightmakers" in screenings, panel discussions and Q & A's.
Texas Frightmare Weekend draws thousands of attendees annually and has hosted genre legends such as Brad Dourif, Danny Trejo, George A. Romero, Clive Barker, Malcom McDowell, Robert Englund, John Carpenter, Tobe Hooper, Cary Elwes and hundreds more.
This year, Texas Frightmare Weekend will host the likes of Jenna Jameson, Cassandra Peterson (Elvira), Meat Loaf, Bruce Campbell, Scott Ian, Robert Englund, Sam Raimi, and many more!
JEREMY WAGNER says,"I'm super-psyched to be a guest at Texas Frightmare Weekend on May 4! I'm delighted to return to Dallas for the first time in several years. I'll be there with Rabid Heart, all of my other published books and BROKEN HOPE albums to sign – along with some other horrifically cool things. Also, I'll have the brand new rebooted/revised special edition of The Armageddon Chord available at Texas Frightmare Weekend before it's available in stores! This year's lineup at Texas Frightmare Weekend promises to be epic and massive with Tim Curry, Robert Englund, Bruce Campbell, Halloween cast members, Anthrax dudes, and so much more. Huge thanks to Loyd and Texas Frightmare Weekend for having me. See you there!"
Author JEREMY WAGNER has written lyrics to hundreds of songs spanning several albums with his international death-metal band, BROKEN HOPE.
BROKEN HOPE's last album, Mutilated and Assimilated, has been hailed as their finest work to date. Wagner and the band completed a successful European tour in 2018 and have plans to do special, select dates in 2019 with Wagner also arising new music and lyrics.
Wagner has a following of rabid fans worldwide, yet aside from his music career, Wagner writes dark fiction novels and other works full time.
Wagner has been published in numerous periodicals and has also published various works of short fiction with major and independent publishers such as: Perseus Books, St. Martin's Press, Bantam, Ravenous Books, and others. His published works include the best-selling debut novel, The Armageddon Chord, the story, Romance Ain't Dead, for the anthology, Hungry For Your Love (St. Martin's Press), the story, The Creatures From Craigslist in the anthology, Fangbangers: An Erotic Anthology of Fangs, Claws, Sex and Love (Ravenous Books), the seasonal bio tale, When I Scared Myself Out of Halloween (Shock Totem Books), his horror writing essay-exercise in the Now Write! edition of Science Fiction, Fantasy, and Horror (Bantam Books), Pit Stop, in the A Tribute Anthology to Deadworld (Riverdale Avenue Books), and most recently, Dead Half, in the Shopping List horror anthology (Hellbound Books).
| | |
| --- | --- |
| | |
Wagner's novel, The Armageddon Chord, peaked at #4 in Barnes & Noble'sTOP 10 "paperback" Bestseller List and peaked at #9 on B&N's TOP 100 overall Bestseller List in the first week of release. TAC also earned a Hiram Award, a first-round ballot Stoker Award Nomination, and received critical acclaim in Publisher's Weekly and Rolling Stone magazine among many other worldwide publishing magazines, television, and popular culture entities.
Wagner's new novel, Rabid Heart, was published in October 2018 via the Afraid imprint of Riverdale Avenue Books. Rabid Heart has received major praise in Publisher's Weekly, Kirkus Reviews, Rue Morgue Magazine, and is nominated for a Splatterpunk Award for "Best Novel."
Riverdale Avenue Books/Afraid Books will also re-release a revised edition of The Armageddon Chordin May 2018 with new cover artwork by Claudio Bergamin (Rabid Heart, Judas Priest) and in Hardcover, Trade Paperback, and Audiobook.
Jeremy Wagner online: