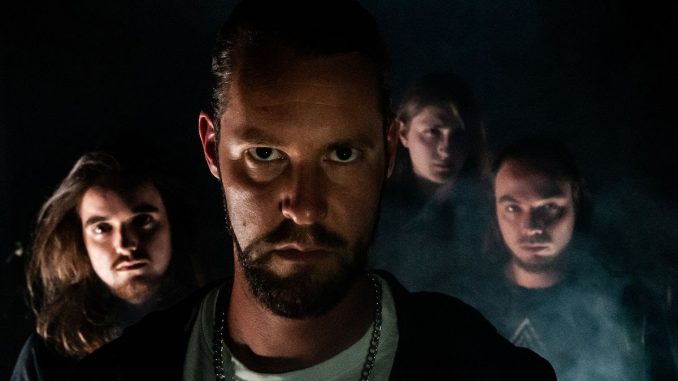 Dutch extreme metal outfit AUTARKH has partnered with Roadburn Festival to premiere "Lost to Sight," the latest single from their upcoming opus, 'Form in Motion.' The song and official music video, which was filmed and created by Guilherme Henriques, are available at THIS LOCATION.

AUTARKH founder Michel Nienhuis comments: "We are thrilled to present our very first music video for 'Lost To Sight.' The video was shot by the talented videographer Guilherme Henriques at Wagenmakerij and Textielmuseum in Tilburg (NL). The beats throughout 'Form In Motion' also feature sounds from old weaving looms that were recorded at Textielmuseum. 'Lost To Sight' is a song about transformation. Efforts and sacrifices carve a path towards fundamental shifts in understanding. A form in motion, moving towards transformation – lost to sight in the world of matter."

To misquote Allen Ginsburg "the circle DODECAHDRON is broken. But with death comes rebirth." AUTARKH takes a radical approach to their musical assault, consuming the listener with dizzying maelstroms of chaos. 'Form In Motion' embodies the word "extreme," putting forth an intrusive battery of blistering guitars, pummeling drums, spastic math metal salvos and cacophonous electronics that culminates in one of the most robust and daring debut records metal has seen yet.

'Form in Motion' is due on March 12. Pre-orders are now live HERE.

To request an interview with AUTARKH, please contact Katy Irizarry at Katy@season-of-mist.com. Additional assets, such as hi-rez photos, can be found HERE.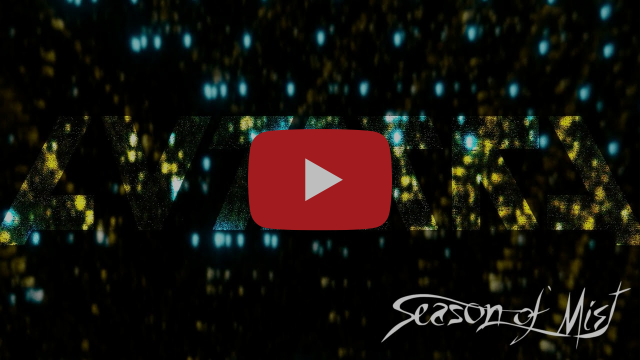 AUTARKH – Turbulence (official visualizer) 2021
The album cover for 'Form in Motion' was created by Manuel Tinnemans/Comaworx and can be viewed together with the album details below.
Track-list
1. Primitive Constructs (1:23)
2. Turbulence (6:43)
3. Cyclic Terror (5:17)
4. Impasse (1:50)
5. Introspectrum (5:20)
6. Lost To Sight (7:39)
7. Metacognition (2:47)
8. Clouded Aura (7:25)
9. Alignment (6:39)
10. Zeit ist nur eine Illusion (2:27)
Total: 47:30
From the fertile grounds of Tilburg (NL) rises new contemporary metal outfit AUTARKH, a group of musical extremists dedicated to pushing the boundaries of the auditory senses. Autarkh is the brainchild of Michel Nienhuis, founding member and composer/guitarist of DODECAHEDRON. Dodecahedron released 2 albums on the French record label Season Of Mist in 2012 and 2017 and has played at Inferno festival (NO), Reykjavík Metalfest (IS) Brutal Assault (CZ), Roadburn Festival (NL) and Eurosonic (NL) amongst others.

Death and illness was closing in on Dodecahedron, triggering a conceptual transformation that was necessary to effectuate Nienhuis' artistic development. In the fall of 2019 Nienhuis teamed up with producer Joris Bonis (Dodecahedron, Ulsect), guitarist David Luiten and electronic composer / producer Tijnn Verbruggen, a set of musicians with backgrounds ranging from metal to techno. Autarkh's first full length album 'Form In Motion' will be released the 12th of March 2021 through Season of Mist records.

AUTARKH takes a unique position in the world of extreme metal. Synthetic, IDM-style beats and glitch effects – reminiscent of those produced by artists such as Aphex Twin and Autechre – are perfectly balanced with overwhelming riffs and vocals that range from dark growls and exasperating screams to semi-clean harmonies. Together with fluttering blast beats, dense bass lines and eerie soundscapes these elements produce an intense and crystal clear tunnel of sound where the energy of contrasting emotions is constantly felt.

'Form In Motion' feels like an evolution in both sound and lyrical content from the two albums Nienhuis released with Dodecahedron. Musically, because of the radical approach the band takes with their rhythm section; lyrically because the album is more about a personal experience of human nature and the nature of the universe. The album takes us from unraveling storms and destructive chaos to transformation, liberation and fundamental shifts in understanding in order to align with the divine. That progression is also present in a linear sense – the intrusive uneasiness the album starts with gives way to a sense of epic victory towards the end.

Give yourself the opportunity to dive into this radical exploration of sonic and spiritual ideas and allow yourself to get inspired by what AUTARKH has to offer.

Genre: Contemporary Extreme Metal

Recording line-up:
Michel Nienhuis: vocals, guitars, bass, programming
David Luiten: vocals, guitars
Tijnn Verbruggen: synthesis, beat design
Joris Bonis: synthesis, sound design

Music and lyrics: Michel Nienhuis
Production: Joris Bonis & Michel Nienhuis

Mix:
Turbulence, Cyclic Terror, Introspectrum, Lost To Sight, Clouded Aura and Alignment: David Luiten
Impasse: Tijnn Verbruggen
Primitive Constructs, Metacognition and Zeit ist nur eine Illusion: Michel Nienhuis

Master: Joris Bonis

Artwork: Manuel Tinnemans / Comaworx
Design & Layout: Arno Frericks & Reinier Bonis

www.autarkh.com
www.facebook.com/autarkh
www.instagram.com/autarkhband

Presskit: https://presskit.season-of-mist.com/Autarkh
Username : presskit
Password : Presskitofmist

Pre-orders: https://redirect.season-of-mist.com/AutarkhShop

Formats:
CD Digipak
LP in various colours
Digital

For more information on AUTARKH, please visit the band's official WEBSITE, FACEBOOK, and INSTAGRAM.

For more on SEASON OF MIST artists, visit our official WEBSITE, FACEBOOK, INSTAGRAM, YOUTUBE, and TWITTER.