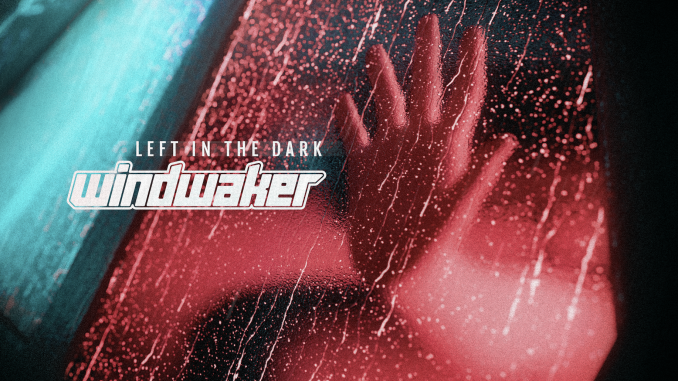 LIAM GUINANE RETURNS AS LEAD SINGER!
Australia's WINDWAKER have shared the video for the brand new song "Left in the Dark." Watch it here.
The band also has a brand new, but old singer! That's right — they've welcomed guitarist Liam Guinane back into the fold — only this time as the singer! Will King, who served as the vocalist on the band's Fearless Records debut Love Language, has departed. Additionally, Connor Robins has joined the band, doing synths and samples.
"Left in the Dark" is about the ebb and flows of living in the modern age. It's meant to be empowering for those who find themselves stuck in a negative mindset while navigating the pitfalls of societal pressures and expectations, reassuring the listener that they can find an outlet and escape through the artist's they listen to and grow with.
Packed with synths, high flying vocals, and a brutal breakdown that will make the hair on the back of your neck stand on end, "Left In the Dark" is one of those "throw your hands in the air" hard rock anthems that invites singing along to the catchy chorus as much as it does moshing. It finds Guinane staking his claim in a bold and bright way.
"Life can feel so bleak at times, and especially in today's world, things are so complicated," the band says. "But the escape we have gotten from music and the artists we love has always been a constant. It's part of why we love what we do and remembering that feeling resonated with all of us after such a major lineup change and restructure. We want anyone listening to this track to feel reassured we can be that escape when things get tough."
WINDWAKER ARE:
Liam Guinane — Vocals
Jesse Crofts — Lead Guitar
Indey Salvestro — Bass
Chris Lalic — Drums
Connor Robins — Synths + Samples
Get Love Language here.
ABOUT WINDWAKER:
Windwaker examine the aftershocks of love and the changes made in its wake over a soundtrack tilt-a-whirling from moments of insane heaviness to heavenly release. Bubbling up out of Melbourne, Victoria, the Australian quintet— Liam Guinane [vocals] Jesse Crofts [guitar], Indey Salvestro [bass], Chris Lalic [drums, programming], and Connor Robins [synths and samples] —first landed in 2017. They built a growing fan base with independent EPs such as Fade [2017] and Empire [2019]. The latter boasted "Colourless" and "My Empire," which each cracked over 1m Spotify streams. In between selling out headline tours, they joined Beartooth on the road, while I Prevail tapped them for an upcoming 2022 run across Australia with Motionless In White. Along the way, they inked a deal with Fearless Records and wrote, produced, and engineered their full-length debut Love Language by themselves over the course of 2021. After amassing millions of streams independently and building buzz around the world, the band deliver an unpredictable and undeniable exploration of love across 12 tracks. Guitarist Guinane returned to the fold —but is now installed in the role of vocalist — after the release of Love Language, while Robins was added to the lineup. With the new-ish members in place and praise from Distorted Sound, Hysteria, New Noise, Sonic Perspectives, and MXDWN, Windwaker are ready to take the next leap forward.